East High's New Principal Terita Walker: 'Every Day I Learn More And More Why [This School] Is Such An Amazing And Magical Place.'
By Reid Neureiter
For the GPHN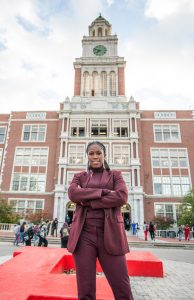 For 18 years Terita Walker has been a teacher, a school counselor, assistant principal, athletic director and athletic coach. At East High School, she has chaired the counseling department. As assistant principal, she has led the science, visual and performing arts, physical education and English departments.
In April, Walker was named principal of the largest and oldest high school in the Denver Public Schools system. Walker takes over the position overseeing the education of nearly 2,700 students from John Youngquist.
"As the principal of East High School, I look to build on our successes and strengthen our areas of growth by fostering effective relationships with our students, parents, staff and community, being responsive to the needs of students and valuing our school's diversity," Walker says.
In a Greater Park Hill News exclusive, Walker discusses the challenges and possibilities, and her enthusiasm about being the new head Angel.
Greater Park Hill News: What are you most excited about as principal?
Terita Walker: Continuing to learn all there is to know about our school community and its rich history and then adding to it. It seems that every day, I meet someone new that attended East, a fun fact about the school, an achievement a student or staff member is making or has made. Every day I learn more and more why East is such an amazing and magical place.
GPHN: What are the biggest challenges ahead?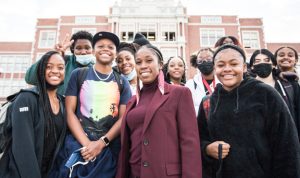 TW: East is so full in a number of ways. It is full of opportunities to learn and grow. It is full of experiences to engage in because our students are so deeply involved in a number of arts, activities, athletics and academic events. We are just so full, it can be challenging to get to all of the things and support all of the amazing things happening. It is also challenging to keep from taking things personally when it comes to East High School and some people's thoughts and perceptions of what happens here. East High School is where I grew up professionally, it's where my friends are, it's where I spend some of my Friday and Saturday nights, it's one of my most relevant identity markers. So, like many who have a connection to our school community, it feels personal if someone speaks ill of our school and is unaware of the amazing work that is done. And while it is an honor to be held at an extremely high standard, it's challenging and sometimes feels like you can't be completely human.
GPHN: What steps has East taken to ease the process of getting back to live, in- person schooling, and what lessons have school administrators learned while dealing with the pandemic?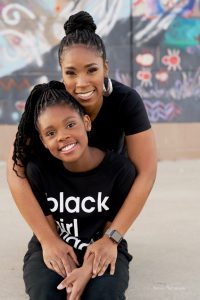 TW: East continues to walk down the path of adjusting and healing from all that the pandemic has created and taught us. The pandemic has shown us where we are strong and definitely exposed us to some gaps in our systems and structures. We have recognized the need for very intentional actions and support systems toward supporting students who need to recover credit from the learning loss experienced during our time online. So, we have dedicated staff members … who have expertise in restorative practice, credit recovery, tutoring, etc. This team continues to collaborate with our counseling, dean and mental health teams to provide academic and social emotional support to students that need it. We've also learned where we need to make improvements in our communication strategies. We've also learned how much more important it is for us to protect and support our school community's mental health. Our nation has been affected tremendously and so have our students and staff.  We have implemented various ways to support mental health and look to keep adding to these supports.
GPHN: One of the strengths of East has always been its excellent and loyal faculty. Has the pandemic resulted in the loss through retirement of many teachers?
TW: First and foremost, thank you for recognizing our excellent and loyal faculty and staff! We are grateful for them and can't thank them enough for their commitment. Our staff is still going strong, with very few retirements and departures. These are difficult times for educators, so we do what we can to keep this in mind as we make every decision.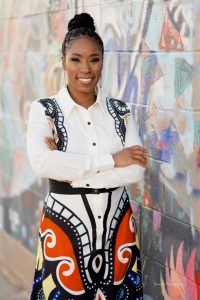 GPHN: In the announcement of your appointment, it was mentioned that you believe strongly in "the student voice." What does that mean exactly?
TW: I do believe strongly in student voice. It is a quote from best-selling author Adam Fletcher that best defines why this is so important to me: "It is not enough to simply listen to student voices. Educators have an ethical imperative to do something with students, and that is why meaningful student involvement is vital to school improvement." Young people are brilliant and have so much to say. While it is important for me to listen to their questions, opinions and concerns, it is even more important for me to engage with them in a way that encourages them to become change agents. We will continue to be a community that strives to do what's right, and not what's easy. I keep my door, ears and eyes open to our students and will keep creating opportunities to hear the interests and needs of our students. Some of the most significant shifts in our systems and course offerings have come from students using their voices to inspire change. At East, we will continue to see student voice as a mechanism for personal development to help build our Angels' confidence and prepare them to take their place in society.
GPHN: You were involved in the Black Excellence Plan at East. Can you explain the initiative?
TW: This is our school-wide action plan in response to the DPS Black Excellence Resolution that officially embraces the excellence of Black and African-American students and prioritizes and targets their academic achievement. The school board recognizes that disparities between the achievement of white students and that of Black and African-American students persist in our schools. After spending a year with a small group of amazing East teacher leaders and equity champions, we have identified root causes of some of our inequitable practices and created action steps. This initiative will continue over the next few years as we look to strengthen our equitable grading practices, enhance and broaden our ethnic and cultural studies course offerings supported by our new Ethnic Studies Team, work to provide rigorous learning opportunities while prioritizing Black student success and extending our reach to be inclusive to our families and external community members. Implementation is in its early stages, but we are excited about the work already in progress.
GPHN: You have taken over officially as principal this school year, but your predecessor, John Youngquist, is still in the building, assisting with the transition. What role is he playing as you begin your career as principal?
TW: Whew!! Gives me chills just to read that first sentence, but it fills me with joy and pride to have officially taken over as principal of THE EAST HIGH SCHOOL. I stand on the shoulders of some of the most amazing leaders Denver Public Schools has ever seen, including John Youngquist. I have learned and benefited tremendously from having "JY," as we call him, in the building this year. He has nearly 30 years of success as a leader in education and I recognize the opportunity I have by being able to process situations, strategies and my thoughts with him. I have a listener in him as I navigate some of the challenges of being a Black female leader at the flagship school of DPS. My experiences as a school leader and the leader of East will look different from his at times. But JY's support and that of so many amazing school community supporters keeps me literally surrounded by Angels! JY's presence is meant to give me a sense of direction and not to be a roadmap.
GPHN: Tell us a little about your personal background.
TW: I am the middle daughter of three to Terry and Gayle Walker, retired manager of information systems for the Circuit Court of Cook County and retired Chicago public school food services staff member. My partner Daniel is a security specialist in Chicago. My daughter and best friend, Chloe, is a 12 year old 7th grader who plays volleyball, loves pets and can't wait to become an East Angel!
GPHN: What are your final thoughts?
TW: My leadership purpose is to foster a community for our students that instills a passion for learning, inspires creativity, encourages collaboration, expects and rewards critical thinking and accepts responsibility for social justice. It is such an honor to be the principal of East High School and I intend to lead with the type of integrity and empathy that cultivates an inclusive, caring and culturally responsive school community. I have learned that a successful school leader leads its school to become an effective incubator of learning, a place where students are not only educated but challenged, nurtured and encouraged.