Sustainable Neighborhood Network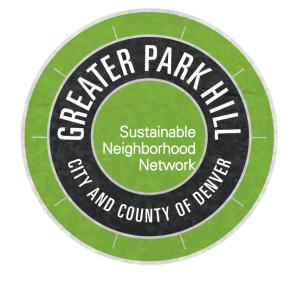 The Sustainable Neighborhood Program provides support to neighborhoods in order to assist citizens in enhancing neighborhood sustainability and reducing the environmental footprint of residents. Neighborhoods in the certification program earn credits for participation and for achieving project goals. Greater Park Hill Community, Inc. coordinated the application that enrolled Greater Park Hill in the program in 2017. We achieved Outstanding Sustainable Neighborhood status in record-time and it is our goal to help the neighborhood maintain that achievement.
Visit the Greater Park Hill Sustainable Neighborhood program page.
Certifiably Green Denver

GPHC has achieved Certifiably Green Denver Business status every year since 2017  by meeting a set of criteria in energy efficiency, water conservation, resource conservation, alternative transportation and business management.
Visit Certifiably Green Denver for more information on this program.
Your Programs and Events
We hope you will consider planning your own event or submitting an existing event for consideration for credits! This handy document will provide you with all the information.
Our Programs and Events
We host several sustainability programs and events throughout the year. Please visit http://greaterparkhill.org/events/ to see what's upcoming.