Voting Rights Under Attack In Georgia And Arizona; Colorado Breathes A $4 Billion Sigh Of COVID-19 Relief 
By Penfield W. Tate III
For the GPHN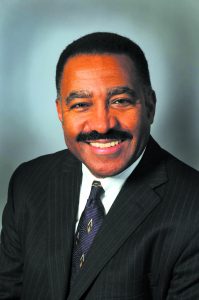 Is there anything more fundamental to our country than the right to vote?
The right to vote, and have the ability of self-determination, is one of the reasons that this nation was founded in rejection of a monarchy. Participatory democracy has become the global gold standard. It is right to set the course for your neighborhood, state and nation. And now it's being gutted.
The 2020 presidential election was record-setting. The outgoing president received the most votes ever for a losing presidential candidate. And President Joe Biden received the greatest number of votes for a presidential candidate, ever. Contrary to the delusional rantings of the losing candidate, a bipartisan collection of elected and appointed officials, including the former Republican attorney general, have all said that there was no significant voting fraud in the election anywhere.
For years, political activists of all parties have lamented the fact that there is too much voter apathy and not enough people are voting. Indeed, campaigns are built around voter turnout and communication with voters. This is the closest we have even been to full voter participation and now we hear complaints. Why?
Heed Stacey Abrams
The Brennan Center for Justice reports that since the election, Republican legislators have introduced more than 250 bills in 43 states to restrict the right to vote. That is seven times the number of such bills as were filed last year. Why? The why is clear, racism.
In the greatest voter suppression effort since the Jim Crow era, the voting franchise is under assault. Georgia, ground zero for this effort, and Arizona illustrate the scope of the Republican effort.
Last month, with stunning swiftness, Republican lawmakers in Georgia adopted a package of voting restrictions that impose new voter ID requirements for absentee ballots, limit the number of ballot drop boxes and reduce Sunday voting in October to one Sunday. This is specifically aimed at Black churches and Black voters.
Arizona's plan would reduce the number of polling places from 100 to 15 in the Phoenix area, where 60 percent of registered Arizona voters live and reduce voting by mail that Arizona has had for decades. The late Sen. John McCain would likely be appalled.
Thankfully, in a different group of 43 states, bi-partisan voting access advocates have introduced more than 700 bills – increasing voting by mail, early voting, easing registration requirements and reinstating the franchise for persons with past convictions — that once approved would make it easier for people to vote.
And the For the People Act, H.R.1 and the companion S.1 in the Congress, would supersede these state laws by allowing any eligible voter to vote by mail and allow at least two weeks of early voting. The Act would also reform campaign finance with matching public funds for small contributions to offset big money funders, as the 2020 presidential election cycle set records for campaign spending.
Still, heed the warnings of Stacey Abrams, the Georgia voting rights advocate commenting on this restrictive trend: "The only connection that we can find is that more people of color voted, and it changed the outcome of elections in a direction Republicans do not like."
Good news, bad news
Meanwhile in Colorado, four times a year – March, June, September and December, the Office of Legislative Counsel ("Leg Counsel") and the Governor's Office of State Planning and Budget (OSPB) produce forecasts and estimates of anticipated state revenues.
The estimates are seldom identical and serve slightly different purposes. The OSPB estimates are used by the governor to prepare the November budget submission to the legislature and provide information to inform the governor's policy initiatives and goals. The Leg Counsel estimates are used by the Joint Budget Committee (JBC) to write the state's budget and consider supplemental funding requests. Those estimates are also used by the legislature to pass the budget and consider — and typically kill — legislation that requires funding.
This time last year the Colorado Legislature was cutting nearly $4 billion out of the budget due to the impacts of COVID-19. This year the Leg Counsel estimated revenues paint a different picture, with revenues up more than $5.3 billion. That's a "breath of fresh air" according to Democratic Sen. Dominick Moreno, the chairman of the JBC.
Nearly $4 billion of that relief is courtesy of the national $1.9 trillion American Rescue Plan relief package that was promoted by President Joe Biden and passed by the Democratic majority in Congress.
The money will be used to fund the nearly $700 million state stimulus package announced in mid-March, as well as a host of other legislative priorities.
Early indications show bipartisan support for restoring budget funding in areas "that took care of human beings" as described by Sen. Bob Rankin, a Republican member of the JBC. Expect to see an emphasis on restoring the 400,000 Colorado jobs lost to the pandemic with a focus on the need for equity in the recovery, since there are 30 percent fewer jobs paying less than $27,000 available in Colorado today.
That last statistic compelled JBC member Democratic Sen. Chris Hansen to observe that Colorado has "gone from bad to worse" with the inequity in the recovery from the pandemic.
Safeguards for immigrants
With the legislative session again adjusted due to the pandemic, scheduled to end June 12 versus the usual first week in May closing, several controversial measures remain on the calendar as of press time.
Several bills have been introduced to safeguard the situation of immigrants in the state. One measure would bar state agencies from sharing personal information with U.S. Immigration and Customs Enforcement (ICE) that could be used against immigrants. This bill is motivated by the State's response to an open records request that revealed the state motor vehicle division was sharing immigrant information with ICE.
Rep. Naquetta Ricks, an Aurora Democrat originally from Liberia, is sponsoring a measure to create a legal defense fund for immigrants through private donations and matching funds from nonprofits. Statistics indicate that immigrants with legal representation are 10 times more likely to win their immigration cases.
A tool for law enforcement to obtain assistance from witnesses, U Visas allow victims to cooperate and avoid deportation. A bill by Rep. Serena Gonzales-Gutierrez will make the Colorado process for granting U Visas match the federal process.
Finally, a bill with unanimous bipartisan support would make it a crime to use someone's status as an immigrant for extortion. The matters cited as creating the need for the bill are a general contractor who didn't pay or short paid workers and threatened to report them to ICE if they complained, and a female assault victim whose attacker threatened to turn her in to ICE if she reported the incident.
We'll discuss more legislative topics next month. Wear your masks, socially distance and get vaccinated. The State has made it a goal to get all adults in Colorado vaccinated by the end of this month, at no cost. Go on websites, call local churches, and check with pharmacies grocery stores and other nonprofits like Brother Jeff's Cultural Café. All are making the vaccine available.
Stay safe.
Penfield W. Tate III is an attorney in Denver. He represented Park Hill in the Colorado House of Representatives from 1997 to 2000, and in the State Senate from 2001 to February 2003. He lives in Park Hill.