City Park Golf Course On Track To Open Sept. 1
Story and photos by Cara DeGette
Editor, GPHN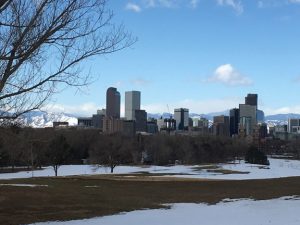 In late February, Scott Rethlake, the director of golf for Denver Parks & Recreation, gave directors of Greater Park Hill Community, Inc. a sneak peek of the nearly finished clubhouse at City Park Golf Course.
The public golf course has been closed since Oct. 31, 2017 as part of a controversial plan to reconfigure it as part of the Platte to Park Hill stormwater drainage project. (The City Park Golf Course, west of Park Hill, is between Colorado Boulevard and York Street and 23rd and 26th avenues. It should not be confused with the nearby Park Hill Golf Course at Colorado Boulevard and 35th Avenue – which has also been the source of much recent controversy.)
The course was originally scheduled to reopen last summer, but delays have pushed the new reopening date to Sept. 1. "Let's hope for a nice, early spring," Rethlake said. As part of the project, 260 mature trees were cut down and removed. The city has committed to planting 700 new trees; a number of saplings that were recently planted did not survive and need to be replaced. Many of the trees that were removed were close to the end of their natural lives, Rethlake said.
The previous clubhouse, which was accessible via 26th Avenue near York, was torn down. The new building, with a modern design, is off of 23rd Avenue, just across the street from the Denver Zoo. It's perched on a bluff overlooking the golf course and with a stunning view of downtown and the mountains beyond. It will not be open to the public until the course is open, but will be available for rental for private events beginning this month.