'Natural Is Nothing Close To How This Feels'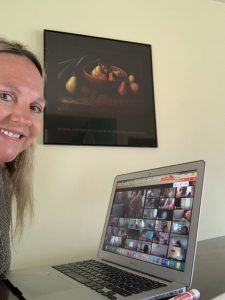 By Amy Maes, For the GPHN
In a different universe, far, far away (beginning of March), one of my mantras to parents was, "screen time is the worst for young readers!"
Today, I am teaching on screen, asking my kindergarten students to do assignments on screen. Oh, the irony! If anyone would have told me that at year 26 of my career I would be out of the classroom and instructing from my living room, I would have said they were crazy.
Kindergarten calls for a unique recipe. It is a well-balanced blend of social/emotional development and academic development, wrapped up inside a safe environment, seasoned with nurturing, yet structured, routines and rituals. If the recipe is followed incorrectly or too many substitutions applied, the outcome is not one you'd like to make again. The online venue to which we have had to switch is just about the opposite of what my paraprofessional (my teaching aide, who I truly could not succeed without) and I built for our students, from last August through March 13.
Just four days earlier, March 9 was just a Monday. In my mind, the day was going to run smoothly with our daily schedule intact, the students working like a pretty darn well oiled machine. We were in the middle of a writing unit, which the class seemed really excited about. We were about to dive into the science of weather, having lots of fun with subtraction, place value and delving into the ins 'n' outs of story problems.
We were also what I like to call a "kindergarten family," meaning that our sense of community was strong and joyful. It's what a lot of teachers call the "sweet spot" of the school year, students well connected to their classroom, teachers and each other. They are, at this time, able to utilize practiced skills and apply them to grow further toward 1st grade.
By the following Thursday, our little kindergarten sanctuary felt like a petri dish. Schools all around us were closing by the hour and our minds were no longer occupied with the "sweet spot." Rather, we were faced with unthinkable questions: When will we close? Are we all putting each other in danger of this virus by doing that which we teachers do naturally?
Natural is nothing close to how this feels, which is cold, foreign and depressing. We connect on Google Meet daily, in scant phone conversations and through posted work and comments. It is the least engaging connection I have ever experienced. And yet, I am so very fortunate to work at a school with inspiring colleagues and strong leadership. I am not claiming that it's the perfect work environment but it's pretty damn close in my book.
Our administrators took this situation by the horns and were transparent with us about what we could anticipate and a plan to get ready to roll out. Our students' families had as many or more questions. Fortunately, our principal and assistant principals were ready to field the queries and support us with responses as well.
There was a lot of gray area the first week we were on what the district was calling "an extended spring break," so many ways of life had changed in a very short amount of time.
All of a sudden, families were with their children 24/7 if they worked from home. If still going to work, they had to without any forewarning, put reliable child care into place. My own son and daughter are 22 and 18, but so many teachers were preparing to teach their classes from home, simultaneously guiding their own younger children through doing school online.
That first week of virtual teaching was a doozy. My tech learning curve was so slippery and steep, I needed carabiners and a harness. As I write this, going into our third week, the families are coming to me with fewer tech concerns and the students seem to know what the daily routine has become. The faces that look back at me are not often smiling. There is a rush at the end of our virtual Morning Meeting to say goodbye and, oh! one last thing … before we disconnect from each other and our kindergarten family.
Amy Maes is a Park Hill Elementary School kindergarten teacher.