In 1934, Demonstrators Protested The 'Twiddling Twenty-Ninth'
By Stephen J. Leonard
For the GPHN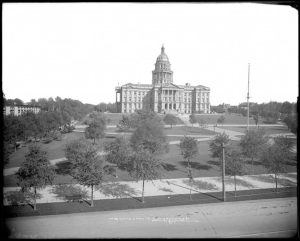 The recent assault on the U.S. Capitol raises memories of events of Jan. 3, 1934 at the Colorado State Capitol.
Frank C. Cross of The Nation, a national magazine, reported that a group invaded the building and held "the first Communist meeting . . . under the dome of any state Capitol in the United States."
That meeting was born in the crisis of the Great Depression. For much of 1933 thousands of unemployed Coloradans had depended, at least in part, on federal relief money to keep themselves and their families from starving. Despite the suffering, Colorado's Twenty-Ninth General Assembly refused to match federal dollars. Critics called it "the twiddling Twenty-Ninth."
Late in 1933, Harry Hopkins, head of the Federal Emergency Relief Administration, announced that federal help would end unless Colorado paid its share of the cost.
Methodist minister Edgar M. Wahlberg disagreed with Cross's account.  In his book Voices in the Darkness (1983), Wahlberg wrote that a leading Denver Communist told Wahlberg that some demonstrators had entered the Senate chambers and sat in the lawmakers' chairs. Wahlberg also noted that legislators faced catcalls from the galleries. But, he said, "There was not a single instance of meanness."
The Denver Post, the city's most read newspaper at the time, perhaps not wanting to stoke dangerous fires, did not mention the events of Jan. 3.
We may never know exactly what happened that January day. Certainly it was far less than a serious Communist takeover attempt, but much more than an ordinary Wednesday at the Capitol.
Clues as to the impact of the extraordinary events of Jan. 3 come from subsequent legislative actions. Historian Phil Goodstein notes in his book, From Soup Lines to the Front Lines Denver during the Depression and World War II 1927-1947 (2007), that on Jan. 6 the legislators posted guards at Capitol doors and that on Jan. 20 they stopped twiddling and provided matching funds.
Park Hill resident Stephen J. Leonard is a professor of history at Metropolitan State University of Denver, where he teaches Colorado and Denver history.