Ride Like A Legend
By Reid Neureiter, For the GPHN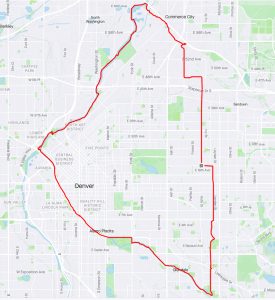 The pandemic is limiting gym and swimming pool access. Summer soccer and softball leagues are cancelled. What to do? Get on your bike, and commence with the Tour de Denver.
Here is a detailed turn-by-turn set of directions for a 24-mile circumnavigation of Denver.
The route starts in Park Hill and follows three streams: Sand Creek, the South Platte and Cherry Creek. From Park Hill this route takes you through industrial complexes, some remarkable bird habitat, and central Denver's urban parks.
The ride is almost entirely flat, and can be completed by the average rider in less than three hours, with occasional breaks for snacks and people and bird watching. Make sure to stay hydrated, and wear your helmets!
Start-Finish point: Intersection of  Holly and Montview Boulevard
1 Head due north on Holly Street until it comes to a dead end on East 48th Avenue. You will cross the rail lines at Smith Road and also go under Interstate 70.
2 When Holly dead-ends, take a left (west) on 48th Avenue to Dahlia.
3 Go right (north) on Dahlia, downhill through an industrial warehouse area and across more rail lines, veering left to the intersection with 56th Avenue.
4 At the light, take a right on 56th Avenue, crossing over Sand Creek. On your right is the Dahlia Trailhead for the Sand Creek Greenway/Bicycle path. You have come 4.2 miles since the starting point.
Sand Creek Bicycle Path
5 Head west on the Sand Creek path, under the 56th Avenue bridge.
6 On your left, on the south bank of the creek, observe (and smell) the massive Suncor refinery complex, which recently disclosed a leak of chemicals into the creek. There are a number of homeless shanties and tents along this section of the creek. In the distance, you can see the snow-covered Indian Peaks.
7 On the Sand Creek path, you will pass under a number of railroad bridges, with Union Pacific and BNSF regularly running trains from Denver's railyards.
8 6.1 miles from the starting point, Sand Creek meets the South Platte River.
9 Cross the pedestrian/bicycle bridge over the Platte and turn left (south), and start riding upstream along the Platte.
South Platte River
10 Keep your eyes out for remarkable birdlife at the confluence of Sand Creek and the Platte. American white pelicans, snowy egrets, great blue herons, and cormorants are all prevalent in the spring. You also might see a kingfisher, an avocet, a killdeer, or an osprey. Just this year the eBird website reports sightings of 119 different bird species along the Platte north of Denver.
11 You are now entering the industrial heart of Denver.
12 To your left, you will see and smell Denver's wastewater treatment facility. On your right are the smokestacks of a power plant.
13 At Mile 8, you will have the Platte to your right, and on your left will be the Burlington Ditch irrigation canal. East and south of the canal is Historic Riverside Cemetery. Established in 1876, Riverside is Denver's oldest operating cemetery.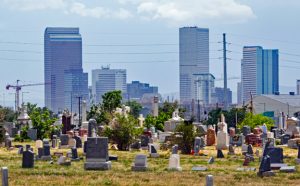 14 Riverside Cemetery has its own resident rafter of wild turkeys – be on the lookout for them between miles 7 and 8 of this Tour.
15 Still traveling south, you will see, across the river, parts of Denver's Historic Stockyards and the National Western complex.
16 At Mile 9.5 you will pass under I-70, and approach Globeville Landing Park via another bridge. Globeville Landing is a newly built stormwater outfall facility combined with a city park, a playground, performing stage, and newly planted landscaping.
17 Continuing south, you will pass under a number of rail bridges, giving train aficionados another opportunity to see Amtrak, BNSF, or Union Pacific locomotives up close.
18 Around Mile 11, you approach the River North (RINO) Arts District and numerous new condominium projects. Traffic increases dramatically here with dog walkers, joggers and cyclists all competing for space on the trail. Stay alert!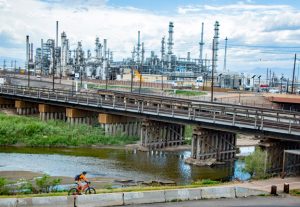 19 At Mile 11.5 comes City of Cuernavaca Park, named after Denver's Sister City in Mexico. Take the bridge over the Platte to the west side of the river for the approach to Confluence Park. There are paths on both sides of the river at this point.
20 At Mile 12.4 comes Denver's aquatic jewel—Confluence Park.
Confluence Park and Cherry Creek
21 Confluence Park lies at the confluence of Cherry Creek and the South Platte River. Outdoor equipment giant REI's flagship store (housed in the 1901 Denver Tramway Power Company Building) overlooks the park, with a whitewater feature for kayakers built into the Platte. Confluence Park marks the halfway point of the Tour and is a good place to stop for a break.
22 Cross back over the Platte on the pedestrian/cyclist bridge that faces REI and turn southeast, following the Cherry Creek bicycle path upstream.
23 For the next four miles, the Cherry Creek path follows the creek, sunken 10 feet below the level of Speer Boulevard. This is the busiest section of the path, with commuters fighting for space with bicycle racers and reactional joggers.
24 The sunken section below Speer Boulevard features some striking murals, including a depiction of Marshall "Major" Taylor, the first African American cycling world champion in 1899.
25 At Mile 16, the path rises to meet the road surface adjacent to the Denver Country Club. For the next three-quarters of a mile, one has the unpleasant experience of having to ride on a relatively narrow sidewalk next to cars speeding along Speer Boulevard.
26 A sharp right and then left turn at Mile 17 goes underneath busy University Boulevard, as the path rejoins Cherry Creek next to the Cherry Creek Mall. The path splits here. If you stay to the right, you will drop down for a pretty, one-half mile section adjacent to the creek.
27 Continue along the path, passing under Colorado Boulevard and Cherry Street.
28 At Mile 19 is the entrance to Denver's Four Mile Historic Park, a 12-acre historic oasis and the site of Denver's oldest house.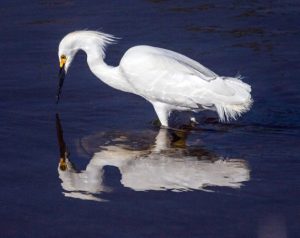 29 Seven-tenths of a mile beyond Four-Mile Historic Park, the path splits at Holly Street. Stay on the street level and cross Holly at the stoplight into David T. Garland Park.
David T. Garland Park, Lollipop Lake and Home
30 Enter Garland Park, with the path running adjacent to the bucolic Lollipop Lake, where red-winged blackbirds are often seen riding the cattails.
31 At Mile 20, turn left (north) onto S. Kearney Street, which splits Garland Park down the middle. A baseball field is to your right, and powerlines to your left.
32 Ride on S. Kearney Street north following the power lines to a bicycle path that leads to the crossing of Leetsdale Boulevard and then climbs to run adjacent to George Washington High School at Mile 21.
33 The path rejoins S. Kearney Street after GW. Keep going north on Kearney, crossing Alameda into the Crestmoor neighborhood on what is now Southmoor Drive.
34 Pass Crestmoor Park on your right, and take a left back onto Kearney at Mile 21.7.
35 Follow Kearney north, to Sixth Avenue, where it does a jog to the right and magically becomes Krameria Street at Mile 22.3. You are almost home!
36 Follow Krameria north across 6th Avenue, 8th Avenue, past the Safeway and King Soopers at 13th Avenue, crossing Colfax next to McDonalds at Mile 23.4.
37 Krameria intersects with Montview. Turn left (west) at Montview and ride the three tenths of a mile to Holly Street to finish the ride at Mile 24.3.
38 Congratulations! You made it!