Gardeners Share Tips, And Passion, For Growing Things As They Ready For June 13 Garden Walk
By Jean Ercolani
Park Hill Garden Walk Organizer
I recently had the pleasure of talking with three of the gardeners participating in the June 13 Park Hill Garden Walk. We walked through their gardens as we discussed their love and knowledge of gardening. It was fun to see aspects of each gardener's personality reflected in the garden space they have created.
These gardeners were quite humble about their creations. Each offered unique and interesting features in their outdoor space. For example, James Marquez and David McCreedy have made more than 40 hypertufa troughs that bring character and interest to the yard. The troughs look like cement, but they are made of a combination of cement, peat moss and vermiculite, making them much lighter and easier to move.
They also incorporate items such as sushi dishes and other small decorative glass elements to bring more visual interest to these planters and their garden.
They have also created a garden with more than 1,000 types of plants, resulting in flowers 10 months out of the year — in Colorado! The only months they don't have something blooming are December and January.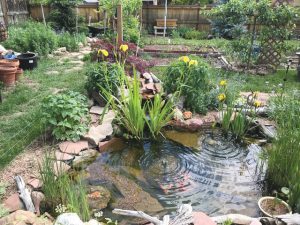 Kirstin Hoagland and Jericho Dorsey have not only created a unique space from nothing, they did this with water conservation in mind.
Their lawn area is comprised of Dog Tuff Grass, a grass that is resistant to dog urine. They marked off their lawn area into one-foot squares and hand planted the grass plugs in each square. It requires very little water even in the hottest months, and stays green all summer with no yellow or dead spots. They are also very resourceful in finding free stuff.
They also watch neighborhood pages on Nextdoor and Facebook for people getting rid of plants and other garden items. Other free resources they've used include Denver Digs Trees and the Denver compost program. Their yard includes fun features such as archways and yard art.
Louis Plachowski has espalier fruit trees that are simply amazing. Espalier is a French word meaning the ancient agricultural practice of controlling woody plant growth to grow vertically for the production of fruit, which is odd because the tree is trained to grow branches horizontally in tiers. He has an apple tree in which each tier is a different variety of apple, and a pear tree that produces a different type of pear on each branch.
Plachowski, who is also a local realtor, has built several impressive features around his yard. They include a small fish pond, a beautiful arbor and table made from beetle-kill wood and artistic copper fencing and archways.
I asked each of these gardeners about their love of gardening. Some grew up gardening, and others were inspired by professionals when trying to design their first garden. One grew up on a farm and although she had to be bribed by her mother to participate as a child, she eventually became more interested as growing her own vegetables became more important to her.
Here's a few other tidbits about their passion for gardening, in their own words:
GPHN: What do you enjoy most about gardening?
Marquez just loves being outside. He is the garden guru and can be found puttering around the yard all year long. He has spent countless hours studying not only plants native to Denver, but also regions around the world that mirror Denver's weather and soil. This has resulted in having a large spectrum of plant species and their garden requires minimal water. In fact, they water by hand.
Hoagland and Dorsey started with a blank slate when they bought their home. Now people, whether walking or in their car, constantly stop and talk with them about their yard and tell them to keep up the good work. This gives them a strong sense of connection to the community. Plus, it's clear that the evolution of their outdoor space from the beginning to now is significant, not to mention the evolution from spring blooms and buds to full summer growth.
Plachowski is driven by the beauty and peacefulness of his garden. He likes to watch a little seed turn into something spectacular and watch all the birds and various animals come around to check out the plants. He also loves to cook and "there is nothing like fresh veggies from the garden."
GPHN: Do you have a favorite area and what makes it special to you?
Marquez is a fan of the hell strip. This area has the most variety of plants and changes constantly. McCreedy is also a fan of the hell strip, but also loves all the other areas of the front yard. He can often be found sitting on the front porch with a good book, overlooking the front yard.
Hoagland brought plants from her childhood home near Green Bay, Wisconsin that mean a lot to her. She also has an Iris from her great grandmother that holds a special place in her heart. Dorsey is particularly fond of the rocky area of the yard because of the colorful flowers in this space.
Plachowski is fond of the hillside and hell strip because nothing was able to grow there for years, but his fortitude paid off. After much trial and error, he learned to stop fighting nature and figured out how to work with it instead.
GPHN: What tips do you have for someone wanting to start or improve their outdoor space?
Marquez and McCreedy recommend the book The Undaunted Garden by Lauren Springer. The book focuses on plants for weather-resilient beauty. They also recommended walking around the neighborhood and seeing what other people are having success with in their yards.
As mentioned above, Hoagland and Dorsey started with a blank slate. They suggest starting with a colored pen and graph paper to plan your garden. Differentiate walking paths, flower beds, shrubs, trees, patio areas, etc. You also want to start small. Just focus on one section at a time. This will help both financially and mentally. They also recommended plantselect.org for growing tips and help with identifying plants specific to the Rocky Mountain Front Range region. Lastly, buy a good shovel..
Plachowski' initial response to this question was "this is not Connecticut, don't expect to have that look." After a little chuckle, he went on to say that you want to plant things that work with Denver's climate and soil. He also recommended the plantselect.org website.
Plachowski offered his favorite quote, from the great actress Aubrey Hepburn: "To plant a garden is to believe in tomorrow."
The Park Hill Garden Walk committee is a group of volunteers working to raise funds to support the Greater Park Hill Community, Inc. mission. GPHC is a volunteer-based Registered Neighborhood Organization that promotes the character and vibrancy of Park Hill through its resources, information and advocacy, while preserving the quality of life and the history of the neighborhood through community participation.
Proceeds from the June 13 event go to support the work of GPHC, Inc. Check out parkhillgardenwalk.org for all details about how and where to purchase tickets. You will be provided the addresses of participating gardens once you buy tickets.