Two Final Weeks That Shook The U.S. Capitol To The Core
By Penfield W. Tate III
For the GPHN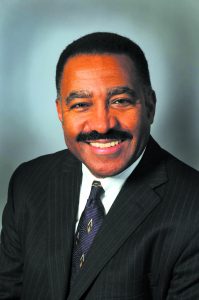 He's gone. The most disgraced president in the history of the United States. He set a mortifying historical mark — after 245 years, the first president to be twice impeached. The second time, in a bipartisan vote, it was for "incitement of insurrection."
Let that sink in for a moment. A sitting president impeached for inciting insurrection against his own government. For whipping up a mob of supporters to attack the Capitol. An insurrection designed to threaten and lay waste to his "enemies" in Congress.
We all watched it live and in living color, a wild pack of thugs overrunning the national Capitol. Legislators running from the floors of the U.S. House and Senate for their lives. The Vice President, loyal to the end to the man who unleashed this mob against him, being rushed out of the Senate chamber amid cries of "hang Mike Pence." And five dead. A horrified and frightened nation.
Our country shocked the world, again, and looked like so many of the other countries that we often criticized. Incapable of an orderly transition of government because the loser refused to accept the results and tried to use a riot to remain in office. Donald J. Trump, an international embarrassment.
Help from inside
Trump's four years in office have seemed like an eternity and are mercifully ended. The swarms of lies and half-truths, about winning the 2020 election, about his record, and about his behavior. Richard Nixon at least had enough respect for the office to resign before his certain impeachment. This man left with an impeachment trial yet to occur — and  on top of other potential civil and criminal trials in the wings.
And the worst part may be that the nightmare has not ended. Law enforcement sources have been reporting that the rioters had "inside" help. Preliminary press reports are that members of Congress may have assisted the rioters by providing reconnaissance tours and a preliminary walk-through of the building. Capitol law enforcement members are being investigated for aiding the insurrectionists. At least one officer was seen taking a selfie with the rioters. Others appeared to be allowing them access to the Capitol.
Fearing infiltration by radical elements, the Secret Service was reported to be screening all the National Guard members called in to provide additional security. 120 people have been arrested as of this writing, with more charges expected to follow.
Prosecutors are even reporting that the rioters intended to take legislators hostage and perhaps assassinate some of them. All of this at the urging of a president who hopelessly lost an election and had fewer than two weeks remaining in office. It is a chilling thought, that some of our national elected officials and the Capitol police force may have aided and abetted, or worse, these riotous subversives' intent on overturning America's democracy.
Vows to return
As Washington, D.C. prepared for Biden's Jan. 20 inauguration, the city was on "high alert" and looked like an armed fortress. There were more National Guard troops — estimated at 25,000 —and other police forces on site than service members in Iraq, Syria, Somalia and Afghanistan combined. In essence, prepared for warfare.
And for good reason, as the mob had the audacity to leave threatening notes in the offices of legislators vowing to return and resume the violence. Internet websites were loaded with threats of continued violence. If our elected officials cannot be protected in the nation's Capitol, what has happened to our country?
The threats exploded to promises of protest at every state capitol, leaving many of them on high alert as well. In Denver, the National Guard, State Patrol and Denver Police prepared to protect the Capitol and grounds from the rioters. Downtown Denver businesses and building owners made plans to close to protect property and workers.
We have seen some down times, but this has got to be among the worst, if not the worst, in our nation's history. We have the comfort of knowing that his season of tyranny and lies is over. But he left a mess behind.
We need to reconcile and heal as a country. Faith in our institutions needs to be restored. I believe that to do so requires holding everyone accountable for their actions. That is why, no matter how painful or difficult, the impeachment trial must be seen to its conclusion and the rioters must be prosecuted to the fullest extent of the law.
In the ultimate irony, the timing occurred about the same time we honor Rev. Dr. Martin Luther King, Jr.'s birthday. With many of the usual celebrations muted or cancelled due to the pandemic this year, we still must remember the leader who preached peace and a non-violent approach to redressing our grievances and issues. The contrast in leadership could not be starker.
Long road to recovery
Despite all his claims and boasts, Trump's handling of the coronavirus pandemic was nothing short of an international embarrassment.
First, he refused to acknowledge that the pandemic was real. Then, when it became evident that it was, as a show of political contrariness, he encouraged people not to wear masks or socially distance. He threatened governors and other local elected officials who were acting to best protect their constituents from the ravages of the pandemic.
Trump, his wife, and his son all contracted the disease. Yet he was solely motivated by how the pandemic would affect his chances of reelection. But as I wrote last month, COVID-19 was the third presidential candidate and it more than anything ensured his defeat.
Businesses are slow to reopen and schools are open haltingly, for now. People have grown weary of the continued need to wear masks, safely quarantine and socially distance.
Sadly, deaths continue to mount. We continue to see record numbers of positive cases and deaths nationally — with the official death toll reaching 400,000 the day before Trump left office. To make things worse, there are reports of new strains of the virus popping up around the world and in Colorado. No one is certain how they will respond to the vaccines. There is no immediate relief in sight.
Biden's first day
Four companies have developed vaccines to the coronavirus. Now the delay is an all-too-slow distribution to the states. Thankfully, President Biden has announced a plan to vaccinate 100 million Americans in his first 100 days in office.
Two of the newer vaccines do not need to be stored at exceptionally low temperatures, promoting the likelihood of a wider distribution. It is sorely needed and is our best hope of getting this disease somewhat under control. It remains to be seen if he can deliver on this early promise and a test of his new administration.
The health consequences of the disease are but one aspect of the problem. Families, workers and businesses are still struggling. In the final days of the outgoing administration, Congress passed a watered-down relief measure. However, with the backdrop of Democratic control of the House and now a majority in the new Senate, the incoming Biden administration announced a massive $1.9 trillion COVID-19 relief and vaccination package.
Expect more change, whether you like it or not, from the Biden administration.
The day he was sworn in, Biden signed a letter re-entering the U.S. in the Paris cli- mate accord and revoked the permit for the Keystone XL pipeline. He ordered a halt to construction on the border wall, terminated Trump's national emergency declaration that funneled billions to building the wall, and ended the Muslim ban. Among numerous other orders, Biden signed a mandate requiring mask-wearing on federal property and during interstate travel, extended the pause on federal student loan payments and protections for people facing evictions and foreclosures.
We are clearly changing course. Thank goodness. Stay safe.
Penfield W. Tate III is an attorney in Denver. He represented Park Hill in the Colorado House of Representatives from 1997 to 2000, and in the State Senate from 2001 to February 2003. He lives in Park Hill.