The Park Hill Community Bookstore: Where Aimless Perusal Is A Day Well Spent
By Cara DeGette
Editor, GPHN
Six months ago – seemingly a lifetime and certainly a pandemic ago, we geared up to do a big spread about the Park Hill Community Bookstore in the April issue of the newspaper.
In part the story was to mark National Independent Bookstore Day, which is celebrated across the country every last Saturday in April. In greater part, it was to highlight the characters and the history of Denver's oldest nonprofit bookstore, currently run entirely by volunteers. Next May, the bookstore, at 23rd and Dexter, will celebrate its 50th birthday.
For the story, we conducted a few interviews, took a few photos, collected some data, and then … boom! COVID-19 arrived. Not only did the story not run, but the bookstore closed (temporarily) and the entire national indie bookstore party was postponed.
Six months later, the bookstore has reopened, with limited hours and with strict anti-virus practices in place that involve plenty of bleach water, physical distancing and hand sanitizer.
National Independent Bookstore Day is now rescheduled for Aug. 29. And why do we want to join this party? Its own event page explains it well: "Independent bookstores are not just stores, they're community centers and local anchors run by passionate readers. They are entire universes of ideas that contain the possibility of real serendipity. They are lively performance spaces and quiet places where aimless perusal is a day well spent."
For five decades, people, mostly from the neighborhood, have donated astonishingly high quality books to the Park Hill Community Bookstore. The inventory currently stands at over 18,000 books, including 3,000 mysteries, 4,000 fiction, 1,200 SciFi, 600 history and 600 biographies. Some 225 antique and rare books are in the collection. The books are $2 for paperbacks and – get this – four bucks for hardbacks (more for the rare books, of course).
There are currently 550 members of the bookstore – and anyone can join. Memberships cost between $15 to $40, depending on status – students and seniors pay less, families a bit more. Their recently improved website is parkhillbookstore.org.
Next May, the bookstore will mark its 50th anniversary. We'll be back then, to chronicle a half-century of people who love books in Park Hill – and all of the stories of the characters who have been there to engage with the people who love books.
Pandemic, or no pandemic.
Meanwhile, here are a few snippets from people you are likely to encounter on any given day on the three floors of the bookstore – volunteers and members and other assorted bibliophiles. Of note: these interviews were conducted back in the pre-mask days of February.
Beauty And Pain And Triumph
John Krause is the board president and also oversees the bookstore inventory and Amazon ordering software and databases. Linda Baie is the bookstore's volunteer coordinator.
John Krause: "Books give us insights into things we otherwise wouldn't have insights into. They show us some beauty and they show us some pain and they show us some triumphs and some failures, and we're able to close the book and absorb what we absorb and go on to another."
Linda Baie: "I have the earliest memories of reading. I read at a very early age and my mother had to take me and tell the bookmobile lady that I could read anything I wanted. So I am a longtime reader and supporter of indie bookstores. I think they do us a service by being open to the world of ideas, no matter and without censorship."
Take 5 With Helen Wolcott
Helen Wolcott has been volunteering at the bookstore for decades. We asked her to name five books that have made a big impact in the course of her life. She started at the beginning, and worked her way current.
"Black Beauty, because I like to cry over animal stories. Little Women – talk about crying over books. . .  Three, Jane Eyre. She started out as sobbing, poor, abused child and so on and managed to make something of her life. As a kid I was drawn to rescuing poor, abused creatures. Then I fell into the books of the Civil Rights Movement and I just couldn't get enough – you know, James Baldwin and Richard Wright, and then on into the newer ones. I don't know that I can extract just a few. It was a whole genre. Recently, I finished Michelle Obama's book [Becoming] and that was a delight – a breath of knowing good things can happen. Good people could be in government and good things can happen and maybe they'll be allowed to persist.
Up In The Mysteries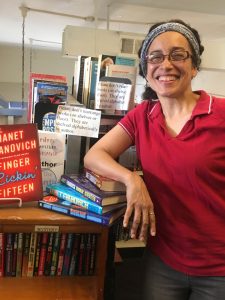 Janine Conklin owns the complete collection of Nancy Drew books. As a kid, she read them all. "That's why I love working up in mysteries," she says, from a perch up on the bookstore's second floor. OK, what is the mystery and the attraction of an indie bookstore? "You can find anything here. People come in and it's such a treasure trove. You can find mysteries, you can find science fiction, you can look downstairs and say 'ooooh, that's a book I never thought of reading before. I'm going to read that.' That's why I think this place is so cool, because we don't worry about what comes in, we just put it on the shelf, people come in, just browse around and find all these wonderful treasures. This place is amazing."
A Canoeing Dentist
Dr. Tom Croghan is friendly, but he is quick to correct. No, he's not "the" canoeing dentist, he is "a" canoeing dentist. The owner of Park Hill Dental Arts next door, Croghan has some eclectic tastes. He's into books about machinery – steam locomotives, airplanes, big ships. And Ireland. "I used to think I was Irish but the genetics aren't panning out. I'm barely Irish at all," he says. Croghan pops in the bookstore to pick up books, and to help move boxes up and down the stairs. "They are good neighbors," he says. "You know, intelligent people come in here, and intelligent people pick good dentists."