The Pandemic Lingo Was Different, But Responses To The Invisible Monster In 1918 Strike Similar Chords Today
By Stephen J. Leonard
For the GPHN
Between Sept. 28, 1918, when Denver reported its first influenza fatality and Nov. 21, nearly 500 Denverites had died from what was known as the "Spanish flu," a pandemic which ultimately killed 675,000 Americans.
Briefly heartened by a drop in the daily death rate, Denver's Manager of Health, Dr. William Sharpley, declared on Nov. 21: "I believe that by the end of the week Denver's death rate will be normal."
That was not to be. Increasing deaths in late November — 18 on Nov. 22 alone — prompted Sharpley and Denver Mayor William Mills, to reinstate the closing orders which had been lifted earlier that month. In addition to forbidding parties and closing theaters and churches, Sharpley's Nov. 22 order instructed people to wear masks. Yet, diners were allowed to eat at restaurants, crowded streetcars ran, shoppers shopped, hotels took in guests and manufacturers continued to produce.
Theater owners and their associates, among the hardest hit economically, reacted predictably. Seventy-five of them marched, wearing masks, on Mayor Mills' office on Nov. 23 and demanded that the city lift the Nov. 22 closing order. Mills and Sharpley quickly capitulated.
Masks remained Sharpley's last line of defense. Pool hall patrons were told to wear the "gauze germ catchers." Soda fountain and restaurant patrons did not don them. Compliance was spotty; complaints loud. On Nov. 31 Sharpley rescinded the mask order.
Keeping strangers away
Largely unfettered, the pandemic ran its course. It peaked in mid-December and tapered off into 1919. Between September, 1918 and the following June, Denver's influenza and pneumonia deaths approached 1,500.
Around 80 percent of those deaths occurred between Sept. 28 and early January, leaving the city an excess death rate of 586 per 100,000. Statewide, the mortality rate of 681 also compared unfavorably with the national rate of 528 per 100,000.
Steamboat Springs witnessed few flu cases until late in November, when the mountain town was overwhelmed with sickness. Yuma, on the northeastern plains, also enjoyed relative safety in early November, only to be smacked late in the month.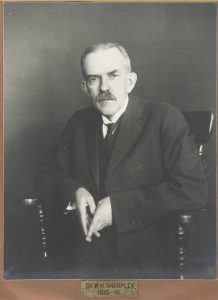 Some high-altitude mining towns suffered greatly. Silverton, tucked away in the southwest part of the state and with around 2,000 people, converted its town hall into a hospital and tried to keep strangers away. By mid-December it had counted 146 deaths. Ouray barred visitors, with little apparent impact on the spread of the virus.
In Gunnison, on the Western Slope, the experience was better. Through luck and by enforcing a "shotgun" quarantine, the town escaped the pandemic in 1918. Train travelers were warned that if they alighted at Gunnison they would be immediately quarantined. Fences were placed across the few roads leading into the town. In January 1919 the town reopened, with the unfortunate result that at least three people died from the flu there that year.
Dr. Duane Vandenbusche of Western Colorado University wrote of the intriguing story of Gunnison and Crested Butte's struggle with the disease in this year's March 11 issue of the Crested Butte News, which is available online.
Business versus public health
The flu, much diminished, lingered into 1920. By then people were anxious to forget the invisible monster that had sickened millions and killed at least 675,000 Americans. The journalist and gadfly H.L. Mencken explained the amnesia: "The human mind always tries to expunge the intolerable from memory, just as it tries to conceal it while current."
Forgetfulness bred complacency, as most places continued to underfund public health. Dealing with the influenza was generally beyond the science of the time. There were common sense, though sometimes expensive, measures that were not beyond science. Nevertheless, Coloradans continued dumping raw sewage in rivers with consequent spread of disease. Smallpox remained a killer as did other preventable diseases. In 1927 Denver spent 60 cents per capita on public health.
Although the importance of public health was one of the major lessons to be learned from the pandemic, there were others. One was, as President Calvin Coolidge put it in 1924, "the chief business of the American people is business." When economic priorities clashed with public health directives, business was destined to win, especially because public health officials did not have quick, effective remedies.
In Denver, 75 theater moguls and their allies, who pushed to reopen, ultimately were more powerful in determining the city's health policies than were Dr. Sharpley and Mayor Mills.
Politicking in the pandemic
Current students of scapegoating can also learn from 1918. The Germans, at war with the United States since early April 1917, easily got blamed for supposedly spreading the "German Germ." Some communities found nearby scapegoats. When the plague hit the Southern Ute Reservation, the Durango Evening Herald criticized the Utes for failing to obey "their superintendent and nurses and physicians." In Denver, Dr. Sharpley faulted Italians for not heeding health regulations.
For at least one politician there was a bitter lesson. U.S. Sen. John F. Shafroth, formerly Colorado's governor and earlier a U.S. Representative, sought re-election in 1918. Accustomed to shaking hands and giving speeches, he found his normal campaign strategy wrecked by the pandemic. His opponent, millionaire Lawrence Phipps, a man who had never held a significant political office, had barrels of money for newspaper advertising. Perhaps Shafroth would have lost anyway, but Phipps' narrow victory was in part due to the flu, which prevented Shafroth from campaigning and deprived him of votes from some of his working class supporters who were too sick to go to the polls.
The pandemic's economic consequences are perhaps impossible to untangle from the worldwide economic tidal waves generated by World I and its aftermath. The closing orders locally and nationally were generally far less restrictive than those imposed in the current COVID crisis. Tourism, then highly dependent on summer vacationers, was probably only slightly affected by the flu, which did not strike until late September 1918 and which was largely over by June 1919. Still, the national recession of 1920-1921 may have been partly due to the flu.
Dazed silence, and penicillin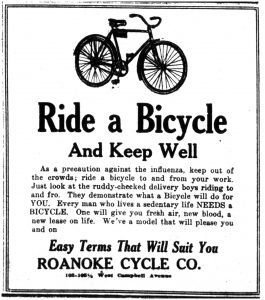 Were there any silver linings? For the more than two million people who migrated to the United States between 1919 and 1924 there were job opportunities because of flu deaths. And billions of people have benefitted from a 1928 discovery.
While searching for the origin of the flu, Dr. Alexander Fleming accidently found a mold, which inhibited some bacterial growth. Scientists and drug manufacturers slowly followed up on the discovery and within two decades penicillin was being hailed as a miracle drug.
Another boon was Katherine Anne Porter's Pale Horse Pale Rider (1939), an acclaimed short novel, based on Porter's 1918 experiences in Denver when she was a Rocky Mountain News columnist. The book's central character, Miranda, like Porter, survived the flu and looked forward with hope: "No more war, no more plague, only the dazed silence that follows the ceasing of the heavy guns; noiseless houses with the shades drawn, empty streets, the dead cold light of tomorrow. Now there would be time for everything."
Park Hill resident Stephen J. Leonard teaches history at Metropolitan State University of Denver. This is the second of a two-part series. Part I, which appeared last month, can be read here.