Former ACLU Leader Was Dedicated To Making The World Better, Fairer, More Equitable
By Cara DeGette
GPHN Editor
Dorothy Davidson moved to the United States in 1934 from Transylvania when she was four years old. She grew up in Buffalo, New York, where her father, a rabbi, was the chaplain at Attica State Prison. There, he was reprimanded for doing too much for the prisoners, specifically smuggling pencils and paper to them so that they could petition the courts.
Her son Daniel points out his mom got her social justice chops at a young age.
The family eventually made their way West, to Colorado, and for Davidson, Park Hill. From 1964 to 1974, she was the executive director of the ACLU of Colorado —  leading the civil liberties organization through a turbulent decade that included the civil rights movement, the Vietnam War, and the rise of grass roots social movements championing the rights of women, of gays and lesbians, students, farmworkers, Chicanos, and Native Americans.
Davidson died in her Park Hill home on Cherry Street on April 26. She was 92. Anecdotes shared by her children and old friends, and through old newspaper clippings, highlight the rich mosaic of her life.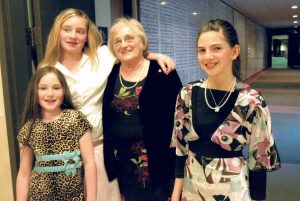 When she took the ACLU job, Davidson was newly divorced, with six young children. "When she bought our first house in Park Hill she had to have a male co-signer to get her first mortgage," says her daughter Julia Cirbo. "She always loved the neighborhood, the richness of diversity, and the vigor of community and political involvement."
In 1975 Davidson became the first (and only) director of the ACLU's Mountain States Regional Office, lassoing civil liberties injustices in 11 western states. She held that position for 20 more years, until her retirement in 1995. As the national ACLU's newspaper once described it, Davidson was a "circuit rider bringing the Constitution to the frontier."
She was among a small group who met with civil rights leader Martin Luther King, Jr. when he came to Park Hill in 1964 and spoke at Montview Boulevard Presbyterian Church.
"Her courage and convictions took her many places and allowed her to meet many interesting people," says Cirbo, among them Ruth Bader Ginsburg and the actors Ed Asner and Martin Sheen. Author and Native American rights activist Vine Deloria used to come by the house, noted Davidson's son Daniel. She struck up a regular correspondence with the gonzo journalist Hunter S. Thompson and even got a mention in one of his books.
In 1968, Davidson and another daughter, who was 14 at the time, were arrested in what was described as part of a "hippie dragnet." Local police had begun to use arrests for loitering and jaywalking as excuses to search people they labeled hippies. After her acquittal, Davidson sued for the return of her arrest records, and the case went to the Colorado Supreme Court. The ruling in Davidson v Dill set the Colorado precedent for expunging arrest records of persons found not guilty of the crimes for which they were charged.
In another episode, in 1974, Davidson participated in a covert action plan to infiltrate what at the time was designated men-only lunchtime hours at the Brown Palace Club. Under a screamer of a Rocky Mountain News headline — "Feminist Forces Invade Male Bastion" — the story described what happened when Davidson and four other "brazen hussies" launched their "assault" on the downtown Denver institution.
The club's rules at the time prohibited women from dining there before 1:30 p.m. When the women walked in, the Rocky reported, they encountered then-Mayor Bill McNichols, the state's attorney general and a former U.S. Senator among the diners. All forks stopped in mid-air, at the sight of the women in the inner sanctum. "This is a nice place," Davidson was reported to comment. "I think I'll have lunch here every day — at noon — my regular time."
On Aug. 23, 1981, Colorado's acting governor, Nancy Dick, proclaimed the day "Dorothy Davidson Day," to honor her work on behalf of civil liberties, freedom of speech, separation of church and state and prison reform.
When she retired in 1995, Ira Glasser, then the ACLU's national director, praised her as "an institution unto herself within the ACLU, a nurturer (before that word became fashionable) of the most fragile ACLU entities, a pioneering advocate of delivering civil liberties services to the smaller and most remote communities."
"She frequently reminded us that liberty requires eternal vigilance," says Cirbo, who still lives in Park Hill. "Dorothy's commitment to justice and making the world a better, fairer, place was at a cellular level. She was one of the smartest and best educated (mostly self-educated) people I have known. I will miss her political commentary and analysis, her intellectual curiosity."
Davidson is survived by her second husband, Charles Carter, a retired longtime newspaperman, as well as a brother and sister, her six children and a stepson, their spouses and seven grandchildren. A private service was held.
The family asked that contributions be made to a charity of choice. Or, says Cirbo, "for those that aren't up for [donating] formally, I think Mom would say, 'smile on your brother (or sister), in her honor, and anonymously give a little cash to somebody that is struggling with groceries or gas money or childcare or healthcare.' "