'Unprecedented' Is The Word Of The Year
By Sen. Angela Williams
For the GPHN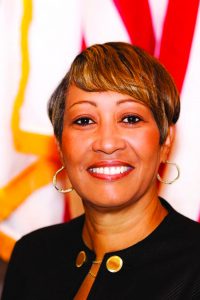 Had you told me a year ago that my final session would end on June 15, while I participated virtually, I would have confidently stated that you would be wrong.
But that is how my career as a state legislator concluded. While this ending was completely unprecedented, in some ways, it is reflective of the reality of governing. At the moment when you think you have a handle on things, some unexpected and unpredictable event derails even the most solid beliefs that you considered to be unshakeable.
I, like all of my colleagues in the legislature, did not predict COVID-19. None of us had ever planned for an event like a pandemic to put a pause on our work, or blow a $3.3 billion hole in our budget.
Coronavirus has made the term "unprecedented" the word of 2020 and rightfully so. Myself and my colleagues in the legislature had to make some seemingly impossible decisions in order to balance the budget and I'm proud of the work we did to make that happen.
Thank you to the people of Senate District 33 who have entrusted their voice and their community with me – it has been the honor of a lifetime. This is not the last you will hear from me, after all, I'm still your state senator until January 2021. I am staying engaged and will continue to provide updates on our community, our state and the largest issues we still face by participating in our House District Zoom meetings and publishing regular informative newsletters.
I encourage you to stay engaged even during the interim by participating in these meetings with me and by staying informed. As always, if you have any questions or concerns please reach out to my office at 303-866-4864 or via email at sen.williams.sd33@gmail.com.
Stay well, stay safe, and take care.
Williams represents Senate District 33, which includes Park Hill. This is her final term.
Highlights Of The Session
New Laws Include Repeal Of The Death Penalty, Police Reforms, Immunizations, Sick Leave, Help For Small Businesses
SB20-100: Repeal the Death Penalty
This bill repeals the death penalty and forbids the use of capital punishment in the state of Colorado. While this bill does not touch the three remaining inmates on death row in Colorado, Gov. Jared Polis commuted their sentences.
SB20-163:  School Entry Immunizaions
This bill formalizes the exemption process for school entry immunizations. In order for a child with a vaccine exemption to participate in the public school system, vaccine exemptions must be approved by a doctor, or the legal guardian must watch an educational module.
SB20-217: Enhance Law Enforcement Integrity
This bill institutes a number of reforms to improve transparency and accountability for law enforcement officers, including mandating release of body cam footage, eliminating qualified immunity, banning chokeholds and other inappropriate use of force, etc.
SB20-205 – Sick Leave For Employees
Requires employers to provide each of their employees paid sick leave to take for reasons related to the COVID-19 pandemic.
HB20-1427 – Cigarette, Tobacco and Nicotine Sales Tax
This bill would ask voters in November whether or not to raise taxes on cigarettes, tobacco and other nicotine products. Sales tax on a pack of cigarettes, for example, would increase from 84 cents to $2.64 by July, 2027.
HB20-1413 – Small Business Relief Fund
The bill authorizes the state treasurer to enter into a contract to establish a small business recovery loan program, to assist in the state's recovery from the COVID-19 pandemic.