Guide to Park Hill and Nearby Summer Camps
Art Garage | 6100 E. 23rd Ave.
artgaragedenver.com
Art Students League of Denver | 200 Grant St.
asld.org
Aurora Cultural Arts Theatre | Various Locations
aurorafox.org
Athena Project's Girls Create | 2344 E. Iliff Ave.
DU Campus Newman Center for the Performing Arts
Athena Project's Girls Create summer camp program ignites the passions and talents of 6th to 10th grade girls in playwriting, comedy/improv, songwriting and fashion design.
Teachers, guest artists and mentors empower campers to lead and affect change through creative learning.
Details at www.athenaprojectarts.org/summer-camps/ or info@athenaprojectarts.org
Bikes Together | 2825 Fairfax St
A two- week camp designed around all things bicycles, Bike Camp teaches your child to be a safe and responsible bike rider in an environment built on communication and teamwork. For more info and to sign up: bikecamp.square.site/ contact mackenzie@bikestogether.org
Bladium Kids Camps I 2400 Central Park Blvd.
Camps.BladiumDenver.com
Bluff Lake Nature Center | 3400 Havana Way
Through a blend of nature exploration, hands-on lessons, games, crafts, and free play, we inspire campers to better understand and enjoy the outdoors. Full of half-day camps for ages 6-12, and Junior Counselor Program for ages 12-15. Register and learn about our camp themes from June 1 – August 14 at www.blufflake.org/camp/
Butterfly Pavilion | Westminster
butterflies.org
Ceramics in the City I 5214 E. Colfax Ave.
www.ceramicsinthecity.com
Cheyenne Fencing and Pentathlon | 5818 E. Colfax Ave.
coloradofencing.com
City of Aurora Summer Camps I Various locations
auroragov.org/recreation
Cleo Parker Robinson Dance I 119 Park Ave. West
isdi@cleoparkerdance.org
Cleo Parker Robinson Dance has programs in June & July age 3 through pre-professional dancers. Creative Academy starts in June with STREAM (technology) & Hip Hop. International Summer Dance Institute (ISDI) in July all levels. Global cultural genres & active FUN each day! Daily performances during camp. Registration & pricing: cleoparkerdance.org/academy. 303.295.1759.
Colorado Rapids Youth Soccer Club | Various
rapidsyouthsoccer.org
Colorado School of Strings | 3112 Trenton St.
coloradoschoolofstrings.com
CorePower Yoga I 7485 E. 29th Place
corepoweryoga.com
Creative Learning Preschool | 7505 E. 35th Ave.
creativelearningdenver.com
Dance Institute Summer Camp | 4601 Quebec St.
www.DanceInstituteDenver.com
DAVA Summer ART Program | Downtown Aurora
davarts.org
Denver Botanic Gardens Camps I 1007 York St. 
catalog.botanicgardens.org
Denver Dumb Friends League Camps | Denver
ddfl.org/youth-camps/
Denver Museum of Nature and Science | 2001 Colorado Blvd.
dmns.org/summercamps.
Denver Parks and Rec  | Various Locations
denvergov.org
Denver School of the Arts | Montview and Quebec
dsa.dpsk12.org
Denver Zoo I 2300 Steele St.
When school is out, Safari Camps are in! Denver Zoo Safari Camps connect kids with animals through exploration, up-close animal experiences, engineering challenges, nature play, and more! Summer Safari for pre-K through 8th grade camps run June 1 – Aug. 7. Register now. denverzoo.org/summer-safari
Four Mile Historic Park Camps I 715 S. Forest St.
fourmilepark.org/summer-day-camp
Heritage Camps for Adoptive Families I Various locations
heritagecamps.org
International School of Denver | Lowry
Every week at ISDenver, your child will explore the world while moving their body, expanding their mind, developing new skills, and forming new friendships. From sports to language immersion camps (Spanish, French, or Chinese) and even STEM options, our camps have something for every child.
Visit www.isdenver.org/camp for more information or contact summercamps@isdenver.org.
Jewish Community Center I 350 S. Dahlia St.
jccdenver.org
Johnson & Wales I Montview & Quebec
bit.ly/jwucamps 
Kathy's Kamp Summer Enrichment Camp I Northeast Denver
familiesforwardrc.org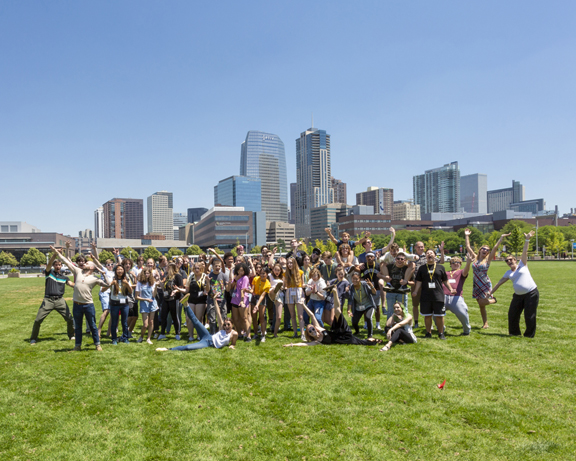 LYNX National Arts and Media Camp | University of Colorado Denver Campus
The LYNX National Arts and Media Camps are summer immersion programs for high school students interested in music, filmmaking & visual arts.
Website: https://artsandmedia.ucdenver.edu/prospective-students/lynx-camps Email: lynxcamp@ucdenver.edu Phone: 303-315-7468
Mighty Movement Academy | 2245 Kearney St, #102
Get Outside, Work Hard, Have Fun! Camps for kids ages 8-15, M-F from 10am-2pm. Kids train using methods specifically for growing youth to increase speed, strength, flexibility, agility and endurance. Have a blast with drills, games and elite instruction to improve athleticism.
Mighty Movement Academy, 2245 Kearney St, 720-822-1822, MightyMovementAcademy.com
Montessori Children's House of Denver | Various Locations
Montessori Children's House of Denver offers learning centered, fun, theme-based camps at our Mayfair, Stapleton, and Park Hill campuses for children ages 1-12. Our camps are built around extended outdoor play and hands-on, real-world experiences, and include field trips, gardening, sports, arts & crafts, cooking, and more.
www.mchdenver.org | 303-322-8324
Neighborhood Music Stapleton | Stanley Marketplace
Charlotte's Web Storybook Theater Summer Camp for ages 5-6 years. In this unique storytellers camp, your child will learn to act out and sing scenes from the beloved children's book. Camp ends with a "share-formance" for family and friends. July 6-10 9 a.m.-noon. Cost: $225.
Register online!
www.neighborhoodmusicstapleton.com info@neighborhoodmusicstapleton.com 720-378-3668
Neighborhood Music Stapleton | Stanley Marketplace
Seize the day! Newsies Jr. Musical Theatre Summer Camp is coming to Northeast Denver! Summer Camp students participate in a full production of Newsies Jr. Students will Act! Sing! And Perform! Learn choreography and vocal training.
Register online!
www.neighborhoodmusicstapleton.com info@neighborhoodmusicstapleton.com 720-378-3668
School of the Poetic City I 2015 Glenarm St.
schoolofthepoeticcity.com
Sewall Child Development Center | 940 Fillmore St
Sewall preschool & school-age (ages 2.5-8) camps take kids outside to explore a garden, discover basic science, play in parks, enjoy water play, build things, enjoy music & movement, reading… adventures we offer to learn & grow.
Register at Summer@SewallChild.org or call 303.399.1800. Pricing and program updates at Sewall.org/Summer.
Soccer Electric | City Park and Sie Film Center
soccerelectric.com
SPREE Summer Camp | Various Locations Denver
Don't want learning to stop because it is summer? We have 10 unique weeks of camp at two Denver locations! Each theme focuses on our city and urban waterways. Fun games and crafts engage campers with the environment while learning!
Visit GreenwayFoundation.org/camp or call for info 720-306-8000.
Stanley British Primary School | Lowry
Summer at Stanley is a child-centered, experiential day camp program for kids ages 5-14. In seven sessions, full or half days, June-July, campers participate in activities where they can explore, create, discover and problem-solve. Let your child uncover art, adventures and archery to Hogwarts, Top Chef and STEM.
Stanleybps.org/summer, 303-360-0803
Summer in the Parks and Summer Day Camps | City of Denver
denvergov.org
The Hills Church | Park Hill
thehillsdenver.com/mega-sports
Up With People Jr. | Various Locations
Up with People Jr., brings children together to impact and inspire their communities through music and performance, global awareness, education, community service and summer camp fun. Register your 8-12 year old today at upwithpeoplejr.org. Contact Lindsay Adams at (303) 460-7100 with questions.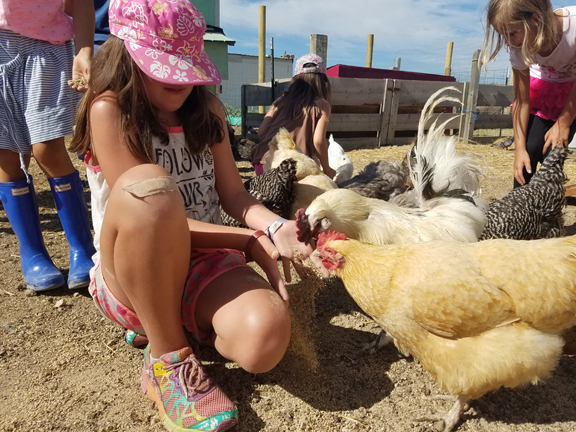 The Urban Farm at Stapleton | 10200 Smith Road
Ages 4-12 | June 1 – July 31 The Urban Farm offers half & full day camps, for young farmers, ranchers, and horseback riders! Come learn how to care for animals, cultivate crops, and be stewards of the land. Register at theurbanfarm.org or call 303-307-9332 for more info.
Wings Over the Rockies Air & Space Museum | Lowry
www.wingsmuseum.org
* Note: Camps with descriptions denote organizations who are paid advertisers to the Greater Park Hill News Camp Directory.