Name That Campus
The Johnson & Wales campus has had many names in its century-plus of existence. The 25-acre campus, at the corner Quebec and Montview, began as the Colorado Women's College, and later was the home to the University of Denver Law School. Johnson & Wales University, which took over in 2000, shuttered its Denver operation earlier this year.
The Urban Land Conservancy, Denver Housing Authority and Denver Public Schools now own and will share the campus with varying programs. They are planning to rename it, and this is where you come in.
The committee in charge of renaming the campus is seeking submissions for a new name. The deadline is for submissions is Dec. 31. By February, the committee will submit three options to the current owners and a new name will be selected.
The renaming committee is looking for submissions that are named after a person (deceased) who has demonstrated significant civic service and contribution to the area surrounding the campus. They will also consider a name that is derived from symbolic, geographical, cultural, or historical meanings.
So put your creative brain to work and submit your top pick at this link:
https://forms.gle/5mEghBcYWCgrqi3k8
Ed/Equity To Host Hallett Principal On Dec. 8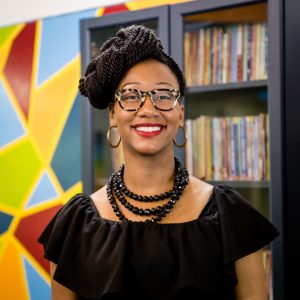 Dominique Jefferson, the principal of Park Hill's Hallett Academy, is the guest speaker for  December's EdEquity Corner, on Wednesday, Dec. 8 from 7 p.m. to 8:30 p.m. Jefferson will discuss Hallett's Black Excellence Plan and other equity initiatives at the school. Register at tinyurl.com/EdEquityDec21.
EdEquity Corner is held the second Wednesday of every month to provide a forum for neighbors about educational equity and racial justice. It is sponsored by Park Hill Neighbors for Equity in Education (PHNEE), which is a group of parents and community members working to ensure that all students attending our neighborhood's elementary schools get a quality education. Its website is PHNEE.org.
Support Needed For GPHC Food Programs
Greater Park Hill Community, Inc.'s food programs include the Emergency Food Pantry, Weekend Food Program, Free Farm Stand, Thanksgiving Giveaway, and Garden in a Box Giveaway. All of these programs are supported almost entirely from donations from the community. For current needs and for more information about the programs, go to greaterparkhill.org.
Trash Collection Days Changing In 2022
Denver's Department of Transportation and Infrastructure (DOTI) announced new routes for its trash, recycling and compost collection services next year. The changes come amid driver shortages and other challenges posed by the ongoing pandemic. Look for DOTI's Wastewise newsletter in your mailboxes in December that will confirm what day of the week you will set out your carts in the new year. You can also find more information at this link: tinyurl.com/2022TrashSchedule
Public Notices
Notice of City Council Public Hearing For Rezoning
Property Address: 4124 E. 18th Ave.
Applicants: Tory and Shae Patnoe
Case No.: 2021I-00103
Proposed Action: Rezone from U-SU-C to U-SU-C1
Hearing: Dec. 26 at 5:30 p.m.
Notice of Planning Board Public Hearing
Property Address: 3435 Albion St.
Applicant: 3435 Albion, LLC
Case No.: 2021I-00111
Proposed Action: Rezone from PUD 539 to E-MX-2X
Hearing: Dec. 1 at 3 p.m.
Note: Greater Park Hill Community., Inc. has formally voted to support this rezoning application. The primary reason for support is that it will allow preservation of the "Robinson House," a historically relevant structure. The owner will seek Landmark Designation protection for the Robinson House.
Notice of BOA Decision
Property Address: 2567 Albion St.
Applicant: Jesse Gross
Case No.:  97-2021
Subject: ADU with setback violation
Decision: Variance GRANTED