Blunders and Beers
A new Park Hill Chess Club has formed. Called Blunders and Beers, the group meets the second and fourth Wednesdays of each month at Longtable Brewhouse, 2895 Fairfax St., beginning at 6 p.m. All skill levels are welcome. Bring a board if you have one.
Festival Of Tiny Houses
The largest tiny house and alternative living event in the region is set for Saturday, July 10 and Sunday, July 11. The festival, at Riverdale Regional Park at the Adams County Fair and Regional Park Complex, showcases a huge array of tiny houses on wheels, container homes, skoolies, van conversions, unique recreational campers, gypsy wagons, teardrops, yurts and more. Each has its own, one-of-a-kind floor plan, décor and remarkable use of space.
The festival blends the spirit of the tiny living movement with the most up-to-date information on going tiny, simplifying your life, minimalistic living, and living greener. There is live entertainment, speaker presentations, a product and service marketplace and food truck court. The festival runs from 10 a.m. to 5 p.m. each day. Tickets are available at coloradotinyhousefestival.com/buy-ticket and run from $10 to $20 (early bird prices are available). Riverdale Regional Park is at 9755 Henderson Rd., in Brighton.
Time To Pump Up
This spring, Denver Parks and Recreation began slowly reopening the city's recreation centers, outdoor pools, registered programs and activities. The city's eight outdoor pools are now open through Aug. 14 for aqua aerobics, lap swim, group swim lessons and open swim.
In Park Hill, the Hiawatha Davis Rec Center weight room and cardio space opened on June 7, Its indoor pool is scheduled to open on Aug. 14. The Martin Luther King, Jr. Rec Center is not slated to open until September.
The weight room and cardio space has also reopened at the Central Park Rec Center east of Park Hill, at Carla Madison at Colfax and York, and at the Montclair Rec Center in Lowry. The Carla Madison pool reopens on Aug. 14.
Reservations are not required to use the facilities. The general cost is $2 per entry, though prices vary based on activity and many are free for MY Denver, MY Denver Prime, and SilverSneakers members. Locations and hours of operation are at denvergov.org/Government/Departments/Parks-Recreation/Recreation-Centers.
Save A Dime And The Planet
As per a new law passed by the city council, Denver shoppers will be charged 10 cents per plastic bag at grocery stores beginning July 1. That means it's time to pull out those cloth and reusable bags and stash them in the car or your backpack for handy access.
The law is designed to cut back on plastic, reducing waste, preventing litter and helping protect Denver's rivers and streams.
Denver residents have been using more than 100 million disposable bags every year, and fewer than 5 percent are recycled. Plastic bags cannot be collected through residential recycling, and many are found littering the community, which threatens wildlife and blocks storm drains along the Platte River and other waterways.
While paper bags are perceived as a more environmentally friendly alternative to plastic, they require an abundance of water and energy to produce and are not durable enough to use  more than a handful of times.
Grab Em By The Roots
Amid drastic cuts to Denver's Parks and Recreation staffing, teams of gardening volunteers have organized this summer. More than 50 volunteers are helping to maintain flowerbeds in City Park, including 11 teams from surrounding neighborhoods.
These volunteers are keeping the following beds looking spiffy: The Rose Garden, the Cordova Rock Garden, the Sopris Garden, the Burns Garden, the MLK Garden and urns, the historic Lilac Hedges and Ida's Rock Garden. Team names include Dead Heads, Root Group, Rock Stars, Weed Whackers, Rose to Rosé and Grab Em By The Roots. Some teams meet in early morning and some at night.
The groups expect to continue the volunteer work next summer, and are seeking additional reinforcements. If you are interested in helping, contact Maria Flora, Greater Park Hill Community Parks and Open Space Chair, at mjflora@msn.com.
Long Arm Of The Law
Join the Lowry Speaker Series on Tuesday, July 20 for an evening with Colorado Attorney General Phil Weiser. Before becoming attorney general in 2019, Weiser served for five years as dean of the University of Colorado School of Law, and previously served in the Obama and Clinton administrations. He also clerked for U.S. Supreme Court Justices Byron White and Ruth Bader Ginsburg. Weiser lives in Lowry with his wife and family.
The event is from 7 p.m. to 8:30 p.m. at the The Eisenhower Chapel, at 293 Roslyn St. While it is free, reservations are suggested (lowryfoundation.org/events/). Face masks are not required. The event will also be streamed live (Zoom link at the same website), and a recording of the presentation will be available at lowryfoundation.org starting July 21. For more information, call The Lowry Foundation at 303-344-0481.
Share Your Wisdom
Attention Retired Catholics: The Ignatian Volunteer Corps (IVC) is recruiting for this Fall. The IVC is an opportunity for adult men and women to share their life skills and wisdom in direct service to the marginalized. Members work in local social service and educational programs for 8 to 16 hours each week.
A guided process of reflection helps members discover the deeper meaning of the work they do. As part of the Jesuit tradition, the organization strives to be "Contemplatives in Action." For more information, contact Erin Benson at 720-588-3836 or  ebenson@ivcusa.org The website is ivcusa.org/denver.
Preschool At 3
The Denver Preschool Program (DPP) is extending $5 million in tuition credits to Denver families with 3-year-olds enrolled in any of its more than 250 participating early childhood education programs over a period of two years. These tuition credits will be available starting this fall through a new pilot program, Preschool for 3s.
Preschool for 3s is the first time the taxpayer-funded nonprofit is subsidizing the cost of early education for children younger than four years old since its launch in 2006.
Specifically, the goals of this pilot program are to help provide financial resources to Denver families who are interested in early childhood education but for whom cost may be an enrollment barrier, and provide opportunities for preschool-aged children to prepare for kindergarten.
"Our aim is to serve as many families with the greatest need as possible," says Elsa Holguín, president and CEO. "Then, when funding allows, we will further expand beyond the pilot to include all families."
To determine eligibility and fill out an application, families should go to dpp.org/preschool-tuition-credits-for-three-year-olds.
There is no deadline to apply. Any families needing help finding and enrolling in an early childhood education program can call DPP at 303-595-4377 or email info@dpp.org for assistance.
Ready To Roll? Park Hill Parade Returns July 4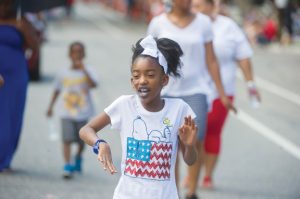 On Sunday, July 4, the Park Hill Parade will be rolling, marching, strutting, twirling and strumming down 23rd Avenue between Dexter and Krameria streets starting at 1:30 p.m. The day is designed to showcase a renewed commitment to celebrate community, diversity and equality. Everyone is welcome!
As of press time, more than 50 entities have registered, with more than 600 participants. Returning groups include the Denver Fire Department, multiple cheer squads, several groups of cosplayers and costumed characters, hot rods and vintage cars and Tiger Kim's Tae Kwon Do studio. Captain America will be back, and The Westernaires will return.
New groups this year include Gone Fishing , The Urban Cookie, The Dragons cheer squad and DJ Starchild and his pickup-mounted DJ booth.
For the latest, check out parkhillparade.org. Come down early and get a good spot along 23rd Avenue so you can check out the action and cheer everyone on.
The Park Hill Parade is an event of Greater Park Hill Community, Inc. Check out other sponsors in the parade ad on page 7.