Sister Act At East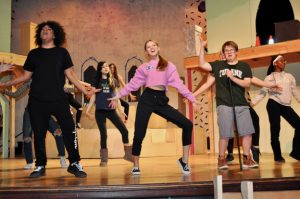 The East Theatre Company presents Sister Act, with performances on Thursday, March 5 at 7 p.m., Friday, March 6 at 7 p.m., Saturday, March 7 at 7 p.m., and at 2 p.m. on Sunday, March 8. Advance tickets are $15 for adults and $8 for students. The musical is at East High School's auditorium, at 1600 City Park Esplanade. Tickets and information about the musical is at easttheatrecompany.com/box-office.
A Century Of Voting
The League of Women Voters of Denver celebrates the 100th anniversary of the winning of women's right to vote with an illustrated talk on how the 19th century evangelical, abolition, temperance, and natural health movements, as well as two wars moved the United States closer to allowing women to vote. The presentation takes place on Tuesday, March 17 beginning at 5:30 p.m. at Montview Boulevard Presbyterian Church, 1980 Dahlia St. The presenter is activist and historian Ruth J. Abram. There is no cost to attend.
The Great Outdoors
On Wednesday, March 18 and Saturday, March 21 the Lowry Foundation is showing a collection of outdoor adventure films. Presented by Adventure Films, the 5Point Adventure Film Festival: On the Road is an assortment of short documentaries about biking, skiing, watersports and running – stories that are ideal for students, families, and adventurous adults who love the outdoors. The films will run from 7 p.m. to 9 p.m. both nights, at the Eisenhower Chapel, at 293 Roslyn St. Tickets are $10 for adults and $5 for children under 12, and are available at lowryfoundation.org, as well as at the door (cash/checks/credit cards accepted). Refreshments will be available.
LWV Turns 100
A century ago Carrie Chapman Catt founded the national League of Women Voters. The moment in history came just six months before the 19th Amendment to the U.S. Constitution was ratified, giving all American women the right to vote and ending a 72-year fight for women's suffrage. The LWV is a grassroots organization whose leaders believed then, and believe now, that all citizens should play a critical role in advocacy. The Denver chapter formed in 1932 and joins more than 700 other local and state chapters in all 50 states as well as in D.C., the Virgin Islands and Hong Kong. On Friday, March 27, come celebrate the League's 100th birthday as it sponsors a Spirituals Project Choir Concert at Montview Boulevard Presbyterian Church, 1980 Dahlia St. The concert begins at 7 p.m. There is no admission charge, but donations will be accepted for the choir.
Wearing o' The Green
Pull on your green top hat and grab your bagpipes and your luckiest leprechaun and head downtown for Denver's annual marching o' the green. This year's St. Patrick's Day Parade is Saturday, March 14, beginning at 9:30 a.m. The parade begins at the corner of 19th and Wynkoop, turns left on 17th Street to Blake Street then marches east on Blake and ends at 27th and Blake at the Coors Field parking lot. An estimated 400,000 Irish and honorary Irish lined the streets last year; this year more than 10,000 marchers and 200 entrants have signed up, including pipe bands; step dancers; floats, police, fire and emergency service agencies, equestrians, charities, marching bands and dignitaries. Check out denverstpatricksdayparade.com  for more information.
Cash For Youth Programs
The City of Denver and Denver Public Schools have teamed up with $200,000 in "microgrant" funds designed to help end youth violence in the city. The grants will be to boost summer services for youth. Teachers, principals, community organizations and community members can apply for up to $10,000 in funding to offer safe and healthy activities for students. DPS and Denver are seeking to fund afterschool programs, pop-up community events, additional support staff, extracurricular educational opportunities, trips to explore the outdoors and other activities to promote safe and healthy youth development. The application period to apply for a grant is now through March 27. The funds must be used to support direct program services for youth ages 12-18 from May 15 to Aug. 31.
To learn more and apply: tinyurl.com/CashForYouthPrograms For questions, email Safety-microgrants@denvergov.org.
Prune Like A Pro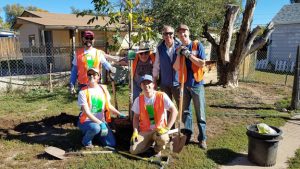 The Park People in Denver is continuing its community forester program for 2020, providing volunteer training classes designed to educate residents about practical ways to make a difference in Denver's environment through urban forestry. Classes run from March to June, and include a basic Trees 101 course as well as training on tree pruning, tree identification and planting. The classes are $25 each. To become a community forester, participants must complete five sessions. However, individuals may take Trees 101 and at least one other class to become tree stewards. To register, call 303-722-6262. Space is limited, and classes tend to fill up quickly. For more, check out TheParkPeople.org.
Throwback to 1993
Downtown Aurora Visual Arts artists have been creating since 1993, and DAVA is celebrating the milestone with its first ever alumni exhibition. The show includes a variety of recent work from graduates who have gone on to become creative community members – including ceramic instructors, English teachers, social workers, scientists, and graphic designers. This exhibition shows the importance of the arts as a tool for self-expression, for discovery and creativity in any field. DAVA is at 1405 Florence St., one block south of Colfax Avenue in the Aurora Cultural Arts District. The exhibition is open to the public from March 13 to 27, with an opening reception and performances by alumni from 4 p.m. to 7 pm on Friday, March 13.  For more information, visit davarts.org.
Natural Forces At DAM
On March 15, the Denver Art Museum (DAM) will debut Natural Forces: Winslow Homer and Frederic Remington. The exhibition features 60 artworks that highlight connections between artistic themes and techniques used by these two acclaimed American artists. Winslow Homer (1836-1910) created masterful depictions of the Eastern Seaboard, while Frederic Remington (1861-1909) became famous for his iconic representations of the American West. Daily tours will be offered at 1 p.m. On view through June 7, the exhibition is included in general admission, which is free for DAM members and youth 18 and younger. Free day at the DAM in March is March 7.
Educating About Alzheimer's
The Alzheimer's Foundation of America's 2020 national Educating America Tour is coming to Denver on Thursday, March 12. The free Alzheimer's and caregiver educational conference is at the University of Denver's Craig Hall, at 1745 S. High St. from 8:30 a.m. to 12:30 p.m. The conference is designed to connect people with information about Alzheimer's disease, brain health, and dementia caregiving. Participants have the opportunity to interact with Alzheimer's experts, ask questions, network, and obtain a free memory screening. There will be several informative sessions led by dementia and caregiving experts. For more information or to register, visit alzfdn.org/tour. Those who can't attend the conference or have questions about Alzheimer's disease can contact AFA's Toll-Free Helpline at 866-232-8484, seven days a week.
It's A Ruby Jubilee
The Park Hill Children's Center's Annual Gala Fundraiser this year is its Ruby Jubilee (40th Anniversary). The fundraiser is on March 7 at the Chambers Grant Salon at the Ellie Caulkins Opera House-DCPA Downtown. Registration and check-in starts at 5:30 p.m. The annual Gala is the Children's Center's biggest fundraiser of the year, including a silent and live auction. For tickets and more information visit: biddingforgood.com/parkhillchildren.
Thinking About Summer
Right about now is the perfect time to start thinking about … summer. More specifically, the 11th annual Park Hill 4th of July Parade! Registration is now open at ParkHillParade.org and will be available through June. Sign up your family, block group, neighborhood organization or business today for free and join the largest Independence Day march in the city. The organizers are always looking for bands and performance groups to march as well. Questions? Email parkhillparade@gmail.com or call/text 303-918-6517.
9 Gardens
20th Annual Park Hill Garden Walk
The 20th annual Park Hill Garden Walk is set for Saturday, June 28, from 9 a.m. to 3 p.m. Seven amazing gardens in Park Hill and two more in the Mayfair neighborhood just south of Park Hill will be featured this year.
If you've never experienced the Park Hill Garden Walk, be prepared to be inspired while strolling through unique, private gardens that vary in types and styles. The gardens highlight the creativity of the gardeners who make these spaces into places of tranquility, relaxation and joy.
Local and area artists are also at each garden location, showcasing their work, including painters, sculptors, jewelers and more. Advance tickets go on sale May 1 at parkhillgardenwalk.org and are $15, seniors $12, Children under 12 are free (prices increase the day of the Garden Walk).
The Park Hill Garden Walk committee is a group of volunteers working to raise funds to support Greater Park Hill Community, Inc. The mission of the volunteer-based registered neighborhood organization is to promote the character and vibrancy of Park Hill through its resources, information and advocacy, while preserving the quality of life and the history of the neighborhood through community participation.
Amazing Women In History
March is Women's History Month. It's also the 100th anniversary of the passage of the 19th Amendment, giving women the vote. The Denver Public Library is marking the occasion by paying tribute to some incredible women in American history and the contributions they have made. The library has scheduled several events at nearby libraries:
Women's Rights and Suffrage: On Sunday, March 1, author Mona Siegel will detail extraordinary stories of women from around the world who have demanded social, economic, and political justice on behalf of women.  The program is ideal for ages 13 and up. It's from 2 p.m. to 3 p.m. at the Sam Gary Branch Library, 2961 Roslyn St.
First Women Filmmakers: A collection of silent films that were created and directed by pioneering women of film will be shown each Thursday in March. The films will be shown at The Preservery in the RiNo Art District, at 3040 Blake St. Showtimes are 7 p.m. to 9 p.m. each week. Food and drink will be available for purchase. Register to attend at denverlibrary.org/rinopopup
• March 5: The Ocean Waif (1916)
• March 12: What Do Men Want (1921)
• March 19: Mabel Normand Shorts w/Roscoe 'Fatty' Arbuckle (1914-1916)
• March 26: Salome (1922)
Fired Up and Ready to Go: Local photographer Patricia Duncan shares her never-seen-before photos of once-U.S. senator to the 44th president of the United States, Barack Obama. She is the author of A Defining Moment: Barack Obama: The Historical Journey to 1600 Pennsylvania Avenue, and other books. She appears Saturday, March 14, from 2 p.m. to 3 p.m. at the Pauline Robinson Branch Library, 5575 E. 33rd Ave.
The Green Amendment: Maya van Rossum is an environmental attorney, veteran activist, and author of The Green Amendment. She recently founded a national nonprofit seeking to amend state constitutions to protect people's rights to pure water, clean air, a stable climate, and healthy environment. She appears on Thursday, March 19 from 6 p.m. to 7 p.m. at the Sam Gary Branch Library, 2961 Roslyn St.
The Bad Old Days of Colorado: It's a rollicking tale of blurred lines, flowing booze, played-out miners, and upstairs girls. Author Randi Samuelson-Brown discusses her book, The Bad Old Days of Colorado: The Beaten Territory, a compelling look at the intrigues of the Wild West, where women were enterprising and justice could be had . . . for a price. The talk is Sunday, March 22, from 2 p.m. to 3:30 p.m., at the Central Library, Floor 5, Gates Conference Room, 10 W. 14th Ave. Pkwy.