How The Coronavirus Is Impacting Colorado's High-Profile Senate Race
By Penfield Tate III
For the GPHN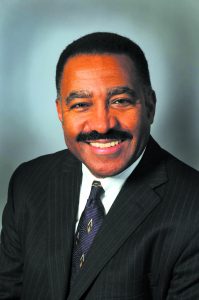 Coronavirus. It has changed our world and our country in a way most of us have never seen before. As of press time, nearly 500,000 people had been infected around the world. The only certainty is that the numbers will grow exponentially. Infected or not, we are all affected. Thousands have died, and the death toll will continue to rise.
Entire countries have closed their borders. Travel restrictions are in effect. The stock markets are in freefall. Stores are being stripped bare, with people panicking and buying as if preparing for a medieval siege. It is instead a medical siege. State and local governments are responding more quickly than the federal government, which waited until mid-March to acknowledge that the situation is "very bad" and may be with us until July or August. There is a rush by Congress to pass stimulus and bailout packages. In Colorado, executive pronouncements come from all levels. Restaurants are closed, except for carry-out and delivery. Churches, hair salons, spas and tattoo parlors are closed. Gatherings of more than 10 people are discouraged. People are working remotely. For our own protection, we are exercising social distancing. On March 26, Gov. Jared Polis issued a statewide stay-at-home order. None of us are immune. Movie stars, political figures, rich and poor, we all are at risk.
Saying no to strangers
Our democracy and the political infrastructure are also impacted. Presidential candidate debates have been conducted without audiences. Candidates at every level have canceled campaign rallies to avoid large crowds. Virtual town halls and rallies are the new trend.
Other public events have been canceled and campaign activities are limited to phone calls and emails. Ohio postponed its primary. Other states were considering the same. Local campaigning has grinded to a halt. Caucuses were held but were sparsely attended, especially when compared to the huge crowds during the last three election cycles.
And with the demise of retail politics, the negative campaigning is already hitting new heights. Campaigns with money have already started flooding TV with negative ads, knowing that homes are full of people either under quarantine or responsibly practicing social distancing. It is undoubtedly making the masses even more stir crazy, wanting to run out the door screaming for relief.
Colorado politics are not immune from the impact of the virus. House District 7 Candidate Pastor Terrance "Big T" Hughes was hospitalized with the virus in the middle of his campaign, and has since dropped out of the race. Rep. Jason Crow announced that he had been in close contact with a person who tested positive for the virus, and quarantined himself for 14 days.
And, in Colorado's U.S. Senate race, considered one of the highest profile contests in the country, Republican incumbent Cory Gardner also announced that he had been in close contact with a person who tested positive for the virus. In March he went into quarantine for 14 days.
Potential Democratic opponents have curbed collecting signatures because voters are reluctant to answer the door to strangers. Workers have found it difficult to collect signatures in parking lots and other public spaces. U.S. Senate candidate Lorena Garcia went so far as to assure supporters that her team had "sanitizer, clean pens and you won't even have to touch the clipboard" to encourage voters to sign her petitions.
The Colorado Democratic Party website has an entire page devoted to COVID-19 and how it could impact the nominating process. Counties are being urged to modify their assemblies to allow remote voting. The Democratic state assembly and convention, scheduled for April 18 at the Colorado Convention Center, is certain to not be an in-person event.
As of this writing in mid-March, the Colorado Republican Party website includes nothing about the virus, appearing to assume that its own April 18 state assembly will go on unaffected at the 1st Bank Center in Broomfield. State GOP Party Chairman Ken Buck, who is also a congressman from Greeley, termed closures of schools and restaurants and cancellations of political rallies an "overreaction." However, with the current ban on large gatherings in Colorado, any in-person assembly is likely not happening.
'With us 100 percent'
Let's revisit our candidates in this most important Senate race, which we initially detailed in the February issue. Gardner is the Republican nominee, no question. And he has doubled down with his base. In February, President Donald Trump traveled to Colorado Springs for a rally in support of Gardner. "He has been with us 100 percent," Trump said. We'll see how that plays in Colorado.
The Democratic side is a bit more complicated (an understatement), but will become clearer by mid-April. There are two ways to qualify for the ballot – caucus and assembly, or by petition. Candidates can also do both to try and improve their odds. Andrew Romanoff, Stephany Rose Spaulding, and Trish Zornio opted the caucus and assembly route. John Hickenlooper and Eric Underwood opted to pursue the petition route and go through the caucus and assembly.
Romanoff, the preferred candidate among progressives, scored an impressive victory in caucuses statewide, winning 55 percent in the preference poll. By contrast, Hickenlooper received 30 percent, Zornio 7 percent, and Spaulding 5 percent. Underwood received 0.2 percent support, and 3 percent were uncommitted.
Hickenlooper has since announced he would not continue through the assembly process, as he has qualified for the ballot via the petition route. That frees up about 30 percent of the total delegates from the caucuses, who can now change their votes to Romanoff, Spaulding or Zornio. (Underwood won't be a factor.)
Spaulding and Zornio have done the most effective job of wooing those delegates, with Spaulding being the most aggressive. But even if they both survive the county assemblies, it is mathematically impossible for both to make the required 30 percent threshold to make the ballot if Romanoff keeps 50 percent of the delegates.
Still in play
The deadline for submitting signatures to petition onto the ballot was March 17. Three other Democratic candidates – Diana Bray, Lorena Garcia and Michelle Ferringo Warren – all submitted petitions. Each needed to collect 1,500 valid signatures from each of Colorado's seven congressional districts, for a total of 10,500 signatures from registered Democrats.
It could be early April before we know whether any of these candidates were successful. If not –  barring a surprise – it could narrow down to Romanoff versus Hickenlooper in the June 30 primary.
Hickenlooper is the more moderate candidate, far better funded and with high-profile support. In the most recent reporting period, Hickenlooper reported $2.8 million in contributions – more than Gardner and all of the other Democratic candidates combined.
The former governor's bankroll, name recognition and two-time success running statewide make him formidable in the primary, and well positioned to beat Gardner in the general.
"I've run statewide twice in bad years for Democrats and I have a relationship with Democrats across the state," Hickenlooper recently told reporters. "And that relationship should allow me to build momentum and really take Cory Gardner on head to head.
"Over the past month," Hickenlooper continued, "thousands of Coloradans have signed their names to say they're tired of Washington's gridlock and political games. Colorado is ready to elect a senator who will bring people together to get things done."
And then there were two
Romanoff, meanwhile, has an active base in the progressive wing of the party. He won majorities in the caucuses in Adams, Denver (where Hickenlooper twice ran for mayor and won), Douglas, Jefferson, Pueblo and Larimer counties, and a plurality in El Paso County – clearly the population centers of the state.
That is likely enough to win a primary, but perhaps not enough to beat Gardner statewide in the general election.
After his successes in the caucuses, Romanoff rallied his supporters. "You defied the political establishment and carried our message — a Green New Deal, health care for all, an economy that works for everyone — to communities across the state," he said.
In an interview with the Denver Post, one Romanoff supporter described the former Colorado Speaker of the House as, "the best at building bridges with the other side . . . It can't just be us versus them; we all have to work for the good of our country."
Romanoff is pinning his hopes on a grassroots populist movement, however, as has been illustrated in his own past U.S. Senate efforts, caucuses are not always predictive for the final outcome.
Hickenlooper is also running against an oft-expressed sentiment that he is the national Democratic Senatorial Campaign Committee's "preferred" candidate. This is a sentiment voiced four years ago when many Democrats believed the national party rigged the process to benefit Hillary Clinton at Bernie Sanders' expense – and subsequently stayed home in November, leading to Trump's upset win over Clinton. It's an allegation that is difficult to prove, but should serve as a caution to Hickenlooper.
Big name, big money candidate versus the grassroots activist candidate. Sounds familiar, doesn't it? Let's see what happens at the state assemblies – virtual and real. Stay safe everyone.
Penfield W. Tate III is an attorney in Denver. He represented Park Hill in the Colorado House of Representatives from 1997 to 2000, and in the State Senate from 2001 to February 2003. A former candidate for mayor of Denver, Tate's opinion column returned to these pages in December. He and his wife Paulette live in Park Hill.