We Must Protect Park Hill's Past, And Our Rich Future 
By Gary Martyn For the GPHN
I was returning home one morning in late July after a lovely time walking our dog around the neighborhood, through the Johnson & Wales campus and back to our house. The day was getting warm, but the big trees provide ample shade for a pleasant walk.
Going by Mason Hall on the campus, I remembered that I learned to swim there when it was Colorado Women's College. My wife went to school at CWC. We met in 1977, and we have shared an old 1910 bungalow right down the street from the college, a block off Colfax, ever since.
She bought the house in 1975 during a period of white flight from the neighborhood during the desegregation of Denver Public Schools. We both spent our careers in DPS.
It was heaven
My first Park Hill memory was from a home on 30th and Elm. I was the youngest of four. The house was small, but we often got to go to my grandfather's house on 25th and Forest, a home he built in 1910. It had a huge yard, an amazing vegetable garden, and it was heaven.
Our family moved into that house at my grandfather's passing. I attended Stedman Elementary, and then Smiley, where my father had gone before me. He was in the first class that attended the junior high all three years, when it was a new school.
Being a kid in Park Hill was a blast. Our block had lots of kids and I made fast friends with a family with 10 kids three doors down. Our bicycles were indispensable in exploring the area. The block on Kearney Street had the Tower movie theater and Candyland. Over on 28th and Fairfax, there was the Piggly Wiggly, the Striped Man ice cream shop, a new 7-11, and a hardware store. Up on 23rd and Dexter, Park Hill Drug was a favorite.
City Park was often a destination. We could ride on the walking paths, go by the zoo and get to see Cookie, the elephant. We rode around all day long in the summer, come home for lunch, then get back to it.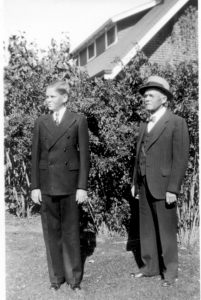 I spent hours at the Park Hill Library, often walking there in the evenings with my dad. He would point out houses where his friends lived when he was a kid, the different types of architecture, and share his stories of growing up. One favorite was how Dad, age 14, would drive his own father out to the airfield (before Stapleton) to watch the planes take off and land. There wasn't a real road, just tracks.
Sharing lives, sharing values
Park Hill was not immune to the turbulence of the 60's. The Park Hill Action Committee was formed by members of the area's churches and other neighbors to foster integration and address pressing matters facing the community.
My dad was a proud member of this group and I, proud of his participation.
One of the great things about my upbringing in Park Hill was the diversity of people who I went to school with, played with, and became lifelong friends with.
I was a student at East when Martin Luther King, Jr. was murdered. It could have torn the neighborhood apart. But in Park Hill fashion, people came together. The day after the assassination, we were told to go home as soon as we arrived at school. A bunch of classmates, black, white and brown, did what we always did. We returned to Park Hill, played basketball and talked about life.
A real eye-opener
Lots of memories came back that morning this July. When the dog and I got home I found a flyer on our door. It was a black and white photocopy of a map – very hard to make out. A website was listed for a new group: Denver East Neighborhoods First (denvereastneighborhoodsfirst.com).
I checked it out and found information that was surprising, to say the least. I have researched the city's East Area Plan, currently in the works. I have grown increasingly concerned at the changes proposed for Park Hill and surrounding residential neighborhoods. I am particularly aggrieved by the prospect of losing the smaller, most affordable homes near Colfax to larger structures, including five-story buildings.
I talked a fair bit with the women who started the Denver East group and started walking the neighborhood and handing out flyers. I am surprised by the number of people who have not known about the plan in the works.
There's been much discussion on social media regarding the plan. Reactions vary, but the nastiness of the debate is upsetting. Online bullying, coupled with the read/react cycle of responding without considering other points of view has added nothing to what should be a civil discussion.
Keep it peaceful
I would ask everyone in Park Hill to become acquainted with the East Area Plan, as it is a major change for the neighborhood. The five women who were profiled in last month's Greater Park Hill News have been targets of the online noise. They are, in fact, incredibly genuine and deeply committed to what they feel is best for our community.
The founders of Park Hill envisioned a peaceful neighborhood away from the city center. Although the city now surrounds Park Hill, there is value in this concept, as affirmed by the young families that continue to move here.
I've loved living all my life in such a wonderful, thoughtful, inclusive neighborhood. As I write this I'm about to attend my 50th high school reunion at East High School. I know that, inevitably someone will comment on how they should have stayed in Park Hill.
Gary Martyn grew up in Park Hill. For more on the East Area Plan, check out last month's coverage at greaterparkhill.org.