That Is Soooo Park Hill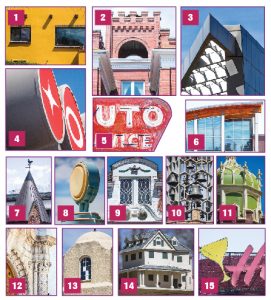 Rae Tatel, step right up!
Last month we published photos of 15 well known (and a few not-so-well-known) landmarks all over Park Hill, along with a challenge: the first to identify all (or most) of them by location would win fame, recognition and prizes. Tatel was the first to respond, and successfully identified 11 of 15 (more or less) of the images. For the rest, Tatel gave some good guesses.
The following are the answers Tatel provided, along with corrections where needed. (If you missed the story, you can check out all the photos at greaterparkhill.org.)
1. Restaurant (Incorrect: This is actually a house at 1750 Oneida St.)
2. The building/tower above Spinelli's Market at 4645 E. 23rd Ave.
3. The District 2 Police Station at 3921 Holly St.
4. Oneida Park Center sign at 22nd and Oneida
5. The Kearney Auto Shop at 6030 E. 23rd Ave.
6. Carla Madison Recreation Center (Incorrect: This is actually the roof and facade of the Park Hill Family Health Center at 4995 E. 33rd Ave.)
7. House on Montview that has blinking lights around Christmas and a play structure in their yard. (This is actually the house at 1974 Locust St.)
8. Sculpture at the corner of 23rd and Kearney Street
9. House in Park Hill that is white. (Sort of: The actual house is at 6201 19th St.)
10. East Denver Church of God on the corner of MLK and Monaco (Incorrect: This is actually the Charles S. Hill Memorial Carillon on the campus of Johnson & Wales)
11. Smiley building (now McAuliffe International School) at 2540 Holly St.
12. Church on the block east of Blessed Sacrament (Sort of: The church is St. Thomas Episcopal at 2201 Dexter St.)
13. Montview Children's Center/Temple Micah (Park Hill United Methodist Church) at 5209 Montview Blvd.
14. Birdhouse in front of the house at 4207 Montview Blvd.
15. Bar on Colfax (Incorrect: This is actually a sign atop The Horizon Bar, in the Holly Square at 33rd and Holly)
Tatel wins a $25 gift certificate to the Chop Shop on Colfax, as well as a copy of Tom Noel's book on the history of Park Hill. 
Honorable mention goes to Vincent Nickols, who didn't actually identify the photos but submitted the following touching ode to the neighborhood.
We'll call the letter "Love, Reignited."
When your architecture contest was published, I decided I was going to find and/or visit every image by foot or bicycle.
As a 20-year resident of Park Hill, I'm not sure if I qualify as an old-timer in the neighborhood, but I've been here long enough to easily identify most of the 15 images.
While I continue to search for the exact location of image No. 9, I want to say "Thank you!" for reinvigorating my love for Park Hill.
In the process of searching for each image, I've been down streets I've never traveled, I've met new people (The residents of image No. 1 didn't know their house was featured in the scavenger hunt), and I've seen the neighborhood in ways I would have never seen it otherwise. Who knew Park Hill had so many turrets and weather vanes?!?
If you haven't already seen them, you should check out the weather vanes at 1625 Krameria and 2685 Dexter.
Vincent Nickols, Park Hill