Pump Malfunction on New Stretch Of I-70 Blamed For Flooding That Stranded Motorists
By Cara DeGette
Editor, GPHN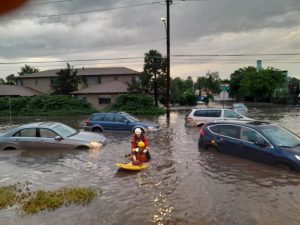 No areas of Park Hill were spared by an Aug. 6 gullywasher of a rainstorm that brought buried old creek beds to life, flooded streets and stranded motorists. Meteorologists estimated more than 1.5 inches of rain fell in less than a half-hour.
West of Park Hill, the Denver Zoo flooded, and the retention pond at the newly-configured City Park Golf Course filled. Flooding inundated cars in the southern part of the neighborhood and in the Mayfair neighborhood, where numerous people had to be rescued from their flooded cars on 14th Avenue. The streets in the eastern part of Park Hill flooded. To the north the retention pond at the Park Hill Golf Course property filled, and was still full and muddy the next day.
Just northwest of the neighborhood, the new $1.2 billion Central I-70 highway project, built partially below grade, was brought to its knees for several hours after its new water pumps failed to activate.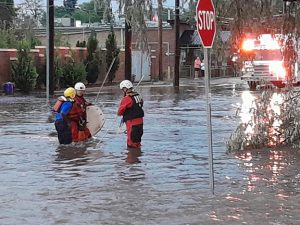 There were no reported injuries to humans, but news videos captured scenes of people wading through waist-high waters, rescuing children and others from cars that were inundated on the highway. An estimated "hundreds" of motorists were stranded for several hours.
Colorado Department of Transportation spokeswoman Stacia Sellers initially noted the Central 70 Project, which is a 10-mile stretch between Brighton Boulevard and Chambers Road, is still an active construction project. "Our drainage network is not yet complete, though it is nearing completion. Every construction project runs the risk of flooding while it's in an interim phase."
The day after the flood, Sellers told the Greater Park Hill News that CDOT and the contractor, Kiewit Construction — which is building the highway — would conduct an investigation.
Shortly after, Matt Sanman, public information officer for Kiewit Construction, released a statement that, "an error in the drainage pump system appears to have prevented the pumps from turning on automatically. Once this was determined Kiewit turned the pumps on manually."
Sanman said that once the project is completed, "we are confident [the drainage system] can and should work properly to successfully handle this and other more significant rain events. We are working with CDOT to investigate exactly why this event occurred and to improve our protocols so we can effectively manage future rain events during construction and after completion."
At press time, Kiewit indicated the investigation into the malfunction of the pumps is ongoing.