Is Pressing Real Live Flesh A Thing Of The Past?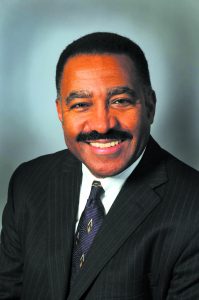 It is election season, with primaries coming on June 30. We have a hotly contested U.S. Senate primary. November's general election will even be more heated.
There are state legislative primaries, but not in our neighborhood. The candidates in Senate District 33 (James Coleman) and House Districts 7 and 8 (Jennifer Bacon and Leslie Herod) not only don't have primaries, they don't have general election opponents in November. Part of this is by political calculation, but there is more at work.
The coronavirus pandemic is all consuming and is changing the character of life around the globe and in the U.S., changing campaigns and possibly forever the rules for both elections and campaigns. How frequently do you hear about a campaign or a candidate these days? Or get a live phone call? Even still, ask yourself, when was the last time you saw a candidate in the flesh? We see this at every level of government. Including at the highest levels.
Coronavirus confines Donald Trump to the White House, except to play golf. The press conferences/campaign events he was holding daily to talk about the pandemic were such disasters that his staff and Republican candidates asked him to stop. Although appearing on daily news programs on a semi-regular basis, the fact is that Joe Biden is openly running for president from his basement. They both feel like stealth campaigns, although Trump is now running television ads.
I have been to virtual town halls. They are very unsatisfying and hard to get a word in or a question answered as they are too heavily moderated.
Virtual campaign rallies are worse. You have no hope of speaking to the candidates. Similarly, Zoom meetings with 200 of a candidate's best friends and supporters rarely does the trick. Even the small Zoom meetings that I have attended with candidates are sterile.
At the end of the day, it's really hard to engage and know a candidate with screen time or phone calls alone. I have pretty much decided to avoid all of these in the future.
Where's the flood?
Television news coverage of campaigns is spotty at best. And it usually only covers a gaffe or mistake. Big newspaper coverage is virtually non-existent. Maybe the same wire story runs in every local paper around the country.
Truth be told, it's publications like the one you're reading right now that do most of the legwork these days reporting on campaigns.
I haven't even had my front door assaulted with reams of campaign flyers or notices. And the usual flood of mail pieces still has not come. I have seen a few pieces, but not many. I am starting to feel ignored.
But the email and texts, now that's a different story! Here is a sample of what I am getting daily:
"I don't take responsibility at all." – Joe Biden quoting Donald Trump's famous statement on the coronavirus.
"Democrats Drunk With Pandemic Power Could be Undercutting Themselves Come November!" – the Townhall Daily
"Trump Catapults Existential Threat at Vote by Mail" – The Democratic Combined Congressional Committee
"If I am still alive in November, you can count on my vote." – U.S. Senate candidate Andrew Romanoff, quoting a supporter.
"Republicans like my opponent, Cory Gardner, are part of the problem in Washington dragging his feet on common-sense reforms and putting corporate interests ahead of Americans." – U.S. Senate candidate John Hickenlooper
And here's one from a group called Stop Trump PAC: "Sign the petition: Don't fire Dr. Fauci!"
Next to impossible
And there is much, much more. It seems the internet information assault has increased because personal contact with candidates is so limited.
As I suggested earlier, the coronavirus has not only impacted campaigns, it's changing the way campaigns are regulated and conducted. We have written before about the efforts of Secretary of State Jena Griswold s drive to export Colorado's successful vote by mail program to the national level. (And yes, she too has sent out an email about that.) But that won't be the only rule or procedural change.
Acknowledging the impact the coronavirus is having on the safety of those engaged in campaigns, and relying on his disaster emergency declaration, Gov. Polis issued two executive orders, 2020-065 and 2020-064, temporarily suspending various requirements for petition gathering.
What does that mean? Well, in the past we have all been used to the sight of petition signature gatherers in the parking lots of grocery stores, in the parks or at other outdoor events. Current law requires that signatures be collected in person.
As Polis explained at a press event, because there is a public health emergency that makes normal petition gathering next to impossible, it was absolutely critical that we still honor the right of the people to place ballot initiatives but create a way that is consistent with our constitutional principle of the right to petition and meets the needs of this public health environment.
Legal challenges
I think we have threaded that needle, working with the secretary of state.
The executive orders make changes for state independent and unaffiliated candidate and ballot issue petitions.
The most important change is eliminating the requirement that signatures be collected in person, and ensuring that registered electors are able to feasibly complete the process from their homes. This change, certainly the most controversial, has been interpreted to mean collection of signatures by mail or electronically.
The business group Colorado Concern filed suit claiming that the governor has exceeded his constitutional authority and that the executive orders would remove vital safeguards that go to the very heart of the integrity in the initiative process.
The group's lawyer further stated that, "A governor does not have the power to unilaterally throw out Colorado's signature-gathering process and that the executive order undermines the integrity of the in-person process that Coloradans have long demanded."
Colorado Concern is asking for an immediate ruling to block the executive orders directive from going into effect.
Supporters of Polis's action believe that Colorado Concern's opposition is not based on the change in the process in the wake of the virus.
It is, they maintain, a political ploy grounded in the group's objections to several proposed ballot measures – including those advocating to lower the state's income tax rate, create a paid family and parental leave program and make Election Day a holiday.
The group Due Date Too Late, seeking to limit access to abortions, is also challenging the orders. Their position is unique.
Having been deemed to lack sufficient valid signatures to make the ballot, the group is in the cure period to show the legitimacy of signatures collected.
Because they have already turned in their petitions and are in the cure period, the executive orders do not offer them relief. They are the only ballot question so impacted and have alleged that the governor's order intentionally leaves them without relief.
Finally, the Denver Metro Chamber of Commerce is also considering a legal challenge.
Fundamental rights
This won't only be an issue on the state portion of the ballot. A group, Resilient Denver, is calling on the Denver Clerk and Recorder to allow online signature gathering for initiatives, including theirs on a fossil fuel extraction prohibition in Denver.
In its press release supporting the measure, Resilient noted that Denver residents have a constitutional right to amend the City Charter and ordinances. Group members should not be forced to risk their health and safety to satisfy unjustifiable and unachievable ballot restrictions and participate in democracy or protect their health and give up their fundamental right to access the ballot.
It is clear that the coronavirus pandemic is impacting every sector of society. It is also clear that some of its impacts will be long lasting.
Be safe and enjoy your summer.
Penfield W. Tate III is an attorney in Denver. He represented Park Hill in the Colorado House of Representatives from 1997 to 2000, and in the State Senate from 2001 to February 2003. A former candidate for mayor of Denver, Tate's opinion column returned to these pages in December. He lives in Park Hill.