It's Not A Normal Day On The Slopes For Skiers This Year. Some Weigh Sitting Out The Season
Story and photos by Reid Neureiter
For the GPHN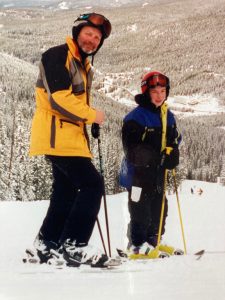 Park Hill resident Charles "Chuck" Bennett has been skiing for 65 of his 77 years and usually gets in 50 to 60 days on the slopes. You might call him a ski fanatic.
But during the pandemic, Bennett, who has owned a Winter Park ski condo with his wife Stel for more than 30 years, is having second thoughts.
"Being in a vulnerable age group, the contact in lift lines and on lifts is of concern," he says. "I feel like [the resorts] are really trying and that the plans are reasonable given the situation, but then I watch the cameras at the ski areas and at least on weekends it looks pretty congested."
Bennett is not alone in questioning whether it makes sense to take to the slopes this year. A November Colorado Skier/Snowboard Community Survey of 788 skiers and snowboarders by Boulder-based Magellan Strategies found that nearly a third were considering skipping the 2020-21 season.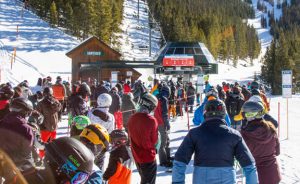 Reasons given for questioning whether to ski extend beyond the fear of contracting the virus. With some resorts requiring advance reservations (even for season pass-holders), no day-of ticket purchases, limited on-mountain dining options, and no apres-ski gatherings, the experience will be changed from what Coloradans think of as a normal ski day.
For example, at mountains owned by Vail Resorts, including Vail, Keystone and Breckenridge, there is no indoor food service. Even warming up indoors at Keystone's historic Mountain House base is limited to 15 minutes, with no eating or drinking allowed. Arapahoe Basin has closed its famous "Beach" area to tailgating, and there is no dine-in food service in the lodge. Winter Park's pandemic-specific website, titled "Shred Another Day," warns prospective visitors that indoor space will be extremely limited: "Plan ahead, know what the weather will be, bring plenty of hand warmers, put boots on in your car, and pack accordingly, including your lunch and some snacks."
This author's personal experience, having skied four days in late November and early December at Vail and Keystone, is that while a reservation system has been implemented to limit crowding and the associated risk of COVID transmission, certain rules mean longer lift lines and more waiting while in close contact with others.
Keystone has signs at all lifts warning of Summit County's "Red" level status, reminding all skiers that they must wear masks while in line and while on the lift, and to stay six feet apart. But limits on the number of people who can ride a lift means that some chairlifts designed to carry six people were only carrying two or three. Reducing lift capacity means longer waits and longer lift lines, something this author saw at both Keystone and Vail, potentially increasing the risk of transmission.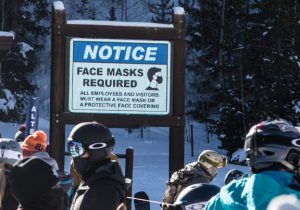 Bennett, who lives on Elm Street, remains on the fence.
"I have still have not decided [whether I will ski this year], especially given current limited capacities," he says. "I will likely wait till January and then try it on a weekday and see what it feels like. Also, I haven't done much cross country [skiing] since we moved back here from Minneapolis, so I may decide to do mostly that. If the vaccine becomes available — which looks iffy at best at the moment — spring skiing could be the solution."