Highlights, and Lowlights, of 2019
Compiled by Cara DeGette
Editor, GPHN
What a year. Municipal elections, wrangling over the Park Hill Golf Course land and the East Area Plan, a teachers' strike that was followed, months later, by a historic DPS school board election (see page 5 for more on that). Throw in world class ice climbing, a 50th anniversary neighborhood blowout, drunk skunks and a wild turkey roaming Park Hill. The following are highlights of the year that is quickly drawing to a close.
January
Womxn's March On Denver
For the third year, crowds gathered in Denver, across the nation and globe on the third Saturday of the month to mark the movement dedicated to the power and importance of women. In Denver, crowd estimates were at 80,000. This year's event was renamed the Womxn's March to recognize non-binary identity designation. Participants carried and waved signs and banners opposing President Donald Trump, and promoting a range of other issues, including universal healthcare, social justice and civil rights.
Marade Honors MLK, Jr.
On Jan. 21, thousands of Denverites turned out for the 35th annual marade to honor slain civil rights leader Martin Luther King, Jr. on what would have been his 90th birthday. As happens yearly, crowds gathered at the MLK, Jr. statue in City Park before marching three miles up Colfax to the state capitol. Said former state Rep. Wilma Webb, the marade's founder, "We've got a lot to celebrate, but we've got a lot to work on."
Talk of the Neighborhood
The campaigns for Denver Mayor and City Council elections started revving up in a big way. In a season of discontent, no fewer than 52 candidates jumped into the races for mayor, city council, clerk and recorder and auditor. Though the election was still four months away, George Mayl, president of Inter-Neighborhood Cooperation (INC), attended the January meeting of GPHC to remind people to, "get out there and vote – I don't care who you vote for, but vote!"
Oblio's Opens Its Arms
In response to the federal government shutdown that began in December and stretched well into January, the owners of Oblio's Pizzeria on 22nd Avenue and Kearney Street offered free meals to employees who had been furloughed, and their families. They also launched a Go Fund Me effort to provide assistance to seven families who were financially strapped as a result of the shutdown. Their efforts to help generated much coverage, including a mention in the New York Times.
Green Space Disappearing
In her monthly column, GPHC board chair Tracey MacDermott highlighted recent reports that green space in Denver is disappearing faster than most other cites and that the dwindling of nature in Denver could lead to potentially overwhelming increases in storm-water runoff, and is causing worsening heat-wave impacts.
February
Teachers On Strike
On Feb. 11, some 2,600 Denver Public School educators went on strike for the first time in 25 years. At the end of three days, an agreement was reached, and teachers returned to class. Numerous educators shared their views in the February issue, including Amy Maes, who teaches kindergarten at Park Hill Elementary. "We are working with the children who will some day run our country. We are teaching the whole child but cannot afford to live in the communities where we teach. We are committed to doing our very best by each child and yet are underpaid and disrespected. We deserve a living wage and Denver's kids deserve respected educators."
Ice Climbing World Cup Finals
On Feb. 23-24 Denver hosted the finals of the International Climbing and Mountaineering Federation's ice climbing World Cup series. More than 70 competitive ice-climbing men and women athletes descended on Denver from around the world. A 50-foot tall competition scaffolding was erected on the south side of Civic Center park, with downtown Denver providing a stunning backdrop to the remarkable feats of balance and strength on display.
What's Happening At City Park
GPHC board member Ryan Hunter provided an update during the monthly community meeting on several projects at City Park. The Denver Zoo was moving forward with improvements to the Gate 15 area, behind the elephant compound near Duck Lake on the north side of the park. Updates were underway at the Dustin Redd Playground, and once those were completed the smaller playground near the Denver Museum of Nature & Science was slated for improvements as well.
Pippin at East
Crowds went wild over East High School's spring musical, Pippin, which had a late-February-early March run.
March
Is The Skunk Drunk?
During the monthly GPHC community meeting, Julian Wolff, outreach coordinator for the Denver Animal Shelter, highlighted many resources available at the shelter. Audience members asked several questions, including what to do about skunks and raccoons. Wolff said if you see a skunk that seems drunk, call animal enforcement at 311, as it is likely the skunk has rabies. For general wild animal sightings, he said, it's generally best to accept the fact that "they are wildlife, and we are [living] in their habitat."
April
Con Law Champions, Again
East High School's Constitutional Law team took home the ultimate prize, winning the National Championship in Washington, D.C. while competing against nearly 1,200 budding constitutional scholars from all 50 states.
May
Election In A City of Discontent
After a contentious election season Denver Mayor Michael B. Hancock emerged victorious over five challengers. But he didn't land enough votes to keep him from a runoff election against a newcomer to Denver politics, Jamie Giellis. City Councilman Chris Herndon, whose district includes Park Hill, held off five challengers and won a third term. Other council incumbents, including Albus Brooks, Mary Beth Susman and Wayne New, were not as lucky. They were bested by newcomers who vowed to challenge the status quo.
Also on the May 7 ballot was the Right To Survive initiative, to repeal Denver's urban camping ban that allows police to cite and remove property belonging to homeless people in public areas. With an opposition campaign that was funded with more than $2.4 million in campaign cash – largely from developers and business groups – Right To Survive was defeated with 81 percent of the vote.
Denver voters, however, did approve a second initiative to make psilocybin mushrooms (aka "magic mushrooms") the lowest law enforcement priority for Denver police – the first ordinance of its kind in the nation.
Arria Minor Is A Running Machine
For the fourth time, East senior Arria Minor won the 100-meter dash at the state championship meet on May 16-18, tying a 32-year old record at 11.31. Minor also won the 200-meter for the fourth time, and contributed to East's 4×100 meter relay winning team. Minor now holds the Colorado state records for the 100, 200, and 400 meters.
June
Greater Park "Over the" Hill Party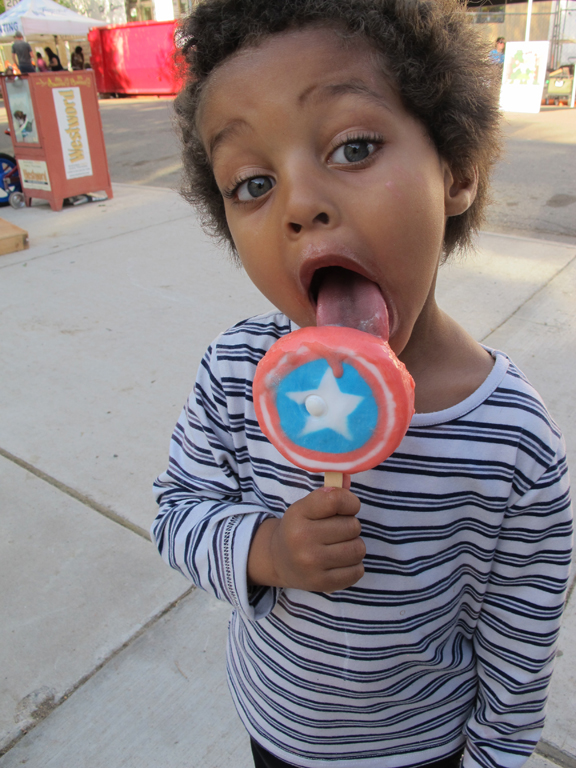 On June 1, Greater Park Hill Community, Inc. celebrated turning 50 in a big way, with a celebration that included a block party at 28th and Fairfax, video storytelling from longtime residents, food trucks and a silent auction.
Garden Walk
The Dahlia Campus for Health & Well-Being was one of the featured gardens in the annual Park Hill Garden Walk. The Dahlia Campus, at 34th and Eudora Street, opened in 2016, to provide mental health and other services and programs. More than an acre of the three-acre campus is devoted to farming and gardening, with 100 or so varieties of food-producing plants.
Hancock Wins Third Term
In the municipal runoff election, Michael B. Hancock trounced Jamie Giellis, winning a third term as Denver mayor. In the clerk and recorder's runoff race, former City Councilman Paul Lopez beat public interest attorney Peg Perl.
Brown Cloud is Back
Springtime is in full swing and getting outdoors is a priority. Denverites are blessed with an incredible view of our city skyline and stunning snowcapped mountains, and yet again, that view is tainted by the brown cloud.
July
Parade Turns 10
Justin Bresler and his family have confirmed, if there was any remaining doubt, that everyone loves a parade. Park Hill's 4th of July parade turned 10 this year. The parade, which was founded by the Breslers (Justin, Alison, Max, Ellie and Charles), has grown from an informal gathering of kids on bicycles riding up 23rd Avenue to a rollicking party of thousands, cheering on parade participants who come by foot, on floats, on motorcycles, in cars, trucks and golf carts.
'No Park Is Safe'
Former Mayor Wellington Webb wasted no time making his views known on the future of the Park Hill Golf Course land after a surprise deal surfaced that the development company Westside Investment Partners was closing on a contract to buy the 155-acre parcel for $24 million. In a heavily-attended press conference, Webb urged Denver residents to contact their council representatives and register opposition to any development on the land, which is protected with a conservation easement that city taxpayers paid $2 million to secure in 1997. "What I hope to get out is the message to people to contact their city councilmembers and the mayor and tell them you want to save Park Hill," Webb said. "If we allow this golf course in Park Hill to be sold and redeveloped into a concrete jungle, I believe no park in Denver is safe."
Denver Geese Kill Sparks Controversy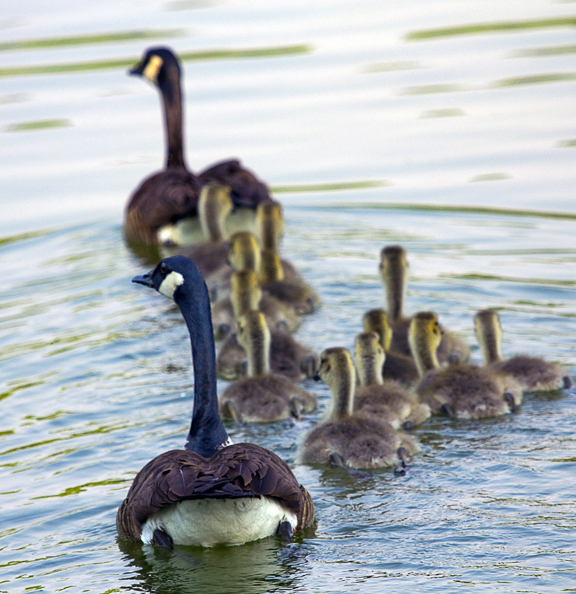 Under orders from top officials from Denver Parks and Rec, 1,662 geese were rounded up from several city parks, including City Park just west of Park Hill. The molting geese and their goslings were killed and, according to the city, some of the meat was given to organizations to distribute to people in need. Deputy parks director Scott Gilmore defended killing the geese, saying the goose populations had become untenable. However the pre-dawn roundups enraged animal rights activists, who pointed out that other cities have successful programs to deal with goose poop and overpopulation in more humane ways. In addition, the roundups occurred the same month the city adopted a policy for managing geese. One of the top recommendations was the critical need for public outreach and support – which notably the city had not done.
August
Oneida Park Center Near Capacity
Two years ago, Denver commercial real estate broker Todd Snyder and partner Rick Firmine purchased the Oneida Park Center, on Oneida between 22nd and 23rd avenues. Now, the once-sleepy business block is booming. Built in the 1950s, the center has undergone a multi-million dollar facelift, including repairing the iconic mid-century-style sign that towers over the block. Esters Neighborhood Pub, Torpedo Coffee, The Local Butcher and DANG Soft Serve, opened this year. A weekly farmers market was held during summer months. An Illegal Pete's Mexican restaurant is expected to open on that block in 2020. As business has boomed, parking headaches and the accompanying increase in noise and traffic, has become the new normal during peak business hours for many residents living nearby.
September
Pushback On East Area Plan
A city plan to dramatically increase the density in residential areas close to Colfax from Colorado Boulevard east to Yosemite has drawn fierce opposition from many residents who fear their modest neighborhoods are at risk of the same type of intense development that has radically altered other areas of Denver. The public outcry coincided with an early August announcement that a $125 million funding shortfall for the city's planned Bus Rapid Transit (BRT) along Colfax could delay that project for a decade or more. City planners, along with a committee of volunteers appointed by members of the city council, have been working on the plan for two years. However, many residents had no idea of its far-reaching impact on their properties and neighborhoods. Most reported they had just learned about the plan when recommendations were rolled out in the spring. City planners have since revised the draft recommendations. Planners scheduled another public workshop for review and response on Nov. 23, after the print deadline for the December issue. Stay tuned for more on this developing story.
Home Tour and Street Fair
The 41st Annual Park Hill Home Tour & Street Fair, on Sept. 8, featured homes built from 1926 to 2016 in various architectural styles, including Craftsman, Georgian, Tudor, and English Cottage. The daylong free Street Fair on the parkway at Montview and Forest featured vendors, live entertainment, food trucks, wine & beer, kids activities, and a sustainability zone.
October
Line In The Sand
In the latest twist to the ongoing tug-of-war over the Park Hill Golf Course land, the group fighting to keep its 155 acres open space highlighted a new state law that they say makes the land off-limits to development. Specifically, the law now requires anyone who wants to terminate a conservation easement to take it to a judge. Previously, city officials and developers have said that terminating the existing easement on the property could be done with a simple majority vote of the Denver city council. In a press conference to highlight the new law, former Mayor Wellington Webb called for open space advocates to "draw a line in the sand" to oppose development.
Quality Inn Becomes Quality Housing
Colorado Coalition for the Homeless has purchased the former Quality Inn at 37th Avenue and Quebec Street, and is converting the former hotel into 139 apartments for people who currently have no home. Denver has a critical shortage of 27,000 low-income housing units, and the coalition has a current waiting list of 3,600, CCH director John Parvensky said he and his team jumped at the chance to acquire the propoerty. The rooms are being retrofitted into 300 square-foot micro-unit apartments designed to be long-term, low-income housing for singles and possibly some couples. The apartments were slated to be ready for move-in by the year's end.
November
Turkeys On The Loose
Wild Turkeys were once hunted out of large parts of their range. But they have been reintroduced and sightings are no longer as rare as they were. A female turkey wandering around the neighborhood this year created a huge stir. For weeks she was the source of much merriment on social media, with multiple people weighing in daily with updates and GPS coordinates. A turkey-naming competition soon followed. Katherine Smith Kuhn took home a trophy for her award-winning entry: Stuffany. The turkey was last seen high-tailing it toward Stapleton, where it was rumored she took a part-time job leading Cory Gardner's reelection campaign. To which someone quipped, "That seems a fitting job for a turkey." To which Daniel Weinshenker rejoined, "This is a perfect example of why I love Park Hill."