2019 Was A Mighty Fine Year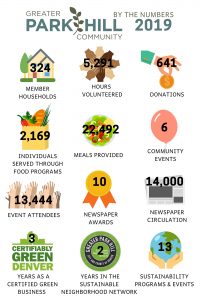 2019 marked my first year (nine months, really) as executive director here at Greater Park Hill Community, Inc. I am so proud of the work that we accomplished through our incredible volunteers, donors, and members. Check out the fun infographic summary of the year 2019 here at the Registered Neighborhood Organization.
Also, check out the "Who We Are" feature below for info on how you can contact me for donations, membership, and volunteer opportunities in this new year.
As always, thank you to our donors and volunteers. We couldn't do it without you!
Donors
AARP #995 Queen City
Christine Allen
Katharine and Daniel Ambruso
Estelle T Bennett
Blessed Sacrament
David Brumbaugh
Catherine and David Manchester
Barbara Cavender
Kristy Corcoran
Abby Crandall
Michelle Dabdoub
Veronica D'Annibale
Cara DeGette
Bernice and Steve Donohoue
Sheila Duffy
Ellen Reath and Craig Maginness
Gary and Carolyn Martyn
Maggie Gourd-Barrett
Patrick Hall
Janet Hazlett
Carolyn Hill
Ellen and John Hokanson
Howard and Susan Turetzky
Ryan Hunter
Irene Andress and Joan and Jim Marchiori
Katherine Jeter
Katherine Johnson
Niko Kirby
Jane W Klever
Judy Klupar
Lola and Arlen Hershberger
Douglas Mandic
Megan Mcquinn
Christina Miller
Harriet Mullaney
Mary Mullarkey and Thomas Korson
Park Hill Congregational UCC
Jillian Quinn
Susan and Paul Riederer
Emily Roet
Mary Salsich
Nancy Simmons-Walker
St Thomas Church
Taking Neighborhood
Diana Thompson
Judy Thompson
Marjorie Thompson
Tracy and Jamie Kubo
Karen Urwin
Margot Vahrenweld
Gloria Valdez
Guy and Susan Wroble
Wyszynski & Associates
Volunteers
Janey Alpert
Barbara Cavender
Millie Drumright
Jack Farrar
Claudia Fields
Tas Frashure
Maria Goodwin
Bob Haddock
Noni Horwtiz
Erika Hutyra
Debra Lovell
Chuck Nelson
Mia Peterson
Mike Quigley
Deb Rosenbaum
Mary Salsich
Heather Shulman
Shane Sutherland
Sue Weinstein