Message To Motorists: Put Down The Phone And Slow Down
Story and photos by Cara DeGette
Editor, GPHN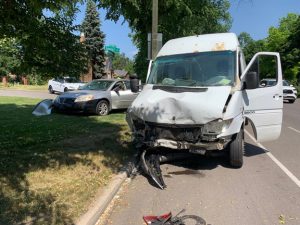 A rash of recent accidents, collisions and hit-and-runs in Park Hill has cops and neighbors extending one long and loud message: Slow the *bleep* down.
As of June 21, a total of 33 people have died in traffic accidents city-wide so far this year. Denver's goal is to reduce traffic-related deaths to zero by 2030. But at this rate the number of fatalities this year will certainly climb higher than last year's total.
It is unclear whether the total number of non-fatal vehicle-related collisions has increased over last year, as the official number was not available as of press time. However, anecdotally, neighbors throughout Park Hill are reporting witnessing higher numbers of crashes, collisions and near-misses between cars, bicycles and pedestrians.
In early June, an accident on 23rd Avenue at Dahlia left one car overturned — witnesses said miraculously, the driver walked away.
On June 17, a hit-and-run at Montview and Locust street left Eribeto Gomez with slight injuries and a loss of his livelihood for the foreseeable future. Gomez was driving about 20 miles per hour west on Montview when a car heading south speeded through the stopping at Locust. Gomez's work van was pushed over the curb and into a tree, totaling it. The driver of the car jumped out and ran away. The car was not stolen, and police expect the suspect will be apprehended.
The next day, two blocks away, a crash at 23rd and Monaco caused no injuries. But it snarled the west/east and southbound traffic for some time, while police sorted out the mess.
"We are entering our summer months where many kids are out of school and they are riding their bicycles, their skateboards, what have you." said District 2 Police Officer Ambrose Slaughter, who was on the scene of the June 17 hit-and-run. "We need to be on the lookout for them."
Slaughter estimates he responds to an average of three accidents per 10-hour shift in Park Hill. And yes, he has some advice for drivers.
"Let go of the telephone and put both hands on the steering wheel. Pay attention. You eventually are going to get where you're going. If you're speeding, the chances are you are still going to be late — and you might be late with a $165 ticket with my name on it."