When It Comes To Books, This Club Has 20/20 Vision
Story and photos by Leslie Williams
Pauline Robinson Branch Librarian
Last month the Pauline Robinson book club read A Season to Lie by local award-winning author Emily Littlejohn. She came to the meeting and discussed her book. It was a fantastic experience for the group, which this year celebrated its 20th year sharing book experiences. This book club is one of the longest running at the Denver Public Library.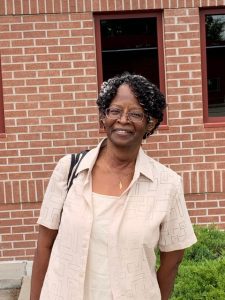 Since joining our branch in 2013, I have been in awe of their tenacity and their drive to read the best books each year. I've relished the opportunities to attend their meetings, lead discussions and participating in their annual holiday luncheon. They have opened my mind to other authors and topics, and how to discuss a book.
The group reads all over the map – from black authors to various nonfiction – promoting fantastic discussions. The impact the book club has on the library is tremendous. The increased circulation for our adult collection is partly because of the group. The energy the women (yes, they are currently all women) bring to each meeting is incredible.
While the neighborhood has experienced changes and many members have moved to other parts of the city, the group size has stayed steady, with the same core group of 15 ladies meeting every fourth Saturday of the month.
More about the history of the book club can be found in an article from the November, 2017 issue of the newspaper: greaterparkhill.org/2017/11/reading-friendship-reading-joy/.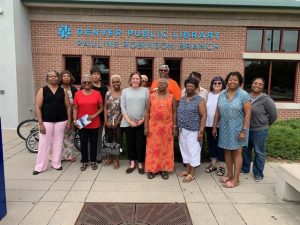 "I am often asked what keeps the Pauline Book Club going with 20 years of continuous operation,' " says Harriet R. Hogue, the book club's monthly news note-scribe and part-time record keeper. "My answer is two-fold: an open door and an open mind.
"We always welcome new people to the book club to visit, then to join and contribute to our no-holds-barred book discussions, while at the same time cherishing the long term respectful relationships we have built as comfortable book friends. We have fun reading together.
"[As for an] open mind, while we like to read authors of color, we do not place restrictions on a member's book selection in terms of majority 'likes,' or book setting, subject, or authors, only that there be enough copies of any book in regular, large type and audio for all of us. Many books that members would have not even picked up on their own have been dynamic and thought-provoking. Or duds!
"I'm looking forward to the next 20 years."
Here's to the book club! Thanks to all for your patronage and open mindedness for all these years. The next book club meeting will be held on Saturday, Oct. 26, at noon.
Pauline Robinson Events
Tech Help Appointments | Tuesdays, noon-1p.m.
Get technology assistance from one of our in-house experts on your own device or a public computer. Learn the basics, such as email, social networking, word processing and eMedia. Call the library at 720-865-0290 to schedule an appointment.
Preschool Storytime | Wednesdays, 10:30 a.m.
Stories, songs, rhymes and fun for 3-5 year olds and their parents or caregivers.
Perfecting the Building Blocks of Stories | Wednesdays, 4:30–5:30 p.m.
Stories are all around us, from novels to movies to articles – even on the backs of cereal boxes. This five-week series focuses on the building blocks of stories and how we can strengthen every aspect of our fiction or non-fiction. Ideal for beginners or folks who need a refresher.
Parachute Landing | Tuesday, Oct. 22, 2 p.m.
Create an airfield and help a toy parachutist land on the target.
Pauline Robinson Book Club | Saturday, Oct. 26, 12 p.m.
Call the library at 720-865-0290 for the book title. Drop-ins are welcome.
Medicare Monday| Monday, Oct. 28, 2-4 p.m.
Drop in for one-on-one assistance in understanding Medicare and other public benefits. We can even help you sign up for the program of your choice. Medicare Mondays is offered in partnership with Benefits in Action, which is a state-authorized Medicare assistance program for older adults.
Park Hill Branch Events
All Ages Storytime | Thursdays at 10:30 a.m.
Stories, songs, rhymes and fun for children of all ages and their parents or caregivers. Craft activity immediately follows the program.
Baby Storytime | Thursdays & Fridays at 11:15 a.m.
Stories, songs, rhymes and fun for babies ages
0-18 months and their caregivers. Play and social time immediately follow the program.
Toddler Storytime | Fridays at 10:30 a.m.
Stories, songs, rhymes and fun for toddlers ages 18-36 months and their caregivers.
Family Yoga | Saturday, Oct. 5, 10:30 a.m.
Stretch your body and your imagination in this family oriented yoga class. We will get silly and relax, all while singing, reading, playing games, and getting creative. Designed for a variety of ages, no previous experience necessary.
Walking for Intergenerational Justice | Monday, Oct. 7, 4 p.m.
At age 69, Bob McCormick walked to Washington, D.C. to bring awareness to how today's actions will impact his grandchildren and generations to come. Hear about his amazing journey and feel inspired to take action.
Teen Advisory Board (TAB)  | Tuesdays, Oct. 8 & 29, 6 p.m.
Join the Park Hill TAB. Help plan events and projects, talk about your favorite books, music, movies and make your opinion count. Plus, snacks. Ideal for ages 13-18.
Make Your Own Diwali Lantern | Wednesday, Oct. 9, 4 p.m.
Create a Diwali lantern to celebrate this popular festival of lights in India.
Adventure Travel—Just Go! | Wednesday, Oct. 9, 6:30 p.m.
An experienced world traveler, Kevin Scott will encourage you to travel to places that may be out of your current comfort zone. Taking alternative paths is rewarding, enlightening, and enriching. Scott will share insight on traveling economically, wisely, and safely as you widen your travel experiences.
Fall Family Bike Ride | Saturday, Oct. 12, 9:30 a.m.
Bike riding together is a great way to bond outdoors and make exercise fun for everyone. Join us on a fun family bike ride around Park Hill with Bicycle Colorado, NorthEast Transportation Connections, and the Denver Public Library.
Lasting Conversations: Journeys and Values | Saturday, Oct. 12, 2:30 p.m.
What do we owe to each other? How do we talk about what matters most? Engage in one or all of our monthly discussions using classic and contemporary texts as springboards for talking about pressing issues. October's topic is Borders.
Kids' Book Club | Tuesday, Oct. 15, 3:30 p.m.
Book: Bunnicula by James Howe
Craft: Jumping Bunnicula cups.
Ideal for ages 6 to 9.
Underground Comedy Club: Nancy Norton | Thursday, Oct. 17, 7 p.m.
Comedian, Nancy Norton is the 2018 Winner of the prestigious Boston Comedy Festival, and the only female to ever win that festival. Norton's performances are in the moment, intuitive, authentic, high energy, and fast paced. Doors open at 6:30 p.m. Eighteen and over only due to adult content.
No Strings Attached Book Chat | Saturday, Oct. 19, 11 a.m.
Read whatever you want and attend whenever you can. Share a recent read, an old favorite, or anything in between.
Halloween Card with Circuits and Lights | Saturday, Oct. 19, 3 p.m.
Make light up Halloween cards, the perfect spooky craft for a friend or loved one. We'll be using copper tape, LEDs, and paper to craft some frightful and festive cards.
Upcycled Spooky Castle | Monday, Oct. 21, 10:30 a.m.
Create a not-so-scary castle using recycled materials.
DIY Paper Book Pumpkins for Adults | Tuesday, Oct. 22, 4 p.m.
Transform an old book into a holiday pumpkin with cutting implements and creativity.
A Discussion on TABOR (Taxpayer Bill of Rights) | Wednesday, Oct. 23, 6:30 p.m.
Does Colorado deserve to be called America's  No. 1 economy? How TABOR is setting us up for a fall and what we can do to change our story.
Teen After Hours Halloween Party | Friday, Oct. 25, 6-8 p.m.
Come to the library after hours (spooky!) for a Halloween party. Wear your costume, eat pizza and candy, and play Murder in the Dark. Ideal for teens ages 11-17. *Permission slip required, pre-registration suggested. Download the permission slip or stop by the library.
Marijuana 101 | Monday, Oct. 28, 2 p.m.
Recreational marijuana has been legal for five years in Denver. Learn from an expert from the Denver Office of Marijuana Policy about how it all works, what are the lessons learned, and future challenges.