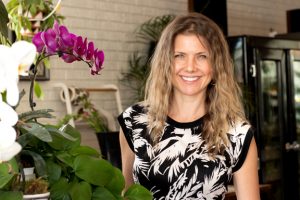 After 13-and-a-half years designing floral creations at 23rd and Dexter, Moss Pink Floral owner Jil Schlisner has up and moved her floral shop. Now on Colfax and Forest, Schlisner says she's thrilled with the new space. She wanted to stay close to Park Hill, and says the light in her new workspace has been a lift. Also, she says, it's a lot of fun to be on Colfax. ("We always joke that it's a different type of stroller down here than it was on 23rd," she laughs.) Schlisner recently took a few minutes for an update on her move, and on how her world is blooming.
Greater Park Hill News: It had to have been hard to move in the midst of a pandemic. Have there been some challenges?
Jil Schlisner: I work with many unusual and specialty flowers, and I personally go and hand select from local flower markets. In the beginning I could do that, but then a couple wholesalers closed to the public and I had to make adjustments [with some suppliers]. In California, growers didn't have people to work, so [they] were unable to cut flowers for a time. This seems to have evened out. Here in Colorado we have quite a strong local grower's movement, which is great right now.
GPHN: How is business?
JS: I was surprised that flowers became a commodity in the pandemic. People have wanted to have beauty around them. I had to close the business for a time to customers, but [flower] delivery has skyrocketed. I am so appreciative of Park Hill and the support through this. People really care about supporting local businesses.
GPHN: So, what is your favorite flower?
JS: I always joke that I have a rotating top five. Right now I would say Ranunculus, Arabicum, Sweet Peas, Dahlia and Glorisa Lily (with Freesia and Pieris Bud quick to follow).
Schlisner says current conditions have inspired her to change up her routine. She still carries cards and interesting gifts at the store, but has increased her focus on floral delivery and plants, and encourages people to preorder via her website, at mosspinkflora.com. Her regular business hours are 2 p.m. to 6 p.m. Monday through Friday, and 1 p.m. to 5 p.m. on Saturdays.
Spicing Up The Neighborhood
The Spicy Radish, owned and operated by the Park Hill duo Chris and Katie Kannen, delivers fully prepared family-style meals to people all over Denver (check out their menu at thespicyradish.com). In the spring, the temperature really heated up – especially since the couple decided to donate prepared food to teachers, as well as other people who were in need.
Chris Kannen recently provided this brief update: "We had a very busy April and May following the lockdown order, and had to add an extra delivery day and pare down our menu options just to keep up. That said, we feel very fortunate to be in a position to continue serving our customers through all of this. Back when school was in session, we donated some meals and treats to teachers at Park Hill and Stedman, and will continue offering discounts to school teachers and staff. We also frequently deliver extra meals and ingredients to the Greater Park Hill Community food pantry."
Ice Cream & A Side Of Fries
Barely open and serving soft serve and fries for six months, Dang Ice Cream made the tough call to close shop in March, temporarily. The ice cream shop at Oneida Park Center, at 23rd and Oneida, reopened earlier this summer. It got an immediate boost from the Denver Post, which identified Dang as one of its nine favorite ice cream shops in town.
Soon . . . Very Soon
Speaking of Oneida Park Center, it is looking like the long-awaited Illegal Pete's restaurant is coming closer to reality. The newest location for the local Mexican casual restaurant chain has long been promised to open in the space that was previously Table Top, Desmond and Red Sauce. In mid-July, the Oneida Park Center's Facebook page posted this very brief, but promising update: "Illegal Pete's – Soon . . . very soon!"
Stay tuned.
— Cara DeGette
Do you have news about a business in and around the neighborhood? Has ownership changed hands? Has a local shop recently opened? Closed? Won an award? Had a visit from a VIP or celebrity? Send your business news tips to editor@greaterparkhill.org for consideration. Please include "Spilling the beans" in the subject line.