A Roundup Of Local Food News And Other Tidbits
By Cara DeGette
GPHN Editor
Mother Of All Egg Sandwiches
Some may downplay the simple egg sandwich. But dismissing this creation as merely ordinary apparently would be a serious mistake, at least when you're at Tessa Delicatessen. In May, Denver magazine 5280 deemed the egg sandwich at this Colfax deli the best in town, including this delectable description: "The keys to the stacker's magic include a jammy basted egg (cooked in hot fat), thick bacon, herbaceous pesto, melty provolone, and nutty arugula; the extra-squishy house-made milk bun doesn't hurt either." Jessica and Vincent Howard opened the deli and restaurant at 5724 E. Colfax, in late 2019. It's named after their daughter, Tessa. Brunch, lunch and dinner are served.
That's Some Good Chicken
Denver's Westword alt-weekly also handed over heaps of praise to a couple of neighborhood restaurants in its annual "Best of Denver" 2022. Blazing Chicken Shack II, in the Holly Shopping Center at 33rd and Holly, took home the award for Best Fried Chicken. This is what Westword had to say about that chicken. "Oh, what glorious chicken it is, fried to order and seasoned to perfection, with a thin but crispy coating giving way to moist meat underneath. Pair it with sides like mac and cheese or slow-cooked collards with shreds of ham hock for a home-style Southern feast with plenty of friendly hospitality thrown in."
Fries. They're What's For Dinner
The restaurant on Colfax most famously known as Solera became a Texas BBQ joint for awhile. In late 2021, Chef Merlin Verrier opened up Street Feud in the spot, at 5410 E. Colfax. Westword describes the restaurant as "a funky, vibrant spot that specializes in the world's street food." And when it comes to Verrier's French fries, well, the tasters at Westword are impressed. "The menu is loaded with hits, but the French fries stand out thanks to an extra coating of potato starch that makes them extra crispy (while remaining gluten-free) — even when you opt for toppings like braised lamb and curry aioli or crispy pork belly, kimchi and cheese sauce."
Don't Show Up In Blue
Park Hill's Abbey Tavern also got a Westword Best Of nod this year, named the "Best Place To Watch Liverpool FC" in town. This is what the alt-weekly had to say about the Abbey, at 5151 E. Colfax Ave.: "Given how successful Premier League club Liverpool has been in recent years — not to mention what Ted Lasso has done for soccer's popularity — it's no wonder the Liverpool FC Denver fan club found a festive outpost for its Saturday game-watching. The club posts up at the Abbey Tavern for all Liverpool games, and the bar gets completely packed. This is definitely the best place to watch a soccer game for Reds fans. Just don't show up wearing blue."
The Award For Best Chef Goes To …
The restaurant Annette is not technically in Park Hill. It's in the Stanley Marketplace at 2501 Dallas St., a couple miles east of Park Hill. But when a chef is named the Best Chef in the Mountain Region by the James Beard Foundation, a couple of miles between friends is nothing. Caroline Glover, the chef and owner of Annette, received the prestigious award last month during an in-person ceremony at the Civic Opera House in Chicago. "The thing I've learned most in the past two and a half years, and we've known this, but restaurants aren't a luxury, we're essential," Glover said in her acceptance speech. "It's time for us to start being treated that way."
The Award For Black Smoke Goes To …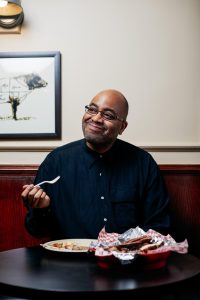 Denver-based author and resident soul food expert Adrian Miller also nabbed a James Beard Media award for his book, Black Smoke: African Americans and the United States of Barbecue. The book — which also won a Colorado History Book award last month — is described as "a celebration of African American barbecue culture, and a restoration of African Americans as a vital part of the American barbecue story." In addition to being a noted culinary historian, Miller is executive director of the Colorado Council of Churches, an attorney and certified barbecue judge. His first book, Soul Food: The Surprising Story of an American Cuisine, One Plate at a Time, won a James Beard Award in 2014.
Oblio's Is Reinventing Itself
It's no secret that Oblio's Pizzeria — Park Hill's much beloved tradition for more than a quarter century — got hit hard by the pandemic. Earlier this year, the owners were this close to closing the doors of the restaurant at 22nd Avenue at Kearney Street for good. But then they decided to embark down a new path. With help from some neighbors, they are reinventing and evolving Oblio's. Think new interior, new, made-from-scratch menu, new outlook. Patio dining and take-out and delivery are currently open during renovations, and the owners are waiting until the big reveal to showcase the transformation. In other words, stay tuned …
Homage To The Americas
The social media buildup leading to the opening of Lucina earlier this year was tremendous. And when it actually happened, boom! The restaurant, at 2245 Kearney St., has a menu that blends Latin American, Caribbean and coastal Spanish cuisine. Owners Erasmo "Ras" Casiano, Diego Coconati and Michelle Nguyen describe their restaurant this way: "It is an expression of our roots, our heritage, our culture— along with a deep appreciation for our neighbors." After the doors opened earlier this year, the throngs quickly followed (including an early appearance by Denver Mayor Michael B. Hancock). One unanticipated consequence: When it's crowded, this place is loud. In one recent social media post, Casiano says they working on solving the sound problem, and appreciate diners' patience.
Coming Soon: Dumplings, Pho, Bakery   
The Crock Spot, which occupied a spot next to the new Fairfax Park at 28th and Fairfax, closed in February after just a year in business. The word is out that the owners of Yuan Wonton, Pho King Rapidos and Sweets & Sourdough are teaming up to open a new venture in the space that includes dumplings, pho and a bakery. Yuan Wonton is a mobile dumpling truck specializing in signature chili-garlic wontons, hand made dumplings and other Asian noms, and has established a near cult-following. (Writes one giddy fan: [The owner] is a rockstar and her dumplings are life-changing!) Ditto the love for Pho King Rapidos, which specializes in "Vietnamese-ish foods, with Denver and NYC flavas." Sweets & Sourdough is a women-led bakery that supplies restaurants and grocery stores. Needless to say, many neighbors are stoked about this triumvirate, likely rolling out this fall.

Thanks For The Memories, Annie's
The year was 1981. In Denver that June, the Denver Metro area was hit with three strong tornadoes, including a 157 mile-per-hour whopper in Thornton. That year, 100 homicides occurred in Denver — the highest ever recorded for the city. Opera Colorado was founded. Dan Reeves was named head coach of the Broncos — at 37 the youngest coach in the National Football League. U2 performed at the Rainbow Music Hall on Evans Avenue; the band celebrated Bono's 21st birthday the day before by popping a bottle of champagne. Annie's Cafe & Bar opened its doors in Denver, at 8th and Colorado Boulevard, where it operated for 27 years. (That spot is now occupied by a Trader Joe's.) In 2008 Annie's moved to its current, and last spot at 3100 E. Colfax Ave. On June 26, the restaurant  closed, the building sold. Longtime owner Peggy Anderson is 70, and is retiring. In early June, she told the Denver Post she is happy to be "going out on a high note."
Do you have news about a business in and around the neighborhood that you'd like to share? Has ownership changed hands? Has a local shop recently opened? Closed? Retired after decades in business? Won an award? Had a visit from a VIP or celebrity? Send your business news tips to editor@greaterparkhill.org for consideration.