Finding Treasure On Colfax
Park Hillians Kate Hakala, Suzi Chierchie, and Emily Henke-Groves have teamed up to open a multi-vendor retail mall, Park Hill Treasures, in the former bank at 6035 E. Colfax Ave.
Their vision is to feature vendors and artists who are focused on sustainable, repurposed and eco-friendly wares that are regional to the Rockies. Around 70 unique Denver and Colorado based vendors are expected to fill the space, including  crafters, artisans, local packaged foods and other treasures.
"I was looking for a space like this to resell a number of things I had collected over the years and I couldn't find a location with booth space anywhere in the area," says Hakala, who is also a Park Hill dentist.
In a press release, Henke-Groves, the general manager of Park Hill Treasures, describes the space as "like taking a mini vacation or a walk through the past. I have met so many talented people putting this concept together."
The space celebrated its grand opening the weekend after Thanksgiving. Holiday business hours are from 10 a.m. to 6 p.m. seven days a week. The phone number is 720-701-2644.
A Year Of Gardens
Filled with gorgeous photos of gardens featured in this year's Park Hill Garden Walk, the 2022 Park Hill Garden Walk calendar is on the shelves at several local retailers and also available for purchase online.
The volunteers who make the Garden Walk happen every June were inspired to make a calendar in time for the holidays last year, after the 2020 live event was cancelled due to the pandemic. The 12-month calendar/fundraiser was such a success they decided to make a tradition of it.
The calendar is created specifically for Colorado Front Range gardeners and includes monthly gardening tips and reminders. You'll know when to plant, prune, fertilize, mulch, watering tips and so on to create and maintain a beautiful garden (most gardeners quickly realize their work is not done at the end of the summer.)
The calendars are $20, and they measure 12" X 24" when open. Proceeds support the Greater Park Hill Community mission (The Registered Neighborhood Association is a volunteer-based registered neighborhood organization that promotes the character and vibrancy of Park Hill through its resources, information and advocacy, all while preserving the quality of life and the history of the neighborhood through community participation.)
The calendars are available at these local area retailers: Ace on the Fax (7100 E. Colfax Ave.), Cake Crumbs Bakery and Café (2216 Kearney St.), Spinelli's Market (4621 E. 23rd Ave.), Oneida Park Dental Studio (6920 E. 23rd Ave.) and the Park Hill Community Bookstore (4620 E. 23rd. Ave.)
You can also purchase them online at parkhillgardenwalk.org/calendar/ to pick up at GPHC world headquarters, at 2823 Fairfax St on Mondays and Wednesdays between 9 a.m. and 3 p.m.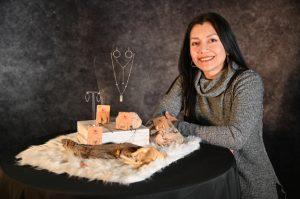 Where There Is Esperanza
The Downtown Aurora Visual Arts (DAVA) studio is kicking off its annual Holiday Show and Sale
with an opening reception on Friday, Dec. 3 from 4 to 7 p.m. The show, called Hope/Esperanza, will be on display through Jan. 14 and features artwork and handmade holiday gifts made by youth and local artists. Among the offerings: Ceramics, including decorative tiles, tea bowls, candle and soap holders, bells, and sculptural planter pots.
Artwork by guest artists includes paintings and prints of daily scenes by Matty Miller, mini pots and ceramic wall hangings by Christine O'Dea; crocheted hats by Mikah Neff, Reiki charged candles by Cûriōs Nature Co., wood-fired pottery by Liam Grinton, and hand-forged metal jewelry from Designs by Vickie A. Also featured is beaded jewelry from I Love ME Gems created by a group of local immigrant women led by Venezuelan artist Yurima Crowley.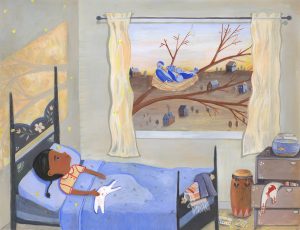 DAVA is at 1405 Florence St., one block south of East Colfax Avenue in the Aurora Cultural Arts District. Hope/Esperanza is free and open to the public from 10 am to 5 pm, Monday to Friday and by appointment. Proceeds from the exhibition support free year-round art programs for youth. For more information about DAVA programs, visit www.davarts.org, or call 303-367-5886.
Denver Potters Sale Dec. 2-5
The Denver Potters Association is holding its Winter Show and Sale from Thursday, Dec. 2 to Sunday, 5 at the Sixth Avenue United Church in Denver. The show brings together nearly 40 top local artists showcasing functional and sculptural ceramics, jewelry, fiber, glass, and wood creations.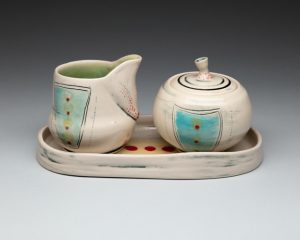 The Sixth Avenue United Church is at 3250 E. Sixth Ave., at Adams Street. Admission is free and masks are required for both guests and artists working at the sale.
Sale hours are Thursday, Dec. 2 from 3 p.m. to 7 p.m.. Friday, Dec. 3 from 10 a.m. to 7 p.m., Saturday, Dec.  4 from 9 a.m.  to 6 p.m., and Sunday, Dec. 5 from 11 a.m. to 3 p.m.
The Denver Potters Association is owned and operated by Castle Clay Artists, which is in Park Hill. For more information, call 303-377-5535 or visit denverpotters.com.  Check them out @castleclayartists on Instagram and Facebook.
Spilling the Beans is an occasional news feature about neighborhood businesses. Do you know of a local business that has opened, closed, changed ownership, won an award? You get the picture. Submit suggestions and tips to editor@greaterparkhill.org.