Beer Historian Sits Down For A Few Cold Ones
Interview with GPHN Editor Cara DeGette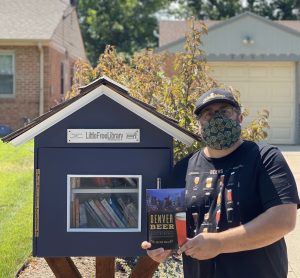 Greater Park Hill News: Did you write Denver Beer: A History of Mile High Brewing from your Park Hill home office?
Jonathan Shikes: I was an editor for Westword for 13 years (I also wrote about beer). When I left, I continued to freelance beer stories to Westword and other publications. This was my first book and it took two years to write from my home office in Park Hill (it was only supposed to take me six months!). It's available online at Tattered Cover, BookBar, Barnes and Noble, etc. I also sell and ship inscribed copies to people who contact me on social media.
GPHN: Describe an amusing anecdote involving beer and Denver and history from your book (bonus if it involves anything about Park Hill).
JS: When I interviewed Park Hill's John Hickenlooper, he was still governor. I tried to bring him a six-pack at the Capitol, but it caused a huge security kerfuffle! They eventually let me bring it in, but then the governor canceled on me. We eventually were able to meet up, but I don't know if he ever got the beer.
GPHN: What's your favorite/most memorable brew at the following Park Hill breweries:
Station 26: Juicy Banger IPA is the perfect mix of old and new hops.
Long Table: Dunkel hits the right note between malty and dry.
Fiction: Sour slushies are fun, unusual and refreshing.
GPHN: How is this book different than the other Colorado beer books that have hit the market in recent years?
JS: Most local beer books are guides to the breweries themselves. Denver Beer is the first to delve not just into modern craft-beer history, but to take readers all the way back to Denver's founding and tie all of that history together.
GPHN: What beer do you recommend people drink at home, in the pandemic, when hanging out in a brewery is tough?
JS: Every local brewery is selling just about everything they make in cans or crowlers-to-go, so you can really find just about any style you want and pick it up curbside or have it delivered.
We are now entering Oktoberfest season, so traditional Marzen beers are a favorite in the fall.
GPHN:  Publishing your first book just as a pandemic hit must have been rough – book signings canceled, etc. What's the plan for promoting/selling the book now?
JS: All of my publicity events were canceled since the book came out on March 2.
I am working on an online event with the DPL's Sam Gary Branch (DPL has six copies to check out) and I hope to restart some promotional activity in the right situations, when it is safe.
I'd like to drop off more books at Little Free Libraries in Congress Park, Montclair/Mayfair, Central Park, Whittier and Capitol Hill.