For 13 East High Athletes, A Day For Celebration
Story and photos by Reid Neureiter
For the GPHN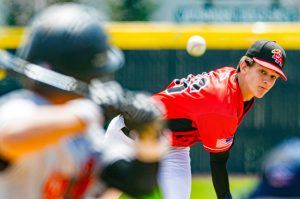 National Signing Day has traditionally been the first day a high school senior can sign a binding letter of intent for a collegiate sport with a National Collegiate Athletic Association-affiliate school.
The website ScholarshipStats.com notes only a little over 7 percent of high school athletes (about 1 in 14) go on to play a varsity sport in college. Fewer than 2 percent of high school athletes (1 in 54) go on to play at NCAA Division I schools. That makes college commitment a cause for celebration.
Denver high schools mark the occasion with a ceremony attended by parents, coaches and administrators. On Feb. 5, East High honored 13 student athletes who have been accepted to college and recruited for their athletic prowess. They included:
• Ethan Boyle, Soccer, American University
• Chloe Brown, Diving, California State University, Bakersfield
• Will Daley, Cross Country, Dartmouth College
• Hendrik deKoning, Golf, Adrian College
• Jaylin Graham, CSU Pueblo, Football
• Wyatt Johnson, Lacrosse, St. John's University
• Lucy McHugh, Lacrosse, University of Richmond
• Tess McHugh, Lacrosse, Pomona College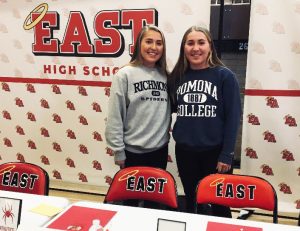 • Helen Moses, Softball, Carleton College
• Christian Rogers, Baseball, Northeastern Junior College
• Stella Rollo, Basketball, California State University, Chico
• Ryan Sangchompuphen, Golf, University of Detroit Mercy
• Ella Squibb, Lacrosse, Butler University
Denver East midfielder Ethan Boyle looks to pass against Fossil Ridge on Oct. 25, 2018. Boyle will play college soccer at American University in Washington, D.C.
The path to playing a sport in college differs for every student and sport. In interviews with the Greater Park Hill News, East athletes Lucy McHugh, Tess McHugh and Ethan Boyle recounted their respective paths to college acceptance.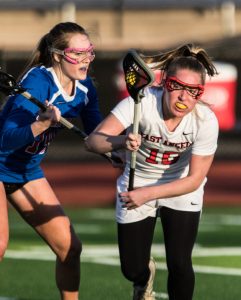 Lucy McHugh explained that because girls' lacrosse is a sport primarily centered on the East Coast, her recruiting process was "difficult," involving numerous summer showcase tournaments, clinics and camps in the East where players can get the attention of college coaches. Describing herself as a "very competitive person," McHugh has always dreamed of playing at the NCAA Division 1 level and eventually accepted a "recruited walk-on" offer from the University of Richmond Spiders. A recruited walk-on means no athletic scholarship money is provided, but acceptance to the university is guaranteed and a place on the team is almost assured. McHugh believes that Richmond provides the combination of great academic fit and athletic excellence. She was convinced in part by an official visit to campus, where she ran into former East Angel lax star Mustang Sally, who Lucy says is enjoying his freshman year playing for the Richmond men's lacrosse team.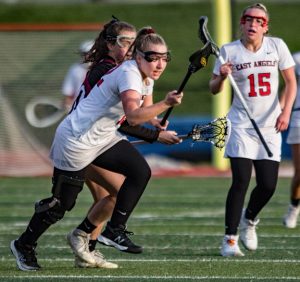 Tess McHugh had her path to a Division 1 derailed by an ACL tear her sophomore year, which meant missing many of the East Coast recruiting camps. McHugh instead focused her sights on NCAA Division 3 Pomona College, an ultra-competitive California liberal arts institution boasting an eight percent acceptance rate on par with Ivy League universities. Division 3 colleges do not offer athletic scholarships, but good athletes can leverage athletic prowess as a recruit into a "tip" by a coach and increase the chances of acceptance into an academically exclusive institution. McHugh explained that the quality of play at Division 3 programs approaches the level of Division 1, but the degree of commitment is not as great in terms hours of practice, travel to out-of-state games, or off-season training, allowing for more balance with demanding academics. McHugh concluded that for her, Pomona and Division 3 was "a better path." The fact that her mother, East High government and Constitutional Law teacher Susan McHugh, is a Pomona alumna made the decision even easier.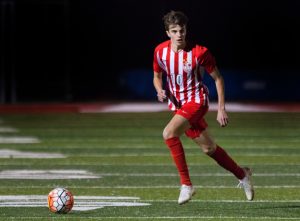 Denver East soccer player and Park Hill resident Ethan Boyle sacrificed his final year of high school team soccer in order to realize his dream of playing Division 1 college soccer. As a high school junior, Boyle had been an important contributor on East's highly ranked team. But to get the attention of Division 1 coaches around the country, Boyle felt he needed to devote himself to a Developmental Academy program. A number of top-level soccer clubs prohibit players from playing high school soccer. Top-level club teams play in showcase tournaments that college coaches attend to identify D-1 level prospects. Boyle joined the Real Colorado Developmental Academy program and the plan worked; he got the attention of the coaching staff at American University in Washington, D.C. He received his formal offer in December and tells the Greater Park Hill News that he is excited about living in Washington and playing for American's new head coach, who was previously an assistant at national champion Georgetown University. Boyle expressed some regret at not being able to play at East his senior year, but says being able to sign with D1 program made it worth it.
Regis's Michalek Heads To The Springs
His Advice To Other Athletes: Stay Persistent, Take It Slow
While East High had 13 student athletes committing to college on signing day, Denver's Regis Jesuit had 13 seniors from a single team – the reigning state baseball champions – commit to college on Feb. 5.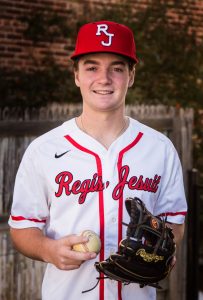 A member of that team, who was honored at Regis' own college signing ceremony, is Park Hill's Jack Michalek, who lives on Leyden Street and plays third base for the state champs. Michalek will play college ball for the University of Colorado at Colorado Springs, a NCAA Division 2 program that offers both some athletic scholarship money and a conference schedule that involves some travel but also includes a number of in-state opponents.
Michalek picked UCCS primarily for its business program, which features a sports management major, and potential internships with Denver-area professional teams owned by the Kroenke Sports organization, the United States Olympic Committee, and the Olympic Training Center (which is in Colorado Springs).
"Not many schools offer that," says Michalek, who would like to continue his involvement in sports even after his college playing career is over. UCCS's sports management program and a baseball coach who appeared as interested in Michalek's academic success as athletic success facilitated his decision. Michalek felt that some other college programs he investigated prioritized sports above school, where you "are there just to play baseball, and going to class is extra."
Michalek also received both a partial athletic and an academic scholarship, making the choice even more attractive. Michalek's recruiting involved participating in a number of camps at UCCS to get to know the team, and to allow the coaches to evaluate him as a player.
Michalek's advice to any young high school player interested in playing in college? "Stay persistent in e-mailing coaches, and take it slow." In addition, "the NCAA divisions do not really matter. Some of the smaller schools and lower division programs are a better fit and it is all about where you fit in." As Michalek noted, it makes little sense to pick a school only for a specific sports program, and later have to transfer because the school is not to your liking.
— Reid Neureiter