Adapting To A Strange New World Of High School Sports
Story and photos by Reid Neureiter
For the GPHN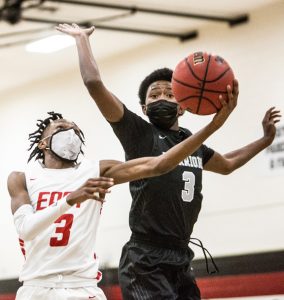 The Denver East Angels boys basketball squad trounced rival Far Northeast Warriors by a score of 89 to 62 on Feb. 6 at East's home gym.
East, coached by Denver Public Schools coaching legend Rudy Carey, is a perennial favorite to go deep into the Colorado state playoffs. But with COVID-19 restrictions having dramatically changed the face of Denver high school sports — at least for the time being — the ease of the Angels' victory was the only normal thing about the Feb. 6 game.
Pre-pandemic, East's home gym would be filled to the rafters, with screaming parents, student fans, cheerleaders, the Poms dance team, administrators, teachers, and junior varsity players eager to watch the top basketball squad. But against Far Northeast, the gym was nearly empty. Coach Carey and one assistant, his son David Carey, were the only adults allowed on the East sidelines. Only one East High administrator was present. No parents or student fans were allowed to attend the game.
The East student section was empty, except for four members the East Poms' dance team, who performed an abbreviated dance routine before the empty stands at halftime. Rather than sitting next to each other on a bench, players who were not in the game sat in single chairs, six feet apart. Everyone in the building, players, coaches, game officials (and this reporter) wore masks — although the masks would sometimes slide below the noses of the players as they fought for the ball.
East senior point guard Michael Jackson said he misses performing before a big audience, but is happy to be playing at all.
"Playing without a crowd is a downside of being at a big school known for fun crowds, but I think for me and my team, we are just excited to be able to have a season and play together," said Jackson, who lives in Park Hill.
Mask up, team
Athletic Director and Assistant Principal Dackri Davis described some of the steps the district and East have taken to try to ensure that, even in the midst of a pandemic, student-athletes can have some semblance of a sports season. Requirements include wearing masks at all events and practices, and separating teams into cohorts and barring mixing.
For example, a junior varsity team cannot interact with the varsity squad. JV coaches cannot attend varsity games, and vice versa. Teams must use separate doors for entering and exiting the facility, so the players are not moving past each other in close proximity. Hand sanitizer is readily available. And when games take place in the gym, there is one-half hour scheduled between games, allowing a crew to come in and sanitize the building before the next group comes in.
"The biggest challenge is making sure coaches and players follow the protective COVID protocols that have been put in place," Davis said.
Coach Carey accepts the limitations. "It's very restrictive," said Carey, "but it's necessary; it ensures our kids' safety, and it is the responsible thing to do."
Jackson, too, noted the difficulty posed by some of the restrictions.
"Playing through this pandemic is kind of hard at times," he said. "Running up and down the court with a mask on is extremely hard to breathe in and catch your breath. But at the same time if this is the only way we can play, then we have to do what we have to do."
The restrictions also limit the number of students who are actually able to compete. Davis explained, for example, that cross-country at East is normally a "no-cut" sport with more than 100 students participating. This year, the squad is limited to 25 boys and 25 girls.
Also, sports that normally were played in the fall have been moved to the spring (such as boys soccer and football) and there is now a crunch for field space for practices and games. As a result, the number of teams being fielded in each sport — such as soccer and lacrosse — has been reduced. "No doubt we are taking away some opportunities for students," Davis said.
Virtual swim meets
The bizarro-world of pandemic sports is seen all across the DPS league and across all sports. Ella Creighton, a Central Park resident, is a senior captain of the girls swim team at George Washington High and has swum for GW since her freshman year. She described some of the unusual aspects of her senior swimming experience.
"Swimming is usually a no-cut sport at GW, but due to COVID, we did have cuts this year as our roster was limited to 35 girls," Creighton said. "In addition to that, we were split into cohorts — 17 girls in one and 18 girls in the other — and we practice with those cohorts for the whole season, only commingling on Wednesdays for our virtual meets. Any time you are not in the water you are expected to have a mask on, and we try to limit gear sharing."
A "virtual swim meet" means that the GW team might be swimming an event at their pool with only teammates, while the opposing team or teams may be swimming the same event at different locations. The swimmers' times are then sent in and compared to determine the "virtual" winner.
"Having virtual meets is definitely a change from our normal swim meets," Creighton said. "There is usually great competition within the DPS league, and the races are always super fun to watch. [Now], for DPS, spectators are not allowed, which definitely makes a difference in the cheering. But they livestream our meets so friends and family can watch from home."
But just as Jackson is willing to make some changes and abide by some rules in order to play a sport he loves, Creighton too is grateful to be part of a team her senior year notwithstanding the limits imposed because of COVID-19.
"It's been very hard to find some light during this pandemic, and with school being completely online, I am just glad girls can participate in something that could take their minds off everything else that is happening right now," she said. "The GW girls swim team is such a fun, friendly community, I'm glad I can be a part of it for one last year."