50 People To Take Up Temporary Residence At Park Hill United Methodist Church Parking Lot
By Cara DeGette
GPHN Editor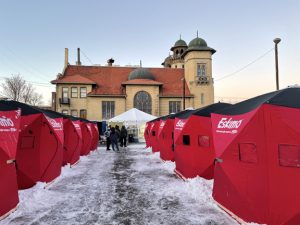 The announcement that 50 unhoused people will temporarily move into tents on a church parking lot in the middle of a Park Hill neighborhood surrounded by million- dollar homes, landed with a thud.
Many neighbors living near Park Hill United Methodist Church at Montview and Glencoe first learned about the planned safe open space not from church officials, but by reading an April 5 story on the news site Denverite. The fenced off parking lot will hold some 45 tents from June 1 through Dec. 31.
Neighborhood response was instant, and, depending on perspective, ranged from anger and confusion to compassion and support.
Comments on neighborhood social media pages came fast and furious.
"The poor form and rollout of this project is what is upsetting to most," one person wrote. "The real sadness is neighbors have been forced into a 'you are with it or against it' posture, which will not end well for either side."
One commenter opined that communications from church leaders had been 'haphazard at best."
The Neighborhood Registered Organization, GPHC, Inc., was not notified of the project until late on the Friday before Easter. Board Chair Tracey MacDermott said she was not contacted by church leaders nor by representatives of the Colorado Village Collaborative, which will operate the site. Instead, Denver Councilman Chris Herndon, who indicated he had also just learned the news, told her. The church congregation was notified during Sunday services. Nearby neighbors say they learned the news a day later, reading about it online.
Associate Pastor Laura Rainwater says church leaders wanted to notify the congregation first, as well as the congregation of Temple Micah, which shares space in the church. The intent, she says, was to then notify neighbors.
"Park Hill United Methodist Church has a long history of living our faith through social justice and compassion, and this was a natural extension of who we are," she said. "When people say 'we don't want those people in our neighborhood', I'm not sure I have an answer to that."
Cole Chandler, the director of Colorado Village Collaborative, says he is hopeful that neighbors' concerns will be addressed. More than 6,000 people are homeless in Denver, and at least 1,000 of them are living on the streets.
Via a contract with the City and County of Denver, Chandler is currently operating two safe-camping sites in church parking lots in Capitol Hill near downtown. Those leases are set to expire at the end of May. Earlier this year, United Methodist Church Pastor Nathan Adams offered to host a safe-camping site at the Park Hill church. The Denver city council gave the OK for temporary safe-camping sites last year.
"Every part of the city has a role to play in finding a solution," Chandler says. "These are people. These are our sisters and brothers and mothers and daughters. They are members of our community."
The safe-camping site will be comprised of high-quality tents, which are placed on concrete bases and have electrical outlets. The site will be fenced in, with port-o-potties that are emptied daily, Showers and meals are provided on site. There is regular garbage pick-up, and COVID-19 testing/vaccine access, mental and physical health services, employment, benefit and housing navigation services.
The safe spaces are designed to be temporary, with the goal of providing a pathway to residents into stable, permanent housing, Chandler says.
Still, the logistics of whether the parking lot is the best place for the camp elicited concerns, including the possibility of increased trash in the neighborhood, possible drug and alcohol abuse, and whether unsanctioned campers would set up tents along Forest Parkway and 17th Avenue Parkway.
Some noted the fact that it will not be on a direct bus line, and there are no nearby grocery or convenience stores. Other services are blocks, and even miles, away. Still others have expressed concern the site is next to the Children's Center, a preschool operated by the church.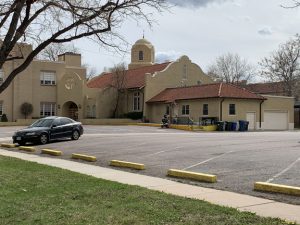 Many have noted the tents will be on asphalt, making life uncomfortable for residents through the hottest of the summer months. Why not, some have wondered, put the safe-camping site in a more comfortable setting — like at the currently-closed Park Hill Golf Course at 35th and Colorado Boulevard? After all, the golf course has plenty of open space and trees. Bus lines and light rail are close by, along with stores, restaurants and other amenities.
Chandler said he indeed approached Westside Investment Partners, the development company that owns the 155-acre golf course land, but was turned away.
"We spoke with the Park Hill Golf Course team broadly," Chandler says. "They took our materials and seriously thought about it and … decided it was not a project they wanted to pursue."
Many Park Hillians have embraced the project. "Instead of getting angry at a church that's actually trying to help people, let's just help people," wrote one. "Everyone complaining in their houses waxing theoretical danger can figure out how to deal with living in a community."
Noted another: "I'm going to help my homeless neighbors right here, and nuts to the NIMBYs."
In an interview, Chandler said residents of the safe open space will be screened, and those with convictions of violent crimes or sex crimes will not be allowed. Drug and alcohol use will not be permitted. Many of the residents work, and many others are actively looking for work. Volunteers will patrol the neighborhood to pick up any trash, and encourage people to not loiter.
There is no reason to believe, Chandler says, that unauthorized tent sites will sprout up nearby, especially since there are no walk-up services provided to people who aren't residents.
And, there have been no reports of an increase in crime stemming from the other safe-camping sites in Capitol Hill.
The church and Colorado Village Collaborative initially scheduled public input sessions to occur in mid-May, just two weeks before the new, temporary residents are scheduled to move in. Facing intense pushback, they subsequently held at least two community Zoom meetings in April to address concerns, including one that drew 240 people.
At that meeting, MacDermott, the GPHC chair, said she is confident the community can work together to make it a positive experience for neighbors and for the temporary residents at the church.
Additional meetings, and tours of CVC's existing safe-camping sites, are scheduled in May.
Upcoming Community
Zoom Meetings
• Thursday, May13: 7p.m. to 8:30 p.m.
• Saturday, May 15: 10 a.m. to 11:30 a.m.
• Link at coloradovillagecollaborative.org/ safe-outdoor-space-park-hill