Proclaiming 'Downtown Is Back' Does Not Simply Make It So
By Penfield W. Tate III
For the GPHN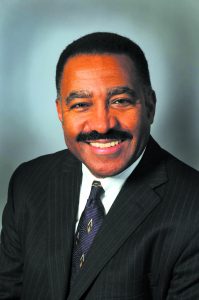 There are many things that make a city great:
The people and how they feel about their city.
Public transportation, and the ease with which people can navigate the city.
Safety: Is the city a good and safe place to live and raise a family?
Cleanliness: Are the roads, parks and public spaces maintained to protect businesses and property, and with humane policies to manage the plight of the unhoused?
And let's not forget the public amenities that provide the feel of a city — what gives it that vibe.
Frequently, and in genuinely great cities, these are always a function of a thriving and vibrant downtown.
Last month I touched on the broken human infrastructure of our city. The plight of the unhoused and specific examples of what was happening in the Ruby Hill neighborhood were discussed.
Let's now focus on another example, one that is felt by all of us.
Downtown Is A Ghost Town
As we have seen over the years, proclaiming a downtown great does not make it so. Not if that downtown has not been maintained and has deteriorated. Not if it has been ravaged in the aftermath of a global pandemic with no steps taken to protect it, much less revive it. And not if it is overrun by crime, nearly impossible to park in and resembling a ghost town.
All these factors are now readily apparent in downtown Denver.
Ghost town. When was the last time you went downtown for a meal, a play, a concert or other activity? The Downtown Denver Partnership reports that only 40 percent of the downtown workforce has returned on this side of the pandemic. No one has provided what must be the scary statistics about how many businesses have closed. A walk through downtown tells you it is a lot.
The pandemic has forced surviving businesses to restructure their on-site work requirements with office sharing arrangements and three-day-in-office work weeks. It is highly unlikely that 100 percent of the pre-pandemic workforce will ever work downtown on a regular basis. Based on the public proclamations, it does not appear that planning has anticipated that reality.
Less Space, Smaller Footprints
The change in workforce routines is in turn impacting the downtown real estate market as businesses negotiate for less space and smaller footprints. The two-tower World Trade Center now faces foreclosure due to its plummeting occupancy rates. Similar troubles for other buildings are likely to be announced.
And with more newly-constructed office buildings coming online – which were committed to before the pandemic — the pressure on "older" buildings will increase.
We should watch for signs of more distressed buildings and available space. Typically, this would create a market for other businesses to move in and occupy prime downtown space at steeply discounted prices. We saw this in the 1980s when oil prices plummeted. However, factors may be asking us to question if downtown space is still "prime."
So, when Mayor Michael B. Hancock announced last month that "downtown is back" as part of the kickoff of the 16th Street Mall construction it felt more like whistling past a graveyard.
To admit that the project is "a key part of downtown's comeback" is to concede and admit that you "lost" downtown at some point. When RTD announces that the 16th Street Mall is "a vital community connector" and the Downtown Denver Partnership announces that the 16th Street Mall is "one of the city's most important public spaces" you must ask yourself, where have they been all this time when things were failing?
Years Of Investments
Built in 1982, the 16th Street Mall has benefited from years of other supporting investment to make it a special place. In 1996 and 1998 the city helped finance renovations to what was then the Adam's Mark Hotel (now the Sheraton). In 1997 the city financed the development of the Denver Pavilion.  Collectively, these projects provided approximately $87 million in investments. In 2001, RTD acquired and began renovation of Union Station.
All this does not include the hundreds of millions that were invested during the Webb administration for the Hyatt convention center hotel, the Denver Center for the Performing Arts, the Downtown Library, Art Museum and the Webb Building itself.
Now, after nearly 10 years of planning — much longer than it took to complete many of the projects noted above — the new 16th Street Mall's $149 million endeavor promises to have downtown torn up and businesses inaccessible during construction along the project's 13-block span. The date of completion is announced to be 2024. And seriously, what projects have you seen completed on time or budget in the last several years?
Downtown parking is already practically non-existent, as many meters have been removed to accommodate bus lanes for half-empty buses and bike lanes that remain relatively unused. Other vertical development, in many cases without its own parking, have eliminated surface lots.
Remember: Elections Matter
Many have rightly criticized this administration for letting developers off the hook when it comes to green space and other beautification measures.
Yes, green space and adequate parking should have been requirements for building. But it wasn't, leading to ugly pockets of downtown and poor parking — but hey, at least developers have more money in their pockets.
And now, for the 16th Street Mall rebuild, the city has promised to maintain business access, but business owners are already complaining they have not been given details on the construction plans and phasing. They are aggravated that the fencing around the project is already negatively impacting their struggling businesses. It appears the logical step of meeting with and listening to impacted business has not occurred.
This is another project, like the Great Hall renovation at Denver International Airport, that will be completed on the watch of the next administration.
If you care about the vibe of our city and how it looks, remember elections matter. Who leads the city beyond 2023 is now front and center.
A Few Extraordinary Highlights
Let's take a moment to recognize a few extraordinary events of note in April.
On April 6 the city held a ceremony for the unveiling of a statute of former Mayor Wellington Webb, now housed in the atrium of the Webb Office Building downtown.
With hundreds in attendance, many spoke and lauded Mayor Webb's 12 years leading the city, his accomplishments, including some I mentioned, and his lifetime of public service. The event also celebrated the Hon. Wilma J. Webb, for her years of service as a state representative and as First Lady of Denver working alongside her husband.
Not surprisingly, Mayor Webb advised the gathering that his years of service would continue as he had projects he still wished to complete. The sculpture was created by Denver's own Ed Dwight, a former astronaut.
Finally, a huge shout out to the Colorado chapter of the American Civil Liberties Union, and its brilliant, dedicated and unflappable legal director Mark Silverstein, for the $14 million jury verdict responding to the Denver Police injuring protestors demonstrating the murder of George Floyd. This jury award should help to reaffirm our faith in the justice system.
And — marking another reason to celebrate progress — let us see what the U.S. Supreme Court does this year with the coming addition of Justice Ketanji Brown Jackson.
Welcome, Spring. You have been away too long.
Penfield W. Tate III is an attorney in Denver. He represented Park Hill in the Colorado House of Representatives from 1997 to 2000, and in the State Senate from 2001 to February 2003. He lives in Park Hill.