Happy 90th, Dolores Kopel
By David Kopel
For the GPHN
Editor's Note: On Jan. 8, Dolores Kopel — one of Park Hill's original matriarchs in the battle for integration — turned 90. To help mark the milestone, we asked her son, Dave Kopel, to provide some background and context about his mom and his dad, the former longtime state legislator Jerry Kopel.
When Jerry and Dolores bought their first house in late 1959, they chose Park Hill because they wanted an integrated neighborhood.
Indeed, when Jerry Koplowitz was a journalism major at CU, he was a Tom Dewey Republican. When Dewey lost to Truman in 1948, Jerry lost a bet and shaved his mustache. The mustache never returned, and Jerry's then-Republican leanings didn't have much time left. By the early 1950s, he had become a Democrat for two major reasons: 1. the influence of Dolores, who had grown up as a midwestern farm FDR Democrat; 2. civil rights.
So for Dolores and Jerry in 1960, buying a house at 2801 Grape St. wasn't just a real estate transaction. "Do you believe in the Constitution or not?" was how Dolores later explained their decision to buy into Park Hill. They put their money where their principles were. The same in 1967, when they bought the large house and property at 1755 Glencoe — a bargain in space-per-dollars, but a bigger version of the 1960 risk: would Park Hill's changing racial composition destroy property values?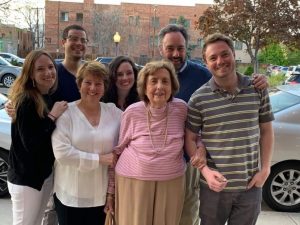 Dolores and Jerry fully understood the historic pattern in other cities — such as Kansas City or Detroit — of what happened when Blacks started moving into a white neighborhood: real estate agents would panic the whites into rapid sales to escape while they still could; next, the now-vacant large houses would be chopped into apartments, which bring in a population without long-term commitment to the neighborhood. Fewer people who bother to repair broken windows or mow the lawn, and a downward spiral intensifies.
Having decided to move to the front lines of the battle for integration, Jerry and Dolores threw themselves into community organizing in Park Hill. I don't need to tell you the story of the Park Hill Action Committee, the battles against taverns and liquor stores, and the fight to establish R-O zoning. For Dolores and Jerry, and for the PHAC, all this was Park Hill patriotism. It worked. Unlike comparable neighborhoods in older cities, Park Hill did successfully integrate. This is one reason that Denver was the one of largest American cities that did not have a race riot in the late 1960s.
Today, circumstances are different. Many people take Park Hill's racial integration for granted, as if it were a natural condition. Today, liquor stores are "essential businesses." Strict application of R-O zoning is no longer realistic, now that so many people have created  home-based small businesses. Nobody says that yesterday's solutions must be applied to today's concerns.
Jerry and Dolores and the Park Hill Action Committee applied 1960s solutions to 1960s problems, and their success helped make Park Hill their thriving neighborhood it is today. Park Hill was always the Promised Land for Dolores and Jerry Kopel. Park Hill helped them achieve the American Dream; to Park Hill, Dolores and Jerry gave their all, so that all people could achieve the dream.
My mom, who was one of the first female lawyers in Colorado, is now fully retired. The last political campaign she worked on was Obama 2012. She looks forward to the end of the pandemic, and being able to resume meetings with her friends, such as her French group, and being able to do water exercise at the Jewish Community Center.