Park Hill Board Endorses Ordinance 301; Rejects 302 In Battle Over Dueling Nov. 2 Ballot Measures 
Story and photo by Cara DeGette
Editor, GPHN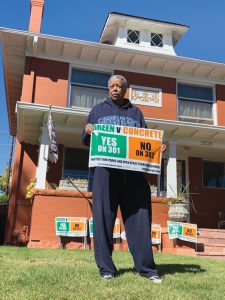 Wellington Webb likens the battle to David versus Goliath. The former mayor of Denver may be 6'4", he says, but he and other open space advocates are underdogs compared to the power and influence that Westside Investment Partners, which wants to develop the Park Hill Golf Course, wields over the current mayor and City Hall.
The struggle is also being painted as Green versus Concrete, a reference to two competing proposals on the Nov. 2 citywide ballot — 301 and 302 — which could help determine the future of the golf course property.
"This has to do with the future of Denver," Webb said, during a Sept. 22 press conference in support of Ordinance 301. "Do you want more open space and green, or do you want more developers building out every site they can find?"
Also in September, following presentations and some spicy debate, the board of Greater Park Hill Community, Inc. (GPHC) voted overwhelmingly to endorse Ordinance 301 and reject Ordinance 302.
If adopted by voters, Ordinance 301 would prohibit Denver officials from terminating the conservation easement that protects the Park Hill Golf Course from development without a citywide vote. Denver taxpayers paid $2 million for the conservation easement in 1997, when Webb was mayor.
If Ordinance 302 also passes, it would nullify the protection that Ordinance 301 would provide. Critics contend 302 is designed to purposely confuse voters.
The board's 13-2 vote (with one abstention) aligns with the results of a 2019 Park Hill Community Survey. Then, 77 percent of respondents said they prefer the golf course "remain entirely some kind of green space/park or golf course." The survey, conducted by the Boulder polling firm National Research Center, Inc., was commissioned by GPHC at a cost of $10,000, after board members said they wanted to better gauge the sentiments of the neighborhood on several hot issues to ensure like-minded representation. The survey was designed to ensure the demographic characteristics of respondents mirrored the overall population of the neighborhood as closely as possible.
'This would give me a vote'
GPHC board member Amy Harris, who sponsored the pro-301 resolution, represents the district that includes the golf course.
"I have felt through this whole process that I don't have a voice, that the city struck a deal with the developer," Harris said. "This would give me a vote — it would give the people a vote."
GPHC's support of Ordinance 301 also aligns with the official position taken by Denver's Parks and Recreation Advisory Board. In May, 2020, the citizen's advisory group voted unanimously to recommend the city purchase the Park Hill Golf Course property for a park, using funds from the voter-approved 2019 bond measure for new parks and open space. The 155-acre property, roughly the size of Denver's Washington Park, is the last large undeveloped parcel in the city. Leslie Twarogowski, at the time the parks board representative for City Council District 8, which includes Park Hill, explained the vote.
"Our intention is to purchase and preserve [the golf course land] as open space," she said. "We absolutely have the money to do this." (Councilman Chris Herndon has since replaced Twarogowski on the parks advisory board.)
Earlier this year, the campaign Yes for Parks and Open Space launched its grassroots petition-gathering effort, spending $52,000 to get Ordinance 301 on the ballot.
In response, Westside, the developer, spent $268,000 to get Ordinance 302 on the ballot. The developer bought the golf course property in 2019 for $24 million with the conservation easement in place, and is currently lobbying Mayor Michael Hancock and other Denver officials to remove the easement and pave way for development. Requiring a citywide vote — which Ordinance 301 would require — could add an expensive wrinkle to their plans for development.
Dueling visions
Last year, in conjunction with Westside, the city's Planning and Development Department launched what it calls a "visioning" process to create a development plan for the golf course — even though the protective conservation easement is still in place. The action resulted in a lawsuit against the city, which is ongoing.
Denver officials, as well as the developer, have appeared to ignore the results of GPHC's 2019 Park Hill Community Survey. Earlier this year, the city commissioned another survey, in which respondents weighed in with a higher level of support for development of the golf course, including affordable housing and a grocery store. That poll was panned by critics, who noted that respondents had no way of selecting a preference that the property remain open space.
In addition to its lobbying efforts at City Hall, Westside has partnered with several minority-owned companies, including the Holleran Group, in an effort to shift the debate. For decades Northeast Park Hill has been a predominantly Black neighborhood, with thriving Black-owned businesses. In recent years the neighborhood has gentrified, and many longtime Black families have moved away.
Pro-development interests argue that developing the Park Hill Golf Course would prevent further displacement, providing jobs, affordable housing and a grocery store. They argue that only immediate neighbors should be able to have a say on what happens to the property — not voters in Cherry Creek or the Highlands.
Yes on Parks and Open Space organizers, however, doubt whether truly affordable homes could be viable on the property, which would require new infrastructure that could drive up costs. They also emphasize the need to preserve a rare open space, and to promote environmental justice in northeast Denver, which includes the most polluted ZIP code in the country.
And, they point out that none of the developers or their lobbyists, actually live in the neighborhood. Westside is based in Glendale, its CEO lives in Cherry Hills Village, and the project manager, Kenneth Ho, lives in Central Park (formerly Stapleton). The owners of the Holleran Group, Norman Harris, Wayne Vaden and Ty Hubbard, also live outside the neighborhood. Vaden, an attorney, has an office in Park Hill at 35th and Quebec.
'It's a bamboozle'
During his Sept, 22 press conference, Webb, who was the city's first Black mayor, pushed back hard on claims of disenfranchisement. He blasted Westside for attempting to turn the issue into a racial one, noting that development would likely result in further gentrification of the area.
"There will not be any affordable housing — that's a game, it's a bamboozle, it's a trick. It's close to Halloween, so I guess it's trick-or-treat," Webb said. "It's important to stay focused on what we do know. We do know we can have parks and open space there, and that's why there's a conservation easement on it.
"This is not just a Park Hill issue, this issue is for every neighborhood in the city. If they do it to me, they will do it to you."