Boxing Meets Ministry At The House Of Pain East
Story by Cara DeGette
Photos By Reid Neureiter
For the GPHN
House of Pain East owner Bernie "Berndog" Aragon has been coaching for a half-century.

Coach Berndog, ensuring one of his boxers remains fully hydrated.
When he was 7 years old, Bernie Aragon's dad told him he had to pick a sport. He picked boxing.
Nearly 60 years later, Coach Berndog holds the same view of commitment. "It don't have to be boxing, but everyone has to pick a sport," he says. The kids from his own grade school who didn't pick a sport, he says, are either dead or in prison.
For the past two years Aragon (aka Coach Berndog) has operated the House of Pain East boxing and fitness gym, in the shopping strip at 33rd and Holly. Boxers as young as 4 and as old as 43 train there. Seven days a week, athletes converge on the gym, coming from the surrounding neighborhood, and from Aurora and Montbello. They start with a group back-and-forth chant: "Who's the winner? We're the winners! Who are the champs? We're the champs! Who are we? House of Pain!"
They warm up with aerobic stretching, then head out the door, across the street to Skyland Park next to Hiawatha Davis Rec Center, where they run two miles. Back in the gym, they prepare their hands for war.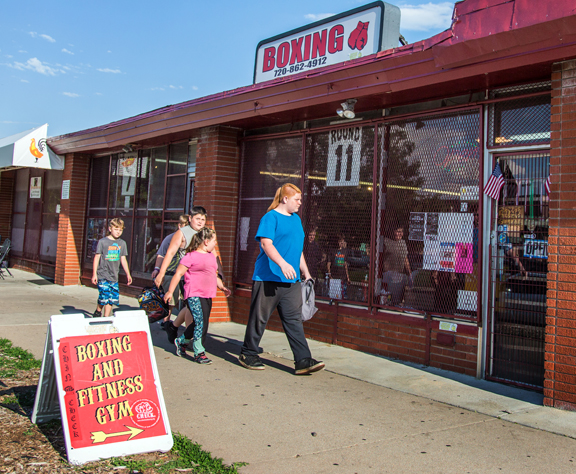 "Boxing keeps me mentally focused," says Giselle "G.G." Garcia, 16. Garcia and her sister Jayla "J.J." Sibley began training at the gym a few months ago. "I've always wanted to box," says Sibley, who is 10. They are two of only a few girls who train at the gym, a fact they care little about.
"I wanted to be in martial arts," Garcia says. "Boxing keeps you from doing other things, it keeps you away from violence. It teaches you to avoid problems and conflict. You learn how to respond to conflict without letting problems escalate."
That comment may seem a bit peculiar, describing a sport whose main objective is to repeatedly punch your opponent. But Coach Berndog says the art of boxing is far more complicated. He likens it to the game of chess, in which players have to think strategically and stay at least one step ahead.
"The magic of boxing is to not get hit," he says. "It's a science, making your opponent do what you want them to do."
House of Pain East has a tagline: "Where Boxing Meets Ministry." Coach Berndog says that he and the other trainers believe deeply in second chances and the power of redemption. Framed and laminated signs hang on the walls all over the gym. Some are inspirational ("No pain, no gain") and some are instructional ("No gang colors. No gang signs. No sagging allowed in gym").
"Put the guns down, put the gloves on," reads one. Another, simply, "This life ain't for everybody."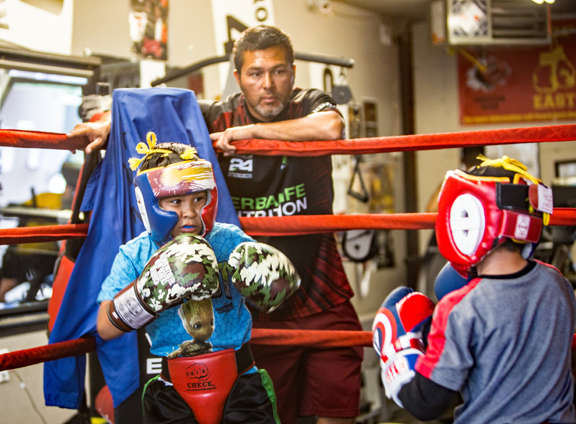 The gym is sanctioned by USA Boxing, and all of the athletes who train there wear protective gear, including padded headgear. Over the years boxing has had its critics, including the American Academy of Pediatrics, which warns of the possibility of concussions. Others claim boxing is no more dangerous than other high-collision sports like football, soccer, ice hockey and lacrosse. Coach Berndog says the best way boxers can avoid concussions and other injuries is to make sure they are properly trained. "The number one rule in boxing is to protect yourself at all times."
Bernice Garcia, who is G.G. and J.J.'s mom, says she is happy her daughters are training at the gym. "It builds their confidence, and helps keep them focused. It's teaching them they can do anything."
Garcia says she has some concern of possible injuries, but no more so than other sports. "If they were in any other sport, like basketball, I would also worry they might break a leg," she says.
Here's how it works at the House of Pain East: Athletes train for a month or more before they are allowed to spar with other boxers with more experience. As the training progresses, they graduate to being able to practice throwing jabs, and eventually, getting into the ring for full-on sparring. Children have to be at least 8 years old to compete.
Coach Berndog has trained a countless number of young boxers over a half-century, including four professionals and 12 national champions. None, he says, have experienced serious injuries, either in gym or in competition. Correction, make that one, a boxer who suffered a broken nose.
One former competitor, Jose Sanchez, trained with Aragon for several years beginning when he was 15, after he moved from Mexico to Colorado. He competed until he was 21, and hung up the gloves.
"My discipline wasn't focused," Sanchez says. Now in his early 30s, Sanchez rejoined House of Pain a year ago, as a coach. His sons Angel, 13 and Junior, 11, train in the gym Monday through Fridays and sometimes on Saturdays. They are up early, to run every morning. Then school, homework and the gym, then home for shower and dinner and bed. Next day, same thing. The schedule of being in top physical condition can be grueling.
"It took me awhile to bring them here to the gym, because it takes up your whole life," Sanchez says. "Junior's an honor roll student. Angel gets lazy sometimes, and we have to push him a little harder. Still, both do well in school, and boxing helps them focus.
"It gives them something to think about, it keeps their minds busy, asking, 'how will I get better today?' Not just here but in school, and in life."