No Cell Phone, No Wifi, No TikTok, No Problem
By Anya Nitczynski
For the GPHN
I was first in line to meet the author Fran Lebowitz after her speaking gig on April 30 in Los Angeles. This is because by no exaggeration every other attendee was at least 20 years older than me and I was able to speedwalk past them to the front of the line.
Fran Lebowitz drew a self portrait in my Fran Lebowitz Reader, I asked for a book recommendation, and almost collapsed upon leaving the venue because to me, Fran Lebowitz is like Justin Bieber was to teenage girls in 2013.
While I am immensely grateful for my experience meeting Fran Lebowitz, I've come to regret one part of our interaction. I forgot to inform her that she has been canceled.
A couple of weeks before I flew to LA for the sole purpose of seeing her speak, I saw a social media post declaring that Lebowitz should be de-platformed and canceled for saying problematic things in the 1970s. Hmmm. How can Fran Lebowitz possibly be canceled? She doesn't have an internet connection. She does not have a cell phone, and she certainly does not have TikTok. What exactly does canceling someone without Wifi mean? How will she be informed that she has been canceled? And forgive me for saying something potentially problematic here, but aren't there more important things to focus on?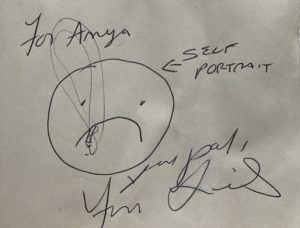 One of the first instances of cancelation I remember was in mid-2018 when one YouTube personality backstabbed his friend by promoting a competing brand of wellness gummy bears to that of his friend in order to get into Coachella. If you aren't quite following, you understand the situation perfectly. This "influencer" lost millions of fans overnight.
Knowing the context of one of the first proper cancelations, you can imagine my surprise when so-called cancel culture went mainstream and when politicians started to act as if it's worse than impeachment. I see politicians on both sides of the aisle on CNN and FOX News acting as if they are being canceled for having opinions and that this cancelation is the end of their careers in having opinions.
While I don't believe any politician has ever been truly canceled, I hope they do understand that even if they were canceled, it is not a death sentence. Does Marjorie Taylor Green, a self-proclaimed victim of cancel culture, know that if she turns off her phone, it just goes away? Cancelation does not exist outside of your Wifi router.
I have decided to compile a list of things that I am canceling to prove how nonsensical cancelation can be. Providing little to no context as to why these things are decisively canceled to me is in the true essence of the culture.
This list is in no particular order and excludes anything that I have any power over and anything that actually deserves true cancelation, like sexism or needless war.
1. Cancel culture
2. The Four Corners
3. Minimalists who act as if minimalism is a cure to any sort of ailment.
4. Farmers markets where there are no actual farmers.
5. Middle school
6. Anybody who is not directly involved with the Amber Heard/Johnny Depp trial who had stated an opinion about the Amber Heard/Johnny Depp trial that isn't "whatever."
7. Pork chops
8. People on social media who pretend it is normal to be able to afford a NYC penthouse.
9. Wellness gummies
Cancelation is a ridiculous attempt at feeling as if we have power over what we see on the internet. And no, cancelation does not truthfully spill over into the real world. The truth is, you can still eat pork chops and go to middle school.
Anya Nitczynski is a rising sophomore at Denver School of the Arts. Her column appears monthly in these pages.