Once Sleepy Business Block Bustling; Traffic and Parking Woes Spill into Surrounding Neighborhood
Story and photos by Cara DeGette
Editor, GPHN
On Sunday, July 7, at 10:25 a.m. an ear-splitting cheer erupted from inside Esters Neighborhood Pub at 22nd and Oneida. Exactly 10 minutes later, a repeat.
It was the joyous sound – heard all around the neighborhood – of a loud, raucous crowd of soccer fans celebrating as Megan Rapinoe and Rose Lavelle kicked the goals that vaulted the USA women's team into four-time World Cup champions.
Along the streets of the once sleepy enclave of residential blocks surrounding the business district in the east Park Hill neighborhood, cars were jammed in, bumper-to-bumper. As business has boomed on Oneida, parking headaches, and the accompanying increase in noise and traffic, has become the new normal during peak business hours for scores of residents living nearby.
Denver commercial real estate broker Todd Snyder and partner Rick Firmine purchased nearly the entire business block of Oneida between 22nd and 23rd avenues in early 2017.
The Oneida Park Center, originally built in the 1950s, has since undergone a multi-million dollar facelift. Improvements have included repairing the iconic mid-century-style sign that towers over the block, painting all the exterior facades and incorporating new and uniform signs for the businesses.
An outdoor courtyard, covered with simulated turf, is on the west side of the block in what used to be a parking lot. It's surrounded on three sides with what is now Esters Neighborhood Pub, Torpedo Coffee and a still-under-construction ice cream shop.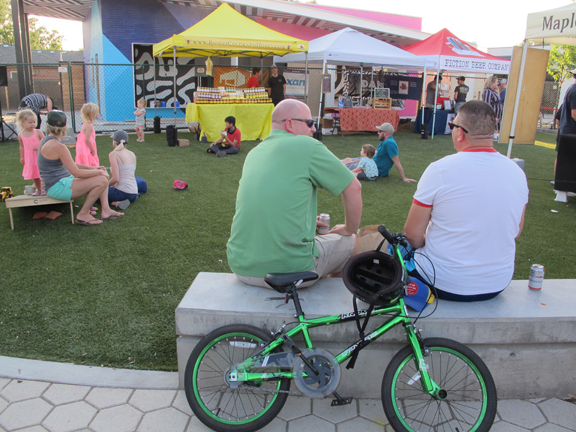 This summer, a Farm and Flea Market operates every Thursday, with booths, food trucks and live music. Current plans include a pumpkin patch at Halloween and a Christmas tree lot during the holidays.
"When we were seeking out new tenants, our goal was, who is doing interesting things in the city and how can we create a collection of tenants that complement each other and the neighborhood," Snyder said. "First and foremost we wanted to be family friendly and affordable. We are aware of the diverse nature of the neighborhood and we embrace that."
The new businesses, along with the existing stores, have drawn crowds from nearby Stapleton and other outlying neighborhoods, as well as Park Hillians from the west side of Monaco. Residents who live nearby have largely met the changes with a mix of being pleased about the new shopping and dining options, and frustration over the increasing urban stress on their neighborhood.
"I'm hoping for the best and that the businesses succeed," said Ryan Hildebrandt, who lives about a block away with his young family. "But I hope they keep the neighborhood in mind."
On Thursdays and through the weekends, those living closest can often no longer find parking spots in front of their own homes. In some cases they have put up traffic cones to try to keep people from blocking their driveways.
Even before the new businesses opened, parking was tight along the business block. Bicycle racks have been installed, but the city required no additional designated parking on the block. This summer's addition of a Thursday market has intensified the parking headaches for those living nearby.
Some fear the situation will get even worse when the ice cream store opens, and another restaurant – likely a new Illegal Pete's – moves in.
"I'm happy that the businesses are doing so well, but can't believe the city has allowed this to happen without requiring the developers to deal with the parking," said Jeff Newell, who lives nearby. He has the option of parking in his garage, but noted that many of his garage-less neighbors aren't as lucky. Not being able to park in front of your house can be a challenge, especially for older residents.
Jyothi Pisharath and her husband Subhash Nandkumar, whose house abuts the business block, have welcomed the changes. They appreciate the sounds of children playing in the courtyard behind their house, and the more urban feel of the neighborhood. "We like the foot traffic and activity, the hustle and bustle," said Pisharath. "It's nice to be able to walk over and get a drink [at Esters] and not have to drive back home."
Snyder, the co-owner of the Oneida block, says that he has received much positive feedback on the company's website, oneidapark.com, and on social media – and "exactly one complaint" about parking. He says he encourages business owners to remind their employees and customers to be respectful to neighbors.
Snyder said he has tried to get the City of Denver to install a four-way stop on the corner of 22nd and Oneida, which is currently a two-way stop. However, that effort was shut down by the city, whose engineers based their decision on a traffic study that was done before the high-traffic businesses moved in.
"If we get enough comments or inquiries they will do another study, but I do want people to know I tried to get a four-way stop there," Snyder said. "We're trying very hard to present a special place, and it definitely includes growing pains. We're sorry about the traffic, but it is the result of change and growth."
As for the shops themselves, the following is a roster of what the business block consists of now, and changes that are still happening.
The West Side
Oneida Liquors
One of the original remaining tenants of the business block, the liquor store moved from the south end of the block to its current location, on the corner of 23rd and Oneida.
Park Hill Vet
Park Hill Vet has expanded its space substantially, allowing for more room for the multitude of dogs and cats and other critters that are cared for by Dr. Margot Vahrenwald and a team of other veterinarians and techs.
Zen Den Pet Spa
The pet spa and grooming services has been in the space for several years.
Spicy Thai II
The Thai restaurant has also been a longtime tenant of the block.
Torpedo Coffee
A husband and wife-owned and operated venture, the coffee shop won Readers' Choice for Best New Coffeehouse in this year's Westword Best Of Denver issue.
Dang Ice Cream
Building renovations are underway for an ice cream store that is being developed by the Denver-based Little Man Ice Cream chain. Construction has taken a longer than expected. Once it opens, Dang will feature soft-serve ice cream.
Esters Neighborhood Pub
The high-traffic 4,000 square foot restaurant and bar at the corner of 22nd and Oneida is owner Paul Sullivan's second venture. Esters specializes in pizza, salads and sandwiches and craft beer, and is open for lunch, dinner and brunch seven days a week. It is the former site of a corner store and grocery.
The high-traffic 4,000 square foot restaurant and bar at the corner of 22nd and Oneida is owner Paul Sullivan's second venture. Esters specializes in pizza, salads and sandwiches and craft beer, and is open for lunch, dinner and brunch seven days a week. It is the former site of a corner store and grocery.
The East Side
Flex Yoga + Barre
The yoga and fitness studio is in the space that was recently a laundromat, on 23rd Avenue at Oneida.
ATR Automotive
This is the only business on the block that is not owned by Snyder and Firmine. It continues to be independently owned and operated.
The Local Butcher
This is Justin Herd's second Denver location. It's a full-service butcher shop and deli that carries cured meats and cheeses. The store is in an expanded space that used to be Allegra's Pizza.
Love Fashion Nails
The owner of this popular nail salon has renewed her lease.
Beauty Bee Salon
The hair salon is expanding into what had been an open space next door to its existing location.
The Restaurant Formerly Known As Table Top, Then Desmond, Then Red Sauce
Will the fourth time be the charm for this 1,400 square-foot restaurant with a patio that has had a string of bad luck over the past several years? In July there were rumblings that the Denver-based Mexican food chain Illegal Pete's will soon open there. Snyder confirmed that a lease had been signed with a new tenant, but said he would not confirm or deny that it is Illegal Pete's. Restaurant representatives did not respond to inquiries as of press time.
Philly Cheesesteak & Beer Garden
The longtime restaurant, specializing in Philly-style sandwiches, is still in place.