$34.1 Billion Budget, Passenger Rail, Some Cussing
By Penfield W. Tate III
For the GPHN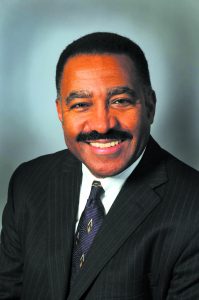 June 9 was sine die, possibly the latest date in the year that a regular session of the Colorado General Assembly has ever ended. So, what was accomplished?
The context for all the major policy decisions was the near unanimous passage of a record $34.1 billion state budget – a $4 billion increase over last year and aided by, no surprise here, nearly $4 billion in federal COVID-19 relief money. That much money is sure to be spent and will fuel a number of major initiatives.
Transportation policy remained a significant accomplishment. As discussed in these pages last month, Senate Bill 21-260 — the big transportation measure — passed and will be signed by the governor.
With new and increased fees, that means money for electric vehicle and charging station incentives, bridge and road repair, planning for sustainable transportation and a focus on addressing inequities in transportation access and the disproportionate impact of transportation development on Black and Hispanic communities.
Will it really happen?
And it did not stop there. The governor signed Senate Bill 238, meaning that we will have a new Front Range passenger rail district focused on developing a rail line that may, one day, run from Wyoming to New Mexico. This represents a huge philosophical shift in the thinking of the legislature and the state. The people of Colorado have clamored for something like this for literally, decades. Now, let's see if it becomes a reality.
Also discussed in past columns, gun legislation was again front and center this year. House Bill 21-1106 is now law, and requires guns in homes to be safely stored. Senate Bill 21-078 will require lost or stolen guns to be reported to authorities within five days. And, House Bill 21-1255 is designed to keep guns out of the hands of domestic abusers.
Given current hyper-development in Denver, Senate Bill 21-262 may be something we are talking about for awhile. Amending the law on the operations of metropolitan districts, the bill requires enhanced notice and posting on a website of activities and elections to residents of metro districts that have the power to impose property taxes. The ability to exercise eminent domain is limited. Reporting on boundary changes, the status of infrastructure development, intergovernmental agreements, litigation and the financial status of the district are all now required.
It's hard being in the minority
Finally, immigration policy change was a major focus. House Bill 21-1194 establishes an immigration legal defense fund and is on its way to the governor. House Bill 21-1057, already signed into law, makes it a crime to threaten to report someone's immigration status to extort money or to get something of value from them. House Bill 21-1060 provides U visas to immigrants who help law enforcement solve crimes. Senate Bill 21-077 eliminates verifying a person's lawful presence in the country as a requirement for them receiving certain credentials and licenses in Colorado.
The most bizarre activity came after sine die — the last day of the session. It's hard being in the minority. House Republicans met after the end of the session to discuss their current leadership. In about an hour of arguing, cursing and yelling in a public meeting, the effort to oust their current leadership failed by a 15-8 vote.
Make sure to check back next year — all indications show that the 2022 session is going to be a doozy.
Penfield W. Tate III is an attorney in Denver. He represented Park Hill in the Colorado House of Representatives from 1997 to 2000, and in the State Senate from 2001 to February 2003. He lives in Park Hill.