Safe Outdoor Space Targeted Again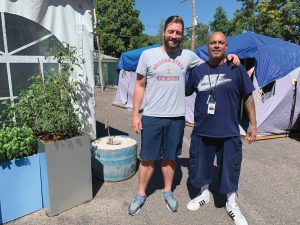 Opponents of the Safe Outdoor Space providing shelter and resources to 38 unhoused people in the fenced-in church parking lot at Park Hill United Methodist Church are continuing their efforts to shut down the site.
In August, Park Hill residents Kevin Reidy, Leah Capritta and Dave and Ella Rodman sued the City and County of Denver for allowing the authorized camps in Park Hill and elsewhere. It was the second lawsuit filed by neighbors in three months, and follows rulings from city zoning officials upholding the decision to allow authorized campsites in Denver. The first legal challenge against the SOS, in the church's parking lot on Glencoe Street and Montview Boulevard, was dismissed in May.
Continuing efforts to shut down the site have drawn increasing criticism from other neighbors, including in social media forums. Many neighbors are volunteering and providing meals to the residents of the camp, which opened in June and is scheduled to shut down at the end of December.
"The overwhelming majority of Park Hill has been welcoming— making welcome signs, volunteering, dropping off donations … getting our kids involved in helping," noted one resident in a post, whose views were echoed by others. "The area is quiet, fenced off, and almost unnoticeable; I walk by it daily and never saw a person until actively seeking out meeting some. These plaintiffs are a black eye on our neighborhood."
Cole Chandler, executive director of the Colorado Village Collaborative, which operates the site, said there have been no incidents requiring police response since it opened in mid-June. One episode occurred nearby involving car tires being slashed along Glencoe Street near the camp, but in that case, staff observed the group of people (who were not affiliated with the camp) and alerted the police, he said.
The site is staffed 24/7. Residents live in heavy-duty camping tents with electricity, onsite port-o-potties, showers, regular meals and a range of services designed to get them into permanent housing. It is the third authorized campsite designed to help address Denver's homeless crisis. A fourth safe-camping site is currently in operation on the Regis University campus in northwest Denver.
Chandler says he's disheartened by the latest lawsuit.
"In spite of an overwhelming outpouring of support from Park Hill neighbors, a handful of neighbors want to put this important service model to an end," he said. "Their suit likely won't even impact the SOS in their own neighborhood since that is set to close by the end of December. Instead, their actions could impact future Safe Outdoor Space residents who will be stuck outside without the critical services and resources these spaces offer.
"It's a sad reality to me that people living safely and comfortably in their own homes would go so far to prevent others from having just a small ounce of stability."
Safe Routes To School Project Delayed
The McAuliffe International Safe Routes to School project, designed to improve the safety routes for Park Hill students on their way to and from school, has been delayed for up to a year.
The $1.2 million Denver Department of Transportation and Infrastructure (DOTI), project was announced earlier this year, with an anticipated completion date as soon as this October, as reported in the March issue of the Greater Park Hill News.
DOTI representative Dana Hoffman says while the design of the improvements is complete, "current conditions in the construction industry" prompted the city to bundle the McAuliffe project with another similar project to improve safety routes to Cole Elementary School, in the Cole neighborhood at 32nd Avenue and Humboldt Street.
"We now  anticipate we will have a contractor selected by end of year, work through our procurement approvals in following months, begin construction next summer, and complete the project in fall 2022," Hoffman said.
The McAuliffe Safe Routes to School project will focus on improvements to sidewalks and intersections that are most frequently used by students walking to the school, at 26th Avenue and Holly Street. Included are areas between 23rd and 26th Avenues, from Holly Street to Monaco Parkway — with a particular focus on the intersection of 23rd and Kearney.
Highlights include:
• Building new sidewalks where none currently exist to fill in gaps
• Upgrading pedestrian ramps
• Adding new concrete refuge islands at the intersection of Kearney Street & 23rd Avenue, which will carve out a safe place for pedestrians to stop, if needed, before continuing to cross the street, as well as installing a new street light to enhance the pedestrian experience
Dueling PH Golf Course Measures On The Ballot
Denver voters will weigh in on two competing measures with direct implications to the future of the conservation easement protecting the Park Hill Golf Course land. The two questions — which as of press time had not yet been assigned ballot numbers — will be on the November ballot.
The first measure is sponsored by the group Yes for Parks and Open Space, which wants to preserve the conservation easement protecting the closed 155-acre golf course in northeast Park Hill, at 35th and Colorado Boulevard. The second measure is being funded by Westside Investment Partners, which purchased the property two years ago. The company wants the city to remove the conservation easement to allow development on the property.
Proponents of both ballot measures will make presentations during the September monthly meeting of Greater Park Hill Community, Inc. The meeting will be held via Zoom on Thursday, Sept. 2 beginning at 6:30 p.m. Go to greaterparkhill.org/join-us/community-meetings/ for the full agenda and to access the meeting.
Hancock Pushing $450M Bond Package
The Denver City Council has approved $450 million worth of General Obligation (GO) bonds be referred to voters for the November ballot. The package includes $190 million for a controversial new 10,000-seat arena at the National Western Complex northwest of Park Hill.
Mayor Michael B. Hancock first referenced the plan for the arena a little more than a month ago during his July 25 annual State of the City speech, promoting it as helping to boost the economy and provide good-paying construction jobs. However, many nearby residents and neighborhood groups have expressed strong opposition. Four of nine city council members opposed referring the arena project to voters, including Candi CdeBaca, who represents the district where the arena would be built.
The four additional GO Bond questions that will appear on the November ballot include:
• $104 million for facilities, including new libraries in Westwood and Globeville
• $63 million for transportation projects, including sidewalk construction and new bike lanes
• $54 million for parks and recreation projects, including playgrounds, athletic fields and a public pool
• #39 million for facilities for people experiencing homelessness
In all, the GO bond package includes 80 separate projects. A complete list is at denvergov.org/finance. Ballots for the Nov. 2 election will be mailed to Denver voters beginning Oct. 8.
Help Beautify Park Hill
Get to know the neighborhood, get to know your neighbors, and help contribute to climate justice by joining the Park Hill Beautiful movement. Organizers Jacquie Shumway and Jon Bowman are looking for volunteers to help monitor and clean-up areas of the neighborhood to rid the alleys, streets and vacant areas of trash, graffiti and debris.
"The more beautiful an area is, the more people perceive things to be more settled and happy. It makes people want to live here and want to be part of it," Shumway explained, during the August meeting of Great Park Hill Community, Inc.
In coming months, organizers are putting together projects to target specific areas of the neighborhood, and to identify problem areas that need extra care and attention. Sign up, and get more information online via this link: communitymedschool.org/natures-therapy/
Be A Community Forester
Become a trained volunteer for the urban forest. The five-part community forester workshop series will give you the skills to plant, steward, and champion trees for your community and do work alongside city foresters and Park People staff. Apply by phone at 303-722-6262 and find out more online at TheParkPeople.org.
Get Your Vax On
GPHC, Inc. and the Colorado Department of Health and Environment are encouraging all our neighbors to get their life-saving COVID-19 vaccines. To find a vaccine distribution site near you, visit cocovidvaccine.org or call 877-CO-VAX-CO.