Get Registered And Ready For The Most Bizarre – And Most Important – Election Of Our Lifetimes
By Penfield W. Tate III
For the GPHN
The time has come to decide. And the time has come to vote. I know it sounds cliché, but this probably is the most important election of our lifetimes. And the most bizarre.
The stakes could not be higher. All 435 seats in the U.S. House of Representatives are up for election. No one seriously expects Democrats to lose their 232 to 198 majority control of the U.S. House of Representatives. In fact, this margin could grow.
The big play this election cycle is for the U.S. Senate and the presidency. In the Senate the alignment is currently 53 Republicans, 45 Democrats and two Independents, who typically caucus with the Democrats. In total, 35 seats are up for election – 23 held by Republicans and 12 held by Democrats.
The math is clear, if Democrats can pick up four seats, they will have a majority in the Senate to go with their majority in the House. Ground zero for this battle is in Colorado, Maine, North Carolina, and Arizona, where Democrats hope to pick up seats – and in Michigan and Alabama, where they need to maintain incumbents.
Campaigning by Zoom
The pandemic has made this the most challenging of campaign seasons. Most importantly and understandably, people have been preoccupied with preserving the health of themselves and their families and hopefully maintaining steady employment. As a byproduct, almost no in-person events have been held.
If you have been invited to a candidate's Zoom, phone, or online event, and bothered to attend, you found it a poor substitute for the real thing. Most of the time is spent by the candidate telling you the reasons they deserve your support without delving into their problems. Substantive issues are rarely raised by candidates. You may not have been able to see the candidate to judge demeanor or pick up other non-verbal cues.
Most likely you did not get to pose a question, or if you did, had no way to follow-up if the candidate evaded the question entirely. I have had that experience. Staffs keep a tight lid on the events, ensuring that their candidate always looks good.
Strangely, many candidates seemed pleased by the lack of in-person contact with voters. Campaign managers and staff are uniformly grateful for the ability to nearly eliminate candidate in-person gaffes or expose their candidates to trolls. It makes for boring campaigns and frankly, is why so many people appear not to be paying attention to anything but the presidential campaigns at all.
Adding insult to injury, the U.S. Postal Service, under the direction of the Trump administration, is doing everything it can to suppress and frustrate votes. The situation has gotten so bad that Colorado Secretary of State Jena Griswold filed a lawsuit last month and successfully obtained an injunction to stop the Postal Service from intentionally misinforming people about their ability to get a ballot and cast a vote.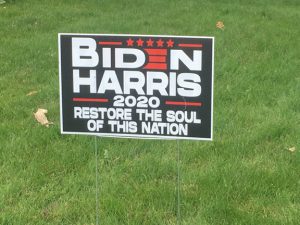 Seriously. We've gone from being a country that was premised on participatory democracy to one where the incumbent administration is actively pulling the levers of government in a conspiracy to frustrate or prevent people from voting. It can't get much stranger than this.
Hickenlooper takes on Gardner
The nature of this cycle's commercials could not be more telling. You have the commercials officially sponsored by candidates, which for the most part are positive in message. Then, you have the commercials by the various independent committees that blast the opposing candidate with negative claims.
In years past it would have been rare for the candidate to have personally appeared in these negative commercials. However, this year, many are directly attacking their opponents. Seldom is the truth revealed in these commercials. It's where truth often takes a holiday.
Take our own battle for the U.S. Senate between Cory Gardner and John Hickenlooper. Breaking from his tradition and brand of no negative campaigning, Hickenlooper has run several commercials blasting Gardner. And Hickenlooper himself appears in the commercials making various negative claims. Most often the claims focus on Gardner's record of voting with Trump 98 percent of the time; his efforts to repeal the Affordable Care Act; and his opposition to providing insurance to people with pre-existing conditions.
The strategy makes sense. Traditional polling has consistently shown Hickenlooper with a 16-18-point lead for most of the campaign. Early September polls are rumored to say that his lead has shrunk to single digits. But Colorado voted for Obama twice and Hillary Clinton four years ago. And four years ago, Trump did not even win the Republican presidential primary in Colorado – Ted Cruz did.
Hickenlooper's approach is clear: Let an unpopular Trump push independents to Hickenlooper's side. And after not doing so in the primary, he has finally articulated a platform: support universal health care; protect the environment; support a woman's right to choose; fight for more COVID-19 relief for families and small businesses; universal gun background checks; and, maintain Medicare and Social Security. See hickenlooper.com/.
Rock and a hard place
Gardner's path to reelection is different and his commercials reflect that fact. Gardner must keep the Trump loyalists and has run commercials highlighting himself and Trump. But Gardner must do so without alienating the Colorado independents, many of whom don't like Trump. And, Gardner is running against a popular opponent who is out-fundraising and outspending him.
Since the Democratic primary ended, Gardner has been on an unrelenting attack He has blasted Hickenlooper for comments in past interviews about not actually wanting to serve in the Senate. Gardner has also frequently run commercials showing him sitting at a bar or washing his car talking about Hickenlooper's various ethics problems, calling him Colorado's "most corrupt governor" in history.
Gardner is also using virtual campaigning as a way to avoid making mistakes, running away from his 98 percent pro-Trump voting record and his inexplicable opposition to health care coverage for people with pre-existing conditions, a recent commercial with his mother notwithstanding. Gardner is branding himself as bipartisan and a "common-sense" conservative who supports economic growth while addressing climate change; promoting protection of public lands; smart transportation; and workforce development. See corygardnerforsenate.com/issues/.
Bottom line, both candidates want to convince you that their positions and agenda are right for you, Colorado, and America. Hickenlooper must explain why he deserves your vote when he publicly stated he never wanted the position and he has been convicted of ethics violations. Gardner must explain his record on health care and that he has not sold Colorado, and himself, out to Trump. Hickenlooper may pull this out and Gardner could rally. Unless voters are angrier than I see, it's hard to imagine how Democrats pick up a net four Senate seats.
Trump versus COVID-19
The Presidential race almost defies description. The pandemic is one of the most pivotal issues –  if not the pivotal issue. It's like a third candidate that the other two must run against.
Trump began the year by claiming that the pandemic and the disease was not a serious matter. He then was slow to respond and continued to downplay the severity of the pandemic. This was embodied by his taking questionable medications as a purported cure for the disease and openly flaunting not wearing a mask, thereby violating regulations and requirements in a number of different states. He encouraged his supporters to do the same and has held in-person indoor campaign rallies. He was roundly criticized by governors, mayors, members of Congress, the press, and the public for being slow to recognize the severity of the danger.
Inexplicably, Trump did all this knowing that he had given interviews to heavyweight journalist Bob Woodward, admitting that he lied to the American public about the nature and severity of the pandemic. He doubled down on the deception and justified it by claiming he did not want to incite a panic.
These most recent revelations have further undermined his credibility, already damaged by his impeachment in January, and have changed the direction of the race. Trump is losing the campaign against COVID-19.
Us versus Them
Trump's record on the economy, his supposed strong point, is spotty. At best, he has continued the Obama recovery from the Great Recession of 2008 and 2009. Worst case, he had slowed the recovery and, his blatant failure, intentional or otherwise, to address the pandemic has destroyed any economic gains during the last three years. Unemployment has reached record levels. And now, people are afraid to return to work or send their kids to school.
It's hard to jumpstart an economy under those circumstances.
Moreover, his aggressive, combative, and inflammatory rhetoric and style has simply sowed widespread dissention. At a time where the country is looking to reconcile on matters of racism and inequality, Trump rails about law and order. He openly campaigns in an us versus them fashion, making it clear that his supporters represent one version of America as opposed to the rest of the country.
He has taken to branding opponents and those who disagree with him as anarchist, socialist, and worse. He calls people names. He has disrupted nearly every foreign policy initiative put in place by his predecessors, Republican and Democrat, has alienated allies and has cozied up to America's longest standing military rival, Russia. All of this in the face of the hearings by bipartisan committees of the Congress that Russia interfered in the 2016 election to Trump's benefit and is actively interfering this year.
The Lincoln Project, founded by Republican operatives who are opposed to Trump's hijacking of the Republican Party, has come out against him in full force. Yet, Trump has not changed his approach, and still purportedly has the support of 34 to 38 percent of America. Trump's supporters frequently articulate their support not based on what he has done for them or the country, but what he has done to people they deem undesirable: immigrants, people of color, Democrats, and the LGBTQ community.
Biden's four-pronged pledge
Joe Biden is a contrast in temperament, personality, and speech. He made a statement by picking Senator Kamala Harris, an African American and Asian-American woman, as his vice-presidential running mate.
An experienced congressman who also served eight years as vice president, Biden touts his experience and the need for America to refocus itself. He is openly running as the antithesis of Trump – pledging to bring unity and reconciliation to the country instead of continuing to sow divisions.
Biden and Harris campaign wearing masks and acknowledge COVID-19 as serious. Describing the four greatest challenges facing the country, Biden highlights the need to aggressively halt the pandemic that has claimed 200,000 lives in the U.S. – a number that continues to rise.
Second, Biden holds up the need to revive an economy that has been rocked by the pandemic, while millions are out of work and in need of assistance. Third, he bluntly calls out the emboldened rise of the white supremacy movement during the Trump years in the face of a national need for a reckoning on race relations. And fourth, he has focused on what he calls the undeniable impact of climate change – evidenced by the widespread wildfires, historic drought, hurricanes, and floods.
Biden has pledged to reunite the world and re-establish traditional international alliances and vows to continue to cast a wary eye towards Russia. While Trump has been dismissive of his military advisors, Biden appeals to the military branches, and speaks frequently of his son's prior service. Biden pledges to bring America together.
How will it turn out?
The contrast between the candidates could not be starker. And it's hard to tell if this election will be decided on policy – like the pandemic and the economy – or on personality.
Can Biden keep Democrats united, even the Bernie Sanders' progressives, and woo enough Independents and disaffected Republicans to pull off defeating an incumbent? Can Trump keep his base and broaden it to fight off attacks from within the Republican party and Biden?
I can't say how this will turn out. But I know it's not boring. Vote. Stay safe.
Penfield W. Tate III is an attorney in Denver. He represented Park Hill in the Colorado House of Representatives from 1997 to 2000, and in the State Senate from 2001 to February 2003. A candidate for mayor of Denver in 2019, Tate's opinion column returned to these pages last December. He lives in Park Hill.
Key Election Info
• Oct. 9: Ballots mailed
• Oct. 26: Deadline to register to vote or update your registration and receive a ballot in the mail.
• Nov. 3: Election Day. In Colorado, you can register and vote in person up to 7 p.m.
• Check out ColoradoVotes.gov to register to vote, change your address, sign up to track your ballot, and more.
• • Click here for important information about the election, how to register, and what's on the ballots.