Compiled by Cara DeGette, Editor, GPHN
Off To the Races
The Denver municipal election is still a year away, but candidates have already begun to jostle and position for high-stakes mayoral and city council races.
After three terms, Mayor Michael B. Hancock is term-limited from running again in 2023. The post-pandemic reality will leave the next mayor of Denver facing a sharp uptick in crime and drug addiction, a population of unhoused people that continues to increase, an extreme shortage of affordable housing, and widening systemic inequalities.
So far, former candidates Marcus Giavanni and Ken Simpson, as well as activists Terrance Roberts and Jesse Parris, have announced plans to run for mayor of Colorado's largest city.  Others are likely to soon emerge. Lisa Calderón, currently the director of Emerge Colorado, is reportedly considering a second run for mayor. Other names that have been floated include former Denver Metro Chamber of Commerce CEO Kelly Brough, House Speaker Alec Garnett and state Rep. Leslie Herod.
At-large city councilwomen Debbie Ortega and Robin Kniech are both term-limited from running again next year, and several hopefuls have already announced candidacies in hopes to take their places. Travis Leiker, the president of the Capitol Hill Neighborhood Association and currently the senior director of development at the University of Colorado, has announced his candidacy, and has already begun to roll out several high-profile endorsees, including former U.S. Sen. Mark Udall and former Colorado state Rep. Anne McGihon.
Jeff Walker, who is on the RTD board of directors, has also announced plans to run for an at-large seat. Walker has served on numerous board and commissions, including the Denver planning board and, most recently, the police reimagine task force. Also running is Dominic A. Diaz who, at 24, hopes to be the youngest member ever elected to the Denver City Council.
In mid-April Park Hillian and fifth generation Denverite Leslie Twarogowski announced she is also running for an at-large seat. Twarogowski is currently on the board of Greater Park Hill Community, Inc., and is the executive director of the Federal Boulevard Business Improvement District. She is the former chair of Denver's Parks and Recreation Advisory Board.
The 13-member Denver city council is comprised of 11 district positions and two at-large members who represent the entire city. District 8, which currently includes all of Park Hill, is represented by Chris Herndon, who is term-limited next year. No candidate has formally announced in the district as of press time.
As per the new council district map, which was approved in late March, District 9, which is currently held by Councilwoman Candi CdeBaca, will include portions of the south part and north sections of Park Hill. CdeBaca is expected to run for reelection next year. No other candidate has announced in District 9.
It's Official: Juneteenth Is Now A State Holiday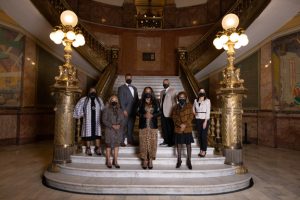 The Colorado Legislature has overwhelmingly adopted a bill to make June 19 — celebrated as Juneteenth — an official state holiday. The bill was co-sponsored by lawmakers Sen. James Coleman and Rep. Leslie Herod, whose districts include Park Hill, and by Sen. Janet Buckner, an Aurora Democrat.
The three lawmakers, along with Gov. Jared Polis, supporters and other members of the Colorado Black Democratic Legislative Caucus gathered in front of the state Capitol in early March to highlight the bill. Juneteenth commemorates June 19, 1865, which was the day Major General Gordon Granger and Union soldiers arrived in Galveston, Texas to announce the end of the Civil War. Though the Emancipation Proclamation had been signed nearly two years earlier, many enslaved people were unaware of the fact that that they should have been freed until the soldiers arrived.
Juneteenth is also known as Jubilee Day, Freedom Day, and Emancipation Day. In Denver, an annual Juneteenth Day parade and celebration is held in the Five Points neighborhood west of Park Hill.
"This significant Emancipation Day has been celebrated by the Black community for generations and deserves statewide recognition, celebration and reflection," Herod said during the March 2 event. "I'm proud to champion this important legislation that not only educates Coloradans on the atrocities of slavery, but makes way for voices of the Black community."
The bill passed the House of Representatives with a vote of 61-2. The "no" votes came from Republican Reps. Rod Bockenfeld and Rod Pelton. In the Senate, Republican Jerry Sonnenberg was the lone "no" vote.
This year's Juneteenth bill in Colorado comes a year after President Joe Biden signed bipartisan legislation making June 19 a federal holiday — the first new holiday since Martin Luther King Jr. Day was created in 1983.
"Making Juneteenth a state holiday means Colorado not only recognizes that Black people are free, but that all people are free," Sen. Coleman said at the Capitol event.
Park Hill's Oldest House Designated A Landmark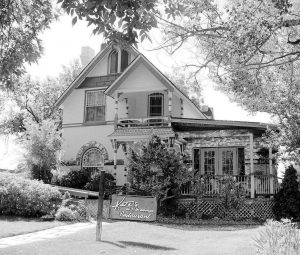 A year ago the future of the Robinson House at 3435 Albion St. — reported to be the oldest house in Park Hill — was uncertain at best. The owners had filed for a demolition permit with the city with plans to bulldoze the old Queen Anne-style house for new development.
But before that could happen, a new owner stepped in, with a new plan. The owner, Steve Davis, wanted to preserve the house, in exchange for city approval to rezone the lot and allow him to also build two-story townhomes on the lot.
The house, built in 1889, is just across the street from the now-closed Park Hill Golf Course. Known as the Robinson House, it was advertised in the May 5, 1889 edition of the Denver Republican newspaper as  offering "delightful air, scenery, pure artesian water." More recently the house was home to two restaurants — Kate's and The Garden. In recent years it has fallen into disrepair, and the remainder of the block has been built out with rowhouse-style townhomes.
The house is on the National Register of Historic Places, but was not protected as a local historic landmark. That all changed last month, as the Denver City Council unanimously approved the Robinson House as a city landmark, meaning it will be preserved. The Robinson House is the city's 358th individual landmark.
Tips For A Happy, COVID-Free Summer
As of April 14, the Denver Department of Public Health & Environment reports nearly 88 percent of Denver residents aged 5 and older have received at least one vaccination dose against COVID-19.
More than 80 percent are fully vaccinated. And a little more than 40 percent of Denver residents 12 years and older have received a booster dose.
Summer is fast approaching and — as the public begins returning to a post-pandemic "normal" — the department has several handy tips and resources for staying healthy.
First, make sure vaccinations — including COVID-19 vaccinations — are up to date. (Check out the department's handy vaccine calculator at covid19.colorado.gov/vaccine-calculator.)
Keep COVID-19 rapid tests on hand to ensure speedy results if someone begins to show symptoms. Rapid test kits are available at all Denver Recreation Centers during regular operating hours (except for La Alma). Each test kit contains two tests and residents are eligible to receive up to two free test kits while supplies last.
In addition, every home in the U.S. is eligible to order four free at-home tests (order them via this website: covid.gov/tests). There are two tests per box. At-home test kits are also available for purchase on retail websites like Amazon, CVS, Walmart and Walgreens.
In-person and drive-thru testing is available at pharmacies and drug stores like Walgreens, CVS, King Soopers and Safeway.
 If a test comes back positive, The Centers for Disease Control and Prevention (CDC) recommends isolation and masking up in public. The CDC has provided an isolation and quarantine calculator for guidance, at cdc.gov/coronavirus/2019-ncov/your-health/quarantine-isolation.html.
Finally, the health department urges everyone to be mindful and take precautions when going about their spring and summer routines. If you feel sick, stay home and get tested.
Denver Zoo Unveils Plans To Go Down Under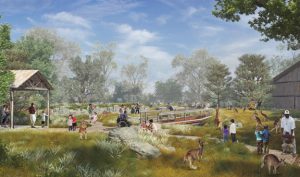 The Denver Zoo has unveiled plans for an Australian- and New Zealand-themed exhibit that will allow guests to get up-close with wallabys and cassowaries and keas, and other diverse species that are found Down Under.
According to a press release, the area — called Down Under — will cover almost two acres of the zoo's campus on its south side, with landscaping that mimics Australia and New Zealand's ecosystems. Down Under, which is scheduled to open next year, will include a walk-through wallaby area where guests will be immersed in the animals' habitat.  The area also includes a "conservation station" to allow guests to put into practice conservation learnings and actions. It will also feature new and improved habitats for some of the zoo's current residents, including cassowaries and keas, and space for educational programming and small events.
"The closure of Bird World in 2019 presented us with an incredible opportunity to create better habitats for our animals and experiences for our guests," said Bert Vescolani, the zoo's president and CEO in the release. "Down Under will give us the unique opportunity to tell a story about a region that shares a lot of climatic and environmental similarities with Colorado, and inspire wildlife-friendly behavior changes in our community."
Demolition of the former Bird World exhibit is currently underway, and construction on Down Under will begin this summer. The zoo is also in the process of building a new habitat for its Chilean and American flamingos, which is also scheduled to open next year.