Park Hill Sisters Plant Yard Party Signs In Pandemic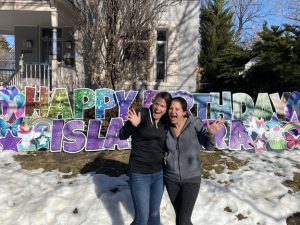 A year ago, Park Hillians Anne Chapman and Nicole Jacobs were trying to figure out a creative way to celebrate their husbands' birthdays in the midst of new social distancing restrictions.
"We had the great idea of doing huge 'Happy Birthday' yard signs for each of them," says Chapman. "The only problem, there wasn't a yard card company to be found."
Two weeks later, their company, Yard Party Signs, was born (yardpartysigns.com).
A year and 550 signs later, their company is flourishing. The giant signs stand from 12 to 30 inches tall, with the letters standing about 23 inches high. They are printed on heavy duty, weatherproof, coroplast and placed in the ground with metal stakes.
"Our most popular sign is our jumbo 'Happy Birthday' sign, which includes a name, age and all the accent pieces," Chapman says. "Another favorite is our 'Holy (poop emoji)' sign."
The women, who are sisters and moms to six boys between them, have also installed signs celebrating graduations, weddings and anniversaries.
About 150 customers have been in Park Hill, and Yard Party Signs have also been planted in Northfield, Cherry Hills, Lowry and the Wash Park neighborhoods. They actually expanded to Columbus, Ohio — that operation is run by an old high school friend who lives there. In Denver, they have hired two other local moms to handle the rapid growth.
"Even as Covid restrictions have lessened, we still remain just as busy and are gearing up for an epic graduation season," Chapman says.
"There are now nationwide sign franchises in the area, but we have found that most of our clients love the fact that we are two moms who created the business on our own, before any other sign businesses were in the area."
— Cara DeGette