Sister Act At East Pulls Out All Stops
Story and photos by Reid Neireiter
For the GPHN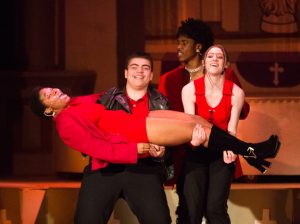 The East High School Theater Company, led by drama teacher and director Matthew Murphy, put on four remarkable performances of the Broadway musical Sister Act, from March 5 through 8.
Based on the 1992 film staring Whoopie Goldberg, the musical tells the story of Deloris Van Cartier, a Philadelphia lounge singer who is placed in a convent as part of the witness protection program after seeing her gangster boyfriend Curtis Jackson execute an informant. Although she has trouble adjusting to convent life, once given responsibility for the convent choir, Deloris transforms the nuns' singing and effectively saves the church from financial ruin. The musical ends with a confrontation between the nuns and the gangster Curtis, as he tries unsuccessfully to kill Deloris.
Murphy said the production included a cast of more than 70 student actors, singers, and dancers, with a chorus of nuns, a troupe of Philadelphia police, a number of fantasy dancers, and a gaggle of malicious gangsters.
A technical crew of 60 students was needed, and the production also featured live accompaniment by the East student orchestra with 50 players, including, as guest trombonist, East Principal John Youngquist.
Murphy described the biggest challenge of the production was talking about faith. "Most of the students in the production have never attended a church or participated in any sort of organized religion," he said. "It took a cast and crew field trip and conversation with four Capuchin Franciscans nuns at the Monastery of Our Lady of Light in North Denver for students to gain empathy and understanding for the roles that they would have to play."