The Thrill Of The Race Returns to City Park And Colorado
Story and photos by Reid Neureiter
For the GPHN
For cycling fans, the month of July means one thing: the Tour de France —the world's biggest cycling race.
And for Colorado cyclists who may be inspired by professionals zooming down Paris' Champs-Elysees, the weeks of June, July and August are filled with bike races of all kinds.
The June 4 Bill Barr Memorial City Park Criterium was a series of men's and women's races on a 1.6 mile course through City Park, against the stunning backdrop of a snow-covered Mount Evans. The Greater Park Hill News got the story from Park Hill residents Brian Dunn and Michael Still, along with Anne Donley of nearby Hilltop. All raced at the City Park event, which featured a number of state and national champions competing in all age divisions.
'I was hooked'
Dunn, 59, has been an avid bike racer for 38 years, having picked up the sport after college. "I grew up alpine ski racing and some college ski teammates got into bike racing after graduation and that's all it took. I was hooked," said Dunn, who lives on Montview Boulevard and is the founder and owner of the Great Divide Brewery.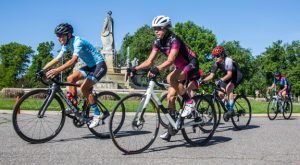 Dunn raced in City Park in the 60-plus category with racers ranging in age from 50 to 70 years old, taking tight turns at speeds over 25 miles per hour.  He was delighted to have a competitive race just minutes from his front door. "Being able to ride down the street to go to the race is incredible. It makes it much more enjoyable when you don't have to drive. It's the best and makes me want to never move."
Still, a 53-year-old financial business consultant who lives on Monaco Parkway, won the 50-plus Category 4 City Park Criterium with a 500-yard long-distance sprint after a 50 minutes racing in the closely packed peloton.
Still began racing mountain bikes in 1992 and has been active on the road racing scene for five years. A former Colorado State champion in the 40-plus division, Still described his path to victory.
"The key to placing well is being near the front on the last 1.6 mile lap, picking your time to sprint to the line and hoping no one else has a better game plan," he said. "My plan was to go early, taking the group by surprise and not easing up on the pedals until after crossing the line. The plan worked perfectly."
Lure of the race
A similar strategy worked for 44-year old Pilates instructor Donley, who took home the top prize in the Women's Pro-1-2, the highest level racing category. Donley has been racing bikes for 12 years and it took her four years of training and racing to reach the Pro category, based on success in lower-level races.
Donley averages 14 hours (or about 200 miles) of riding per week on her bike and trains frequently with men. "There are so many more men than women that race and train," she said. "Training with the men makes me learn how to position for the best draft and also pushes me to go harder than I might alone."
All three riders recognized the potential for injury from racing in tight quarters at high speeds, with only thin spandex between skin and asphalt in the event of a crash. Donley sometimes avoids larger criterium races because bigger fields are more prone to crashes. But the lure and excitement of racing is very strong.
"Crashes are less frequent in the older groups," Dunn said. "People who are still racing in the age groups I ride in have been racing for a long time and most racers are predictable and safe. I wouldn't say there is no risk, but I don't think it's too high. It's too much fun to worry about crashes."
Still agreed that older riders are generally more cautious, "Crashing means more than just an expensive bike repair and probably a new cycling kit," he said. "It also likely means an extensive time off the bike healing and the possible impact on your professional work if you are laid up for an extended period. None of us wants that."
Just sign up and go
For young (or older) people interested in trying bike racing for the first time, Dunn recommends riding and training with others who are roughly at your level.
"There are great group rides which can help you get comfortable in a group riding situation, and then eventually just sign up for a race," he said. "The entry level races are for entry level riders. Don't worry about it, just sign up and go. Everyone gets better the more they do it."
Donley was equally encouraging. "We need more women and especially juniors in the sport. Say 'hi' to people when you're out riding. You never know who you will connect with. Riding bikes is fun! No matter what level you choose to compete at, or how well you do, there is always an opportunity for community and making each other better."
Cyclists who are interested in watching a race or racing should check out the Colorado Cycling website at coloradocycling.org/ for a calendar of scheduled events. Nearby races in July include midweek Wednesday evening races at the Colorado State Patrol test track on Table Mountain in Golden, the Longmont Criterium on July 10, and the Lookout Mountain Hillclimb on July 16.