What's On Your List For Preservation?
By Cara DeGette
Editor, GPHN
There was a time when old Denverites could no more imagine the Mile High City without Celebrity Sports Center, or the old Cooper Theater, the Colorado Mine Company — or old Elitch's for that matter.
Those landmarks are long gone, so these days, imagine Denver without El Chapultepec or Lakeside Amusement Park. Imagine driving down Colfax with no Bastien's "Home of the Sugar Steak" to remind you you're almost home, and maybe hungry for some Frank Sinatra. Imagine no Aztlan Theater or Wellshire Inn or Sakura Square.
The organization Historic Denver doesn't want you to have to imagine life without them. Last month the group announced 50 places that made its final cut to highlight — and take steps for actions that will help to preserve them. The places that were nominated didn't necessarily need to be at imminent risk of the wrecking ball — though some are. But they represent a broad and eclectic list of places important to the story of Denver — places that deserve their place in history. They include legacy businesses, civic assets, iconic architecture, remarkable residences and arts and entertainment venues.
Of the 50, six are in Park Hill, or just on the outskirts. They are highlighted here. The complete list of 50 can be seen at 50actions.historicdenver.org/places.
As you are reading, think to yourself: What additional places in Park Hill would you nominate for historic preservation? Send your submissions to editor@greaterparkhill.org, including the address and brief description of the property, and an explanation of what, in your opinion, makes it notable and worthy of preserving. Submissions will be included in a future issue of the Greater Park Hill News.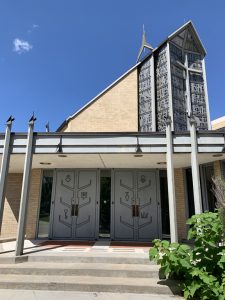 Whatley Chapel
1800 Pontiac St.
Whatley Chapel was built in 1962 by architect Stanley E. Morse (he helped to design Red Rocks). There are 39 stained glass windows in the chapel designed by the French artist Gabriel Loire, who was a leader in the use of "slab glass." The Memorial Tower houses the Charles S. Hill Memorial Carillon. At the time of its construction, it was the only authentic carillon in the State of Colorado, with 30 bells. It is believed to be the only carillon in the world in which all of the bells may be seen from the ground. (The Chapel and three other buildings were recently purchased by Denver Public Schools as part of its Denver School of the Arts expansion.)
Bear Mountain and Monkey House
The Denver Zoo, City Park
Designed by Victor Borchert with planning assistance from Saco Reink DeBoar, Bear Mountain was constructed in 1918 and completed in 1919. It was the first "natural habitat" animal enclosure in the United States. Bear Mountain was a prototype to be implemented in zoos throughout the United States thereafter. Since its completion, Bear Mountain was the home to grizzly bears, polar bears and Himalayan bears. The last bears moved out in April, 2019. The facility is vacant and, according to the nomination, currently underappreciated for its pioneering concept in the design of 20th century zoos.
Stedman Elementary
2940 Dexter St.
There are few other schools as notable as Stedman. It was essentially ground zero in the landmark court case that went to the Supreme Court — Keyes v. School District Number One, which struck down de facto school segregation in the United States. The records of this case are today held by the National Archives branch here in Denver (rediscovering-black-history.blogs.archives.gov/2018/07/31/keyes-…) Today it is a diverse, multicultural school — a testament to change and progress. Preserving this school is key for the city but it — along with other historic school structures in the city — is aging fast.
Moorish Revival House
1585 Glencoe St.
Brothers Ramon and José González were the architects, designers and contractors for this rare, fun, and adventurous Denver Spanish & Moorish Revival house, built in 1938 and full of color and various textures. It has a flat roof with parapet, stucco wall, Moorish windows, terra cotta surrounds and elaborate door-pilasters. The interior has a courtyard with skylights, murals, a fountain and fireplace. The brothers both attended City College in Chihuahua and moved to Colorado in 1918. Ramon González was a photographer, designer, and contractor, and his historic photos are in the archives at History Colorado. José González was one of the designers and makers of the sculpture relief work of Denver's historic Mayan Theater, and his sculptures can still be seen in City Park and Lakeside Amusement Park.
Robinson House
3435 Albion St.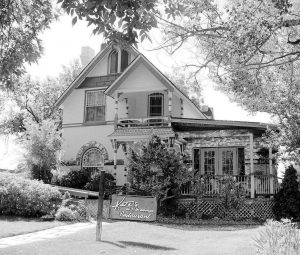 The building is noted as the oldest remaining structure in the Park Hill neighborhood. Built in 1889, the Robinson House is listed on the National Register as a significant example of the Queen Anne style of architecture, which was a popular style for residential architecture at the time of construction. Many of these style homes have been lost in the neighborhood. The home was offered for sale in John Cook Jr. 1880s residential development for just $5,000. Jay A. Robinson, the home's first owner, was described in city directories as a grocer and an "inventor." At the time the house was constructed the neighborhood was connected to downtown by a horse-powered street car. It has had several owners since its construction and more recently housed restaurants, including Kate's and The Garden (now closed). It was threatened with demolition earlier this year, but its new owners have since expressed the desire for preservation.
The Shops at East Colfax and Quebec Street
7226-36 E. Colfax Ave.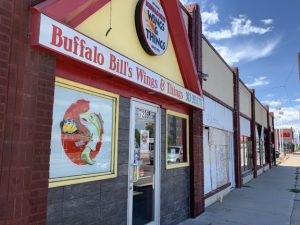 Though nearly all of East Colfax has been commercialized, at one time, the area between Monaco and Quebec Street was once its own little commercial shopping district. A streetcar station had been built at Colfax and Poplar in 1932 (known as the "Poplar Loop") and in the decade that followed, several one-story brick shops sprang up nearby. The art deco brick shops on the southwest corner of Colfax and Quebec were built in 1940 by John H. Nicholson — one of the founders of the Gideon Bible, which became Gideons International. Collectively, these shops served the needs of commuters who utilized the streetcar, with such businesses as Tom Thumb (a grocery store) and an ice cream parlor. One business in particular was a prominent part of Denver's fast-food culture. It was one of the 12 Rockybilt stands in Denver, known for its super-thin cheeseburgers with pickles and signature Rockybilt sauce on a soft white bun. The streetcars were taken out of service in 1950 and the Poplar Loop station was demolished to make way for a gas station in the 1960s. The brick shops have remained and have been home to several small local businesses over the years. Only one tenant is left in the building — Buffalo Bill's Wings & Things. The rest of the structure is currently empty and has been the victim of vandals.