Hiking Among The Bristlecones
Story and Photos by Reid Neureiter
For the GPHN
If you are looking to escape Denver's August heat and searching for a fun half-day adventure and moderate hike, look no further than the Mount Goliath Natural Area on the Mount Evans Highway, three miles above Echo Lake.
Due to the pandemic, the road up Mount Evans from Echo Lake is closed to motorized traffic this year. But it is open to hikers and cyclists, making this a perfect time to explore the scenic byway by foot in relative isolation. The Mount Goliath Natural area contains 160 acres set aside for the protection, study, interpretation and enjoyment of the Rocky Mountain bristlecone pine – some of the oldest living things in the world.
The oldest known tree of this species grows high on Colorado's Black Mountain and was found to have a 2,435-year tree ring record. By comparison, the trees in the Mount Goliath stand are between 700 and 1,600 years old according to the U.S. Forest Service.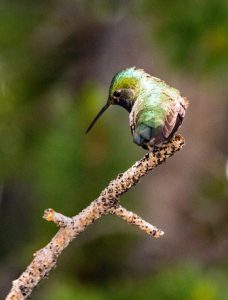 Behind the Nature Center (closed this summer) is a quarter-mile path through the stand of bristlecones, which feature gnarled massive trunks twisted by wind and weather with green needles and cones only at the tips of what appear to be partly dead trees. Continue another quarter mile up the highway around the switchback beyond the Natural Area to reach a fantastic view north with the Indian Peaks off in the distance and Echo Lake hundreds of feet below.
Be prepared for colder weather. Echo Lake is at 10,600 feet in altitude. The Mount Goliath Natural area starts at 11,540 feet above sea level. The three-mile hike is a steady gentle incline up a well-paved road. As an added bonus, check out the dozens of swarming broad-tailed hummingbirds feeding at the numerous feeders next to the Echo Lake Lodge.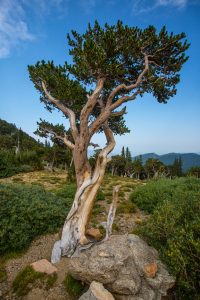 Directions: I-70 westbound, Idaho Springs exit #240 – Hwy 103. Drive approx. 12 miles to the turn off at Echo Lake Lodge for Highway 5, Mount Evans road. Park at the lodge. Arrive early to be sure to get a parking spot.