When It Comes To Saving The Planet, It's Best To Walk Softly And Chew On A Big Carrot
By Madeleine Senger
For the GPHN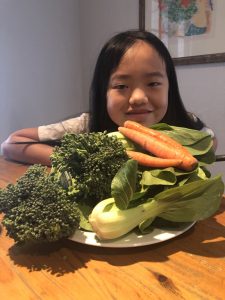 April 22 is Earth Day. I wasn't born four decades ago, but I'm guessing that Earth Day in 2021 looks a little different than when it was first celebrated, in 1970. Today, climate change is a serious threat for the Earth and for younger generations like mine.
 We can start addressing climate change by learning about our personal carbon footprint, which is the amount of greenhouse gasses one emits into the atmosphere. According to a recent news story in the Washington Post, "The carbon footprint of the average American is about 17.6 tons of carbon dioxide equivalents a year, about twice the footprint of a person living in the European Union or the United Kingdom…"
I recently used a carbon footprint calculator to see whether my family is better or worse than average Americans, and am happy to report that we scored 60 percent better than average. Here is the link: tinyurl.com/CarbonFootprintPH. The test is easy and measures one's house size, home energy use, transportation, travel, type of food eaten, and consumption.
 After I did the carbon footprint test for my family, I wondered what Park Hill's overall carbon footprint might be. I considered what many of us are already doing well, and what we need to improve upon.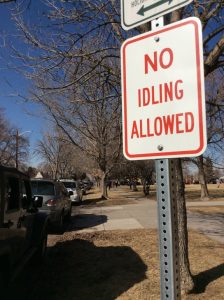 When I'm biking through the neighborhood, I see beautiful old houses and bursts of vibrant green from the mature trees. Buying an older home is generally much better (assuming that it's energy efficient) than a new home because resources won't be wasted.
Trees are "carbon sinks" which mean that they store carbon dioxide. According to the organization One Tree Planted, "A single mature tree can absorb 48 pounds of carbon a year, and makes enough clean oxygen for four people to breathe fresh air." Park Hill is known for its great tree canopy, and I hope we all take steps to protect it.
 According to realtor Roberta Locke, who has lived and worked in the neighborhood for decades, "Park Hill has lots to offer in addition to beautiful homes, including its convenient location to downtown and the entire metro area, the sense of community in the neighborhood, and access to recreation activities."
According to Walk Score, which ranks walkability, transit, and biking, Denver ranks No. 4 in the U.S. for biking and Park Hill is ranked as somewhat walkable. Also, in a recent 5280 Neighborhood Guide, they used what is called an X factor score, which measures transportation and walkability in a neighborhood. Again, Park Hill did well.
My dog's personal favorite, Ciji's pet store on the 2200 block of Kearney Street, sees many people walking there with their dogs. According to owner Bob Corman, dogs get a free treat while pet owners pick up pet supplies. Spinelli's grocery store on 23rd and Dexter boosts Park Hill's walkability. In Park Hill, we're close to RTD bus lines (routes 20 and 15).
With the exception of some stretches of nonexistent sidewalks, we can celebrate that Park Hill is a mostly walkable neighborhood.
The Greater Park Hill Neighborhood, Inc., achieved sustainable neighborhood status in 2017, a further testament to a commitment to encouraging and empowering residents to action. But there are still many actions we can take to reduce our neighborhood's carbon footprint.
 Making our houses 100 percent energy renewable is simple, easy and low cost. For an average house that uses 800 kilowatts in a month, one can pay an additional $12 on an Xcel Energy bill to use only renewable energy. We can install evaporative coolers instead of air conditioning. Evaporative coolers use a quarter of the energy compared to air conditioners.
 A one-way flight from New York to London produces one ton of carbon per passenger. In a 2019, story about the impacts of air travel on climate change, the news site Vox reported roughly 2,500 flights were then running over the North Atlantic every day. Short distance flights can use a lot of greenhouse gasses per passenger as well. In a post-pandemic world, can we continue to do meetings online, and not fly to, say, London, at the drop of a hat?
 Some of the ways everyone can help climate change are easy; idling is one of them. Every morning as I go to school, I walk by idling cars in Park Hill. Later, when I leave school, I see cars idling as the parents wait for their children, regardless of the weather. According to Scientific American, Americans spend 4.2 minutes each day idling their cars. If this is true — an average American adult idles their car for approximately 126 minutes (2.1 hours) in a month.
 According to a UN organization for food and agriculture, "Meat and dairy specifically accounts for around 14.5 percent of global greenhouse gas emissions…" Park Hillians who eat meat can improve their carbon footprint by eating one less hamburger or cow-based meal each week. If we eat one less hamburger per person each week for a year, that would approximately equal the amount of greenhouse gasses a car trip produces from Denver to Oklahoma City.
As a young person who'll be affected by climate change for the rest of my life, I hope Park Hill residents take a few minutes this month to acknowledge and improve their carbon footprint. Park Hill can celebrate what it's doing well, while also improving its carbon footprint by making homes more energy efficient, decreasing idling, rethinking transportation and airplane flights, evaluating our food decisions, and so much more.
How will you improve your carbon footprint?
Madeleine Senger is an 8th grader at McAuliffe International School.